4 NIGHT & 5 DAYS AT BALI ONLY IN RS 7500/-*
Inclusions
Accommodation
BreakFast
Full Day Water Sport Package
Denpasar Half Day City Tour
All Transfers
4 NIGHT & 5 DAYS AT BALI ONLY IN RS 31500/-*
Inclusions
Flights
Accommodation
BreakFast
Full Day Water Sport Package
Denpasar Half Day City Tour
All Transfers
4 NIGHT & 5 DAYS AT BALI ONLY IN RS 41500/-*
Inclusions
Accommodation
BreakFast
Bali Bird Park
Full Day Water Sport Package
Glass Bottom Boat + Turtle Island Tour
Bounty Evening Cruises
Full Day Nusa Penida Island Tour
Denpasar Half Day City Tour
All Transfers
You can customize your package as per your Requirement
Just share your requirement under
Build Your Package
---
---
What are the best things to do in Bali?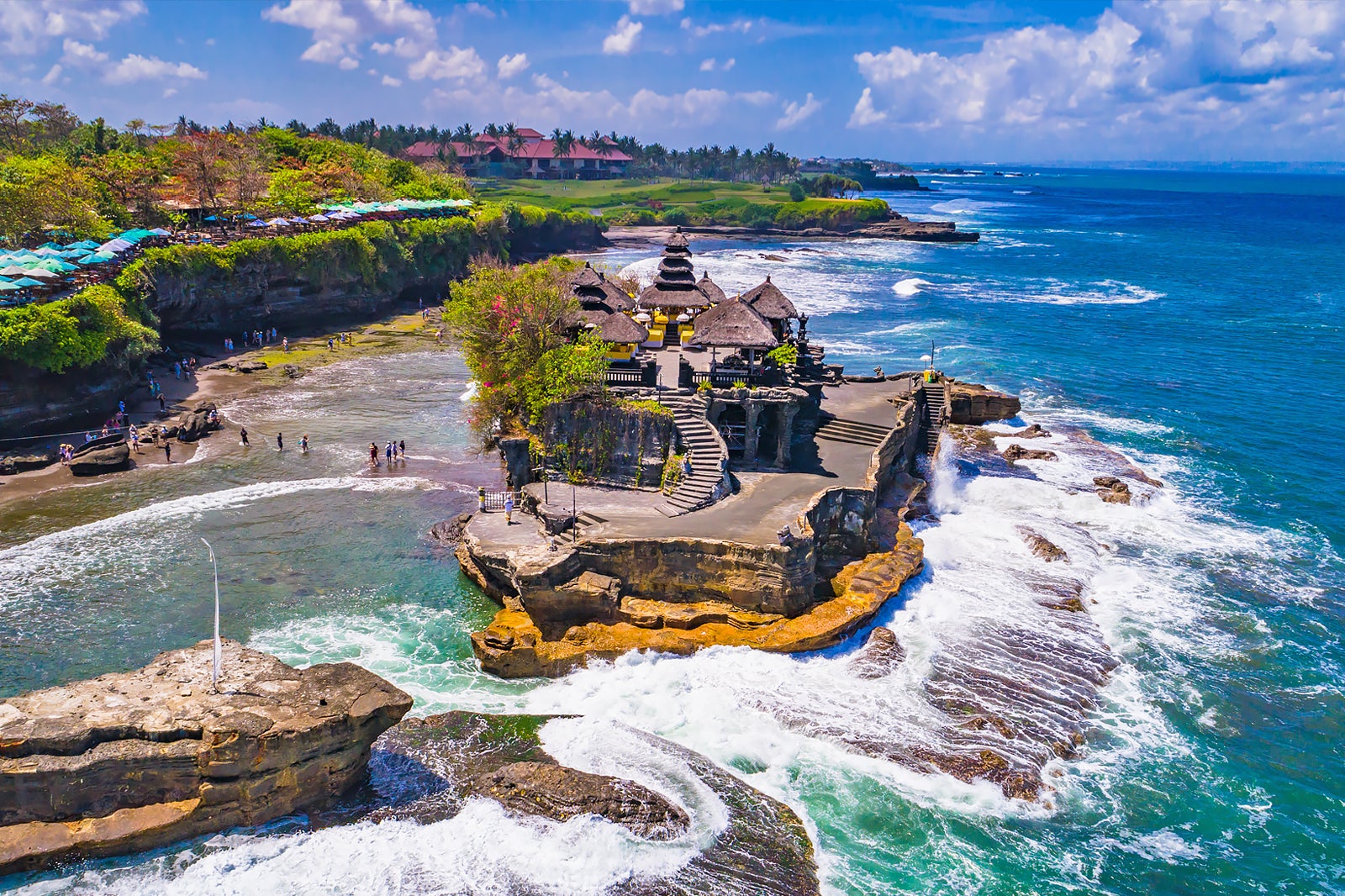 1 Tanah Lot Temple
Bali's iconic sea temple
Tanah Lot is among the island's most iconic temples, positioned on top of a rock and surrounded by the waves of the open sea that constantly crash against its base. The temple is scenic by day against the blue ocean and sky, but the scene is most dramatic during sunsets with its silhouette creating one of Bali's picture postcard images.
Tanah Lot pays homage to the guardian spirits of the sea, and it's also among Bali's key sea temples. The onshore site is dotted with smaller shrines and visitors' leisure facilities such as shops, a cultural park where regular dance performances are shown regularly, restaurants where you can enjoy a sunset dinner with the memorable view
Location: Jalan Raya Tanah Lot, Beraban, Kediri, Tabanan, Bali 82121, Indonesia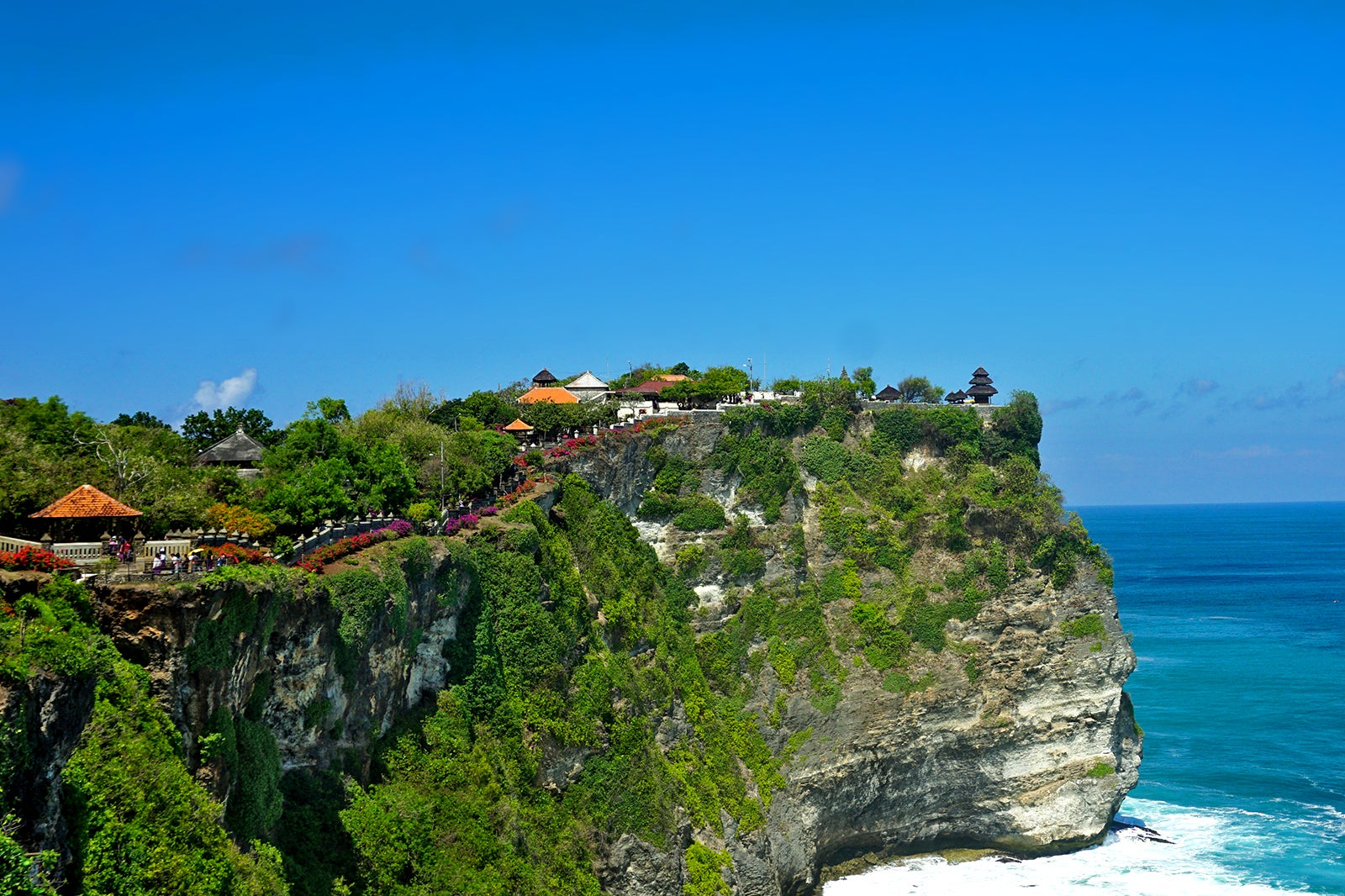 2 Uluwatu Temple
A temple high on a cliff
In the late afternoon, you can wait for the dramatic sunsets, or book early for a spot at the open-air amphitheatre nearby, where Kecak fire dances are performed with the sunset and ocean as an exotic backdrop. The waves below the cliff and the temple are hailed as among Bali's best and internationally-known surf spots.
Location: Jalan Raya Uluwatu, Pecatu, Badung, Bali 80361, Indonesia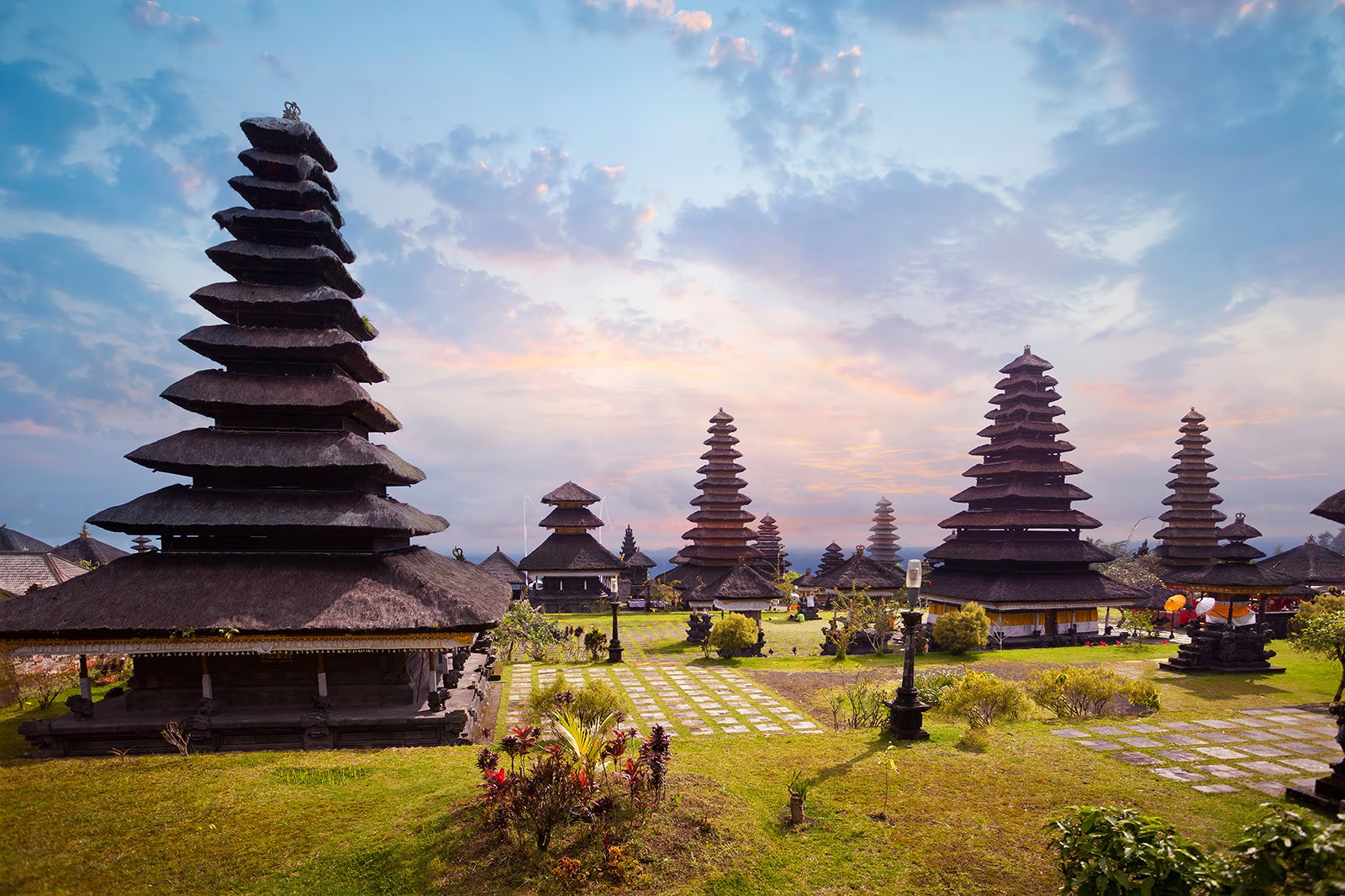 3 Besakih Temple
The 'mother temple'
Besakih Temple, the 'mother temple' of Bali, sits on the south-western slope of Mount Agung – Bali's tallest peak. Besakih is the largest of all temple complexes in Bali, comprising 18 separate sanctuaries that each belong to different caste groups. They surround a central complex with 3 main temples that are dedicated to the Hindu trinity, namely Shiva, Brahma and Vishnu.
Location: Besakih, Rendang, Karangasem, Bali 80863, Indonesia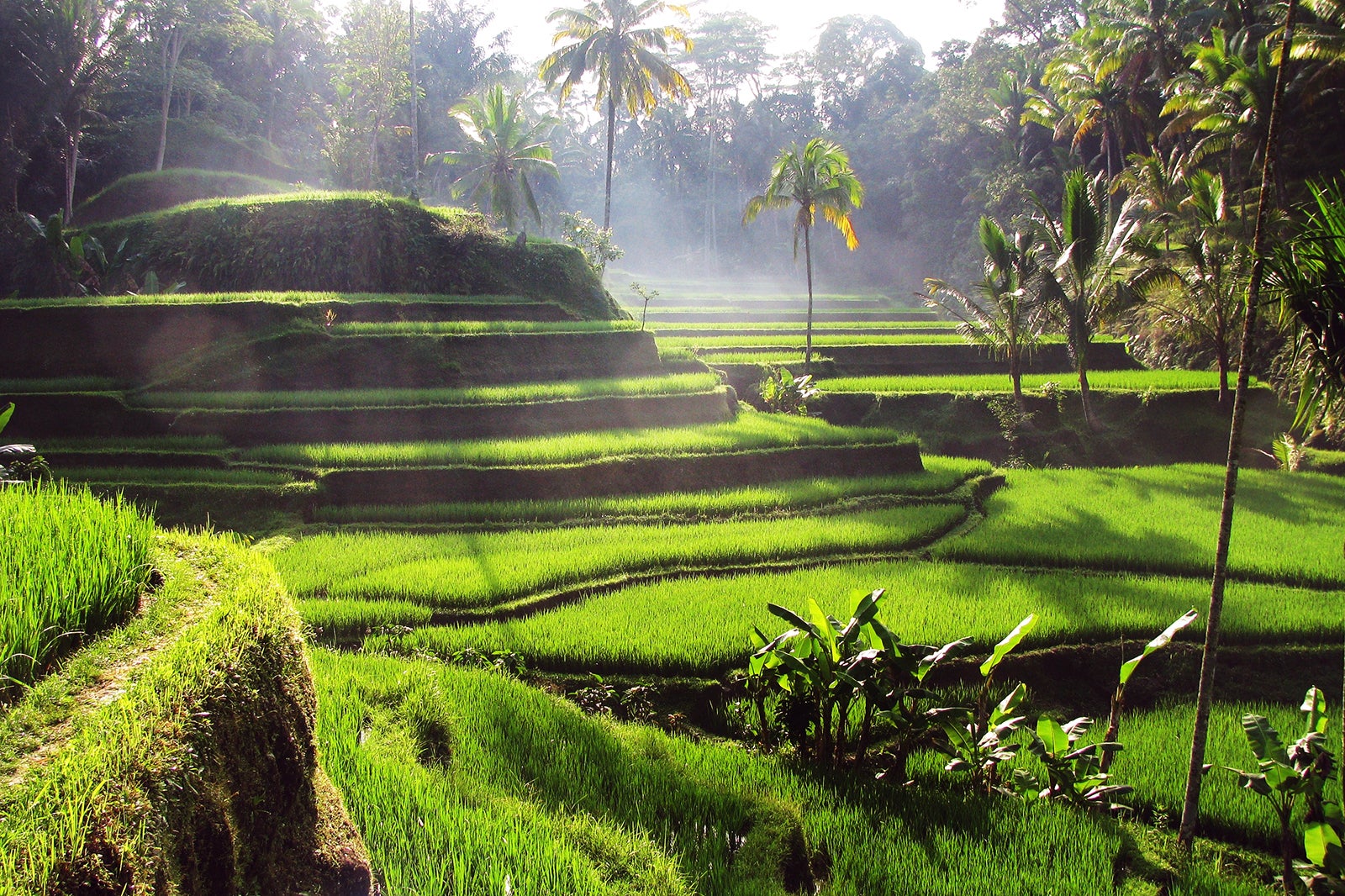 4 Tegallalang Rice Terraces
Ubud's verdant valley
The rice terraces of Tegallalang offer one of the best views that you can take in while up in Ubud. The village of Tegallalang is just up north from the main Ubud centre. Along the main road of Jalan Raya Tegallalang, there are roadside stalls and art shops offering items and curios of all kinds, together with small restaurants offering lunch or dinner with the great view over the deep and lush valley.
The Tegallalang rice terraces spread down below and to the far opposite side of the valley. Besides enjoying the view from up high, you can also go down and follow the trail through the rice fields to greet farmers and enjoy the paddies from up close.Read more
Location: Jalan Raya Tegallalang, Tegallalang, Gianyar, Bali 80561, Indonesia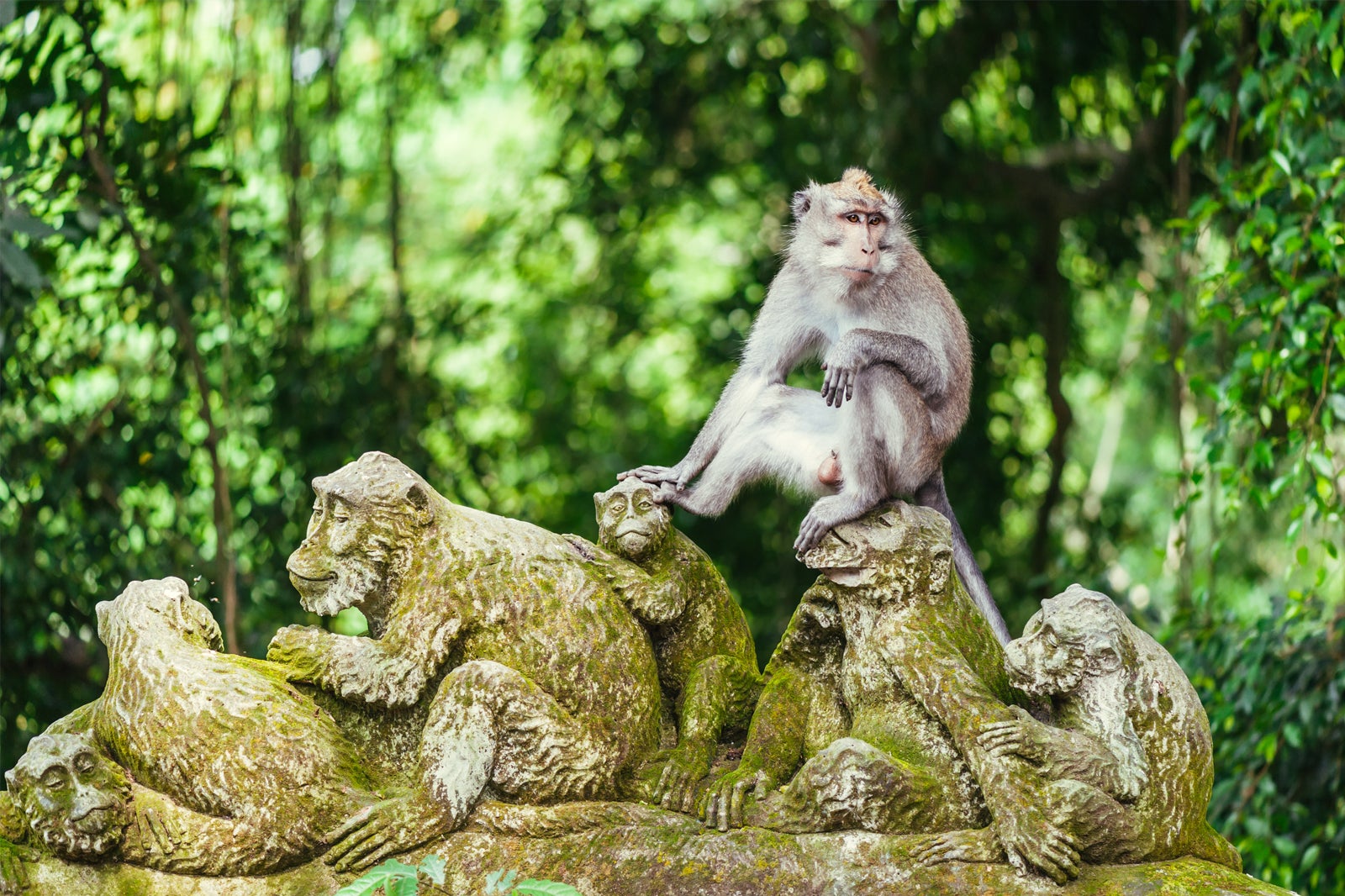 5 Ubud Monkey Forest
Lush forest and animal sanctuary
Ubud Monkey Forest is a natural forest sanctuary that's home to a horde of grey long-tailed macaques. Officially the Sacred Monkey Forest of Padangtegal, it is one of Ubud's most popular attractions and the site is well-preserved thanks to a community-based management program. The forest is within easy walking distance from Ubud's town centre.
Location: Jalan Monkey Forest, Ubud, Gianyar, Bali 80571, Indonesia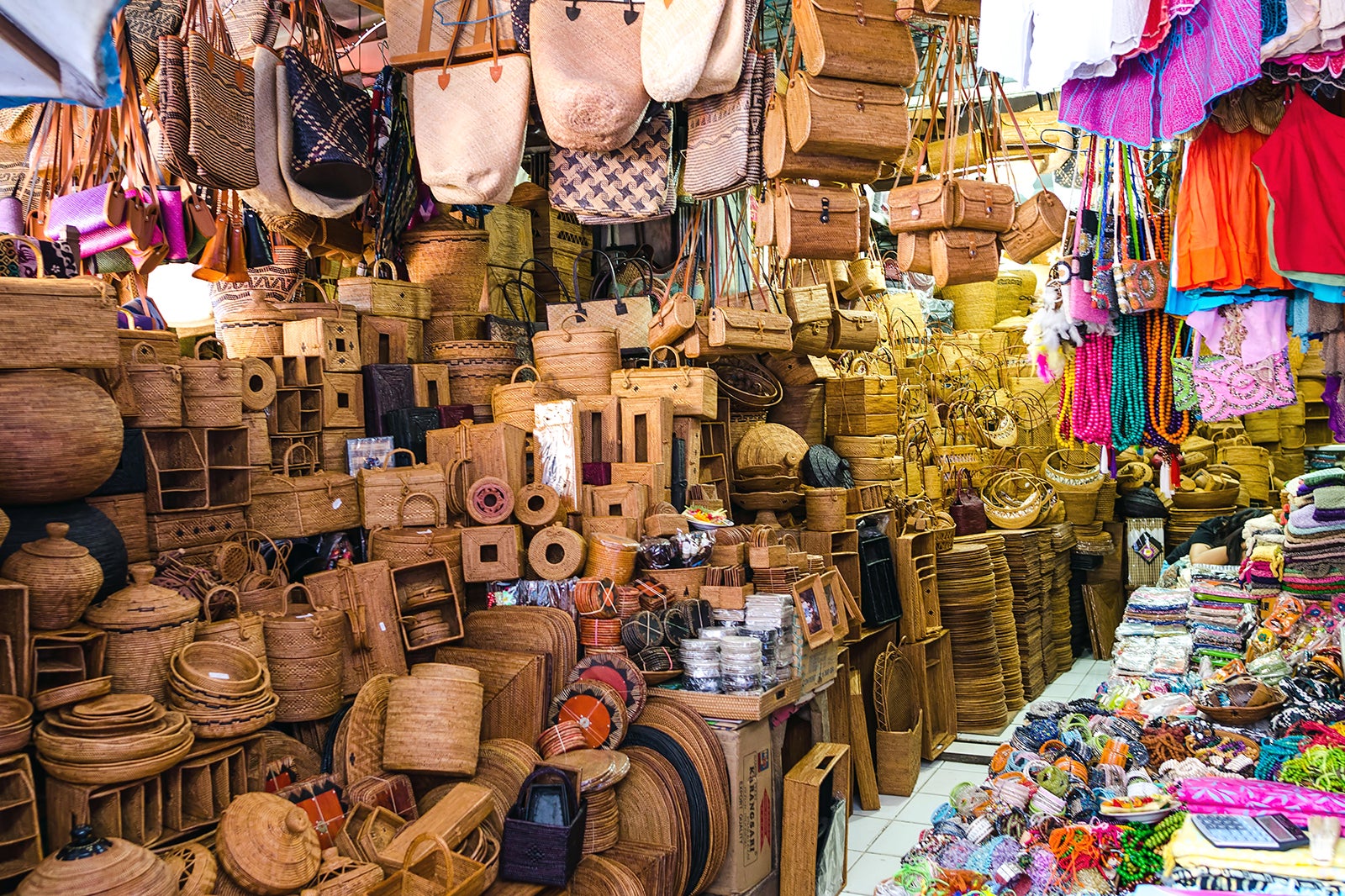 6 Ubud Art Market
Your source for arts and crafts
Ubud Art Market is one of the landmarks in central Ubud, conveniently just across the road from the Ubud Royal Palace.
Most of the goods found at the Ubud Market are made in the neighbouring villages of Pengosekan, Tegallalang, Payangan and Peliatan. Naturally, bargaining is essential. The Ubud market starred briefly in the Hollywood movie Eat Pray Love, which shows a scene with actress Julia Roberts strolling through the stalls which are bustling with activity in real life.
Location: Jalan Raya Ubud, Ubud, Gianyar, Bali 80571, Indonesia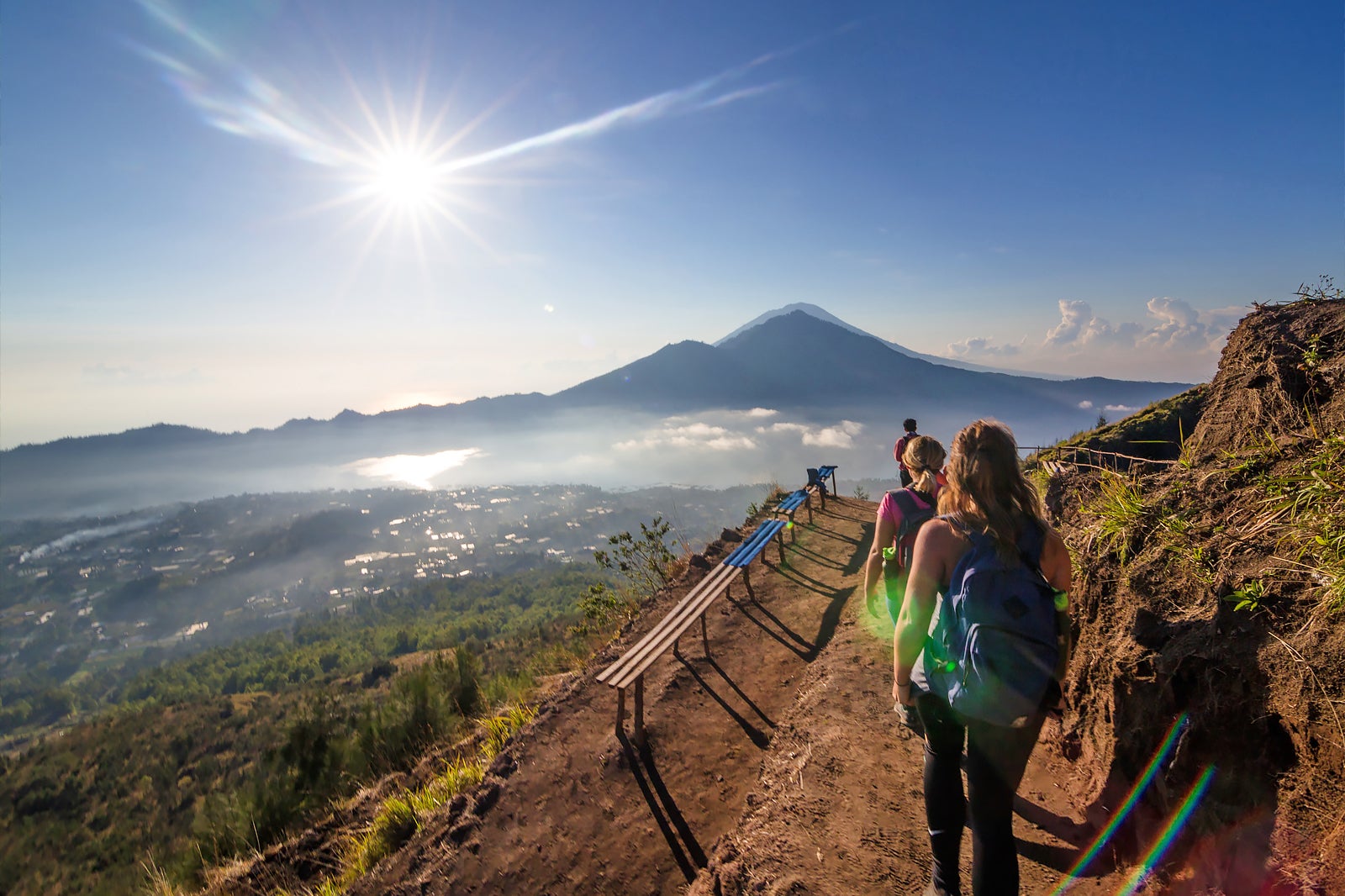 7 Kintamani
Scenic mountain outlook
Kintamani is a mountain village in central Bali that's home to Mount Batur, which is Bali's second tallest peak, and the Batur caldera lake. Penelokan is the best site for panoramic views, with Batur's rugged features of dark lava slopes and black molten rocks in view.
It's popular among mountain hikers, with the early sunrises from the ridges being its highlight.
Location: Songan, Kintamani, Bangli, Bali 80652, IndonesiaGOOD FOR: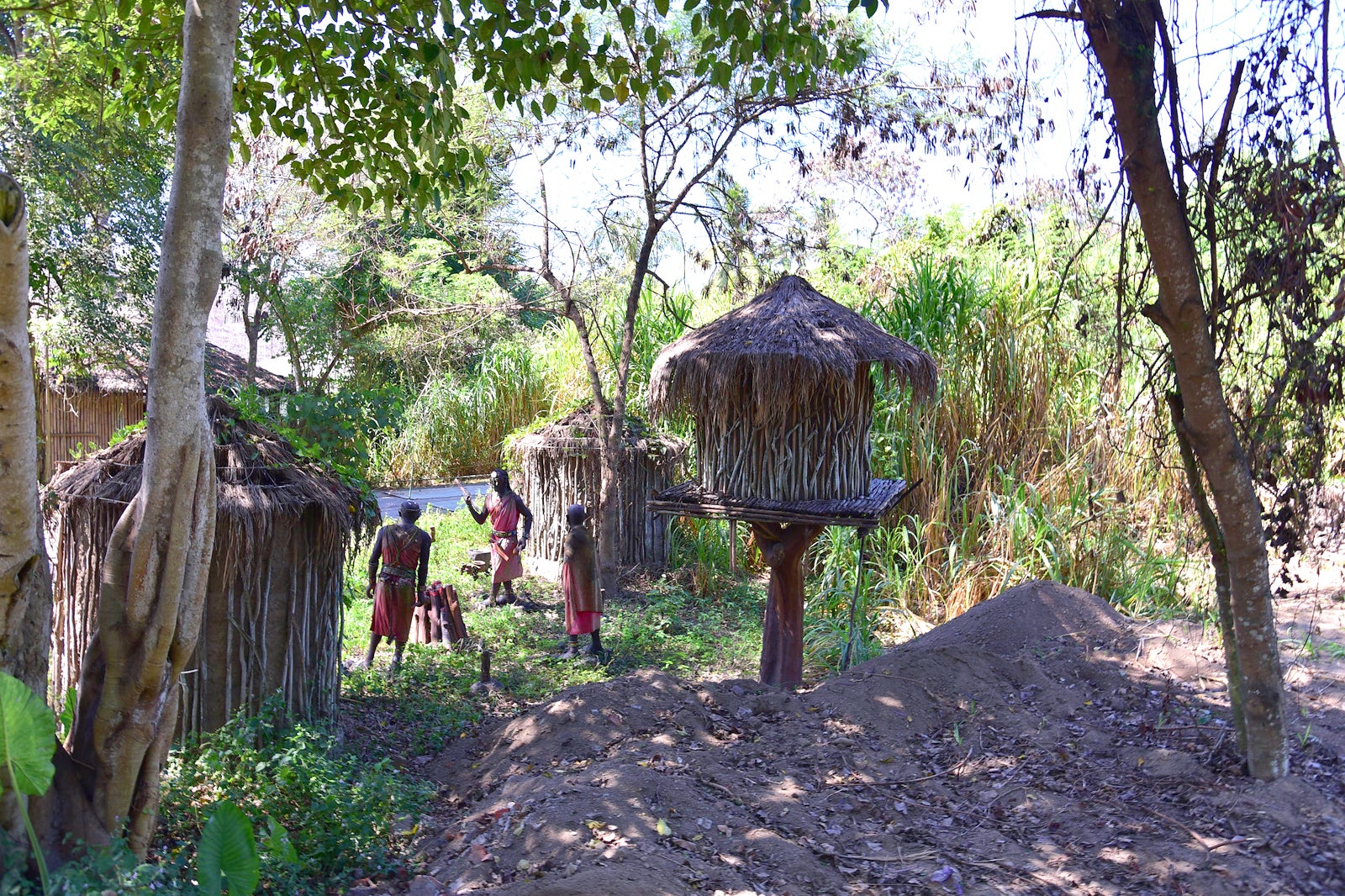 8 Bali Safari and Marine Park
Go on a safari
Bali Safari & Marine Park is Bali's largest animal theme park, home to over 60 species roaming within enclosures that closely mimic their natural habitats. Bus safaris take visitors on tours 'around the world' with animals from different continents, and there are animal talent shows held regularly in an open stage.
After enjoying the safari bus rides, families travelling with children can have a blast together at an adjacent water park and a park filled with a variety of amusement park rides.
Location: Jalan Prof. Dr. Ida Bagus Mantra Km. 19.8, Serongga, Gianyar, Bali 80551, Indonesia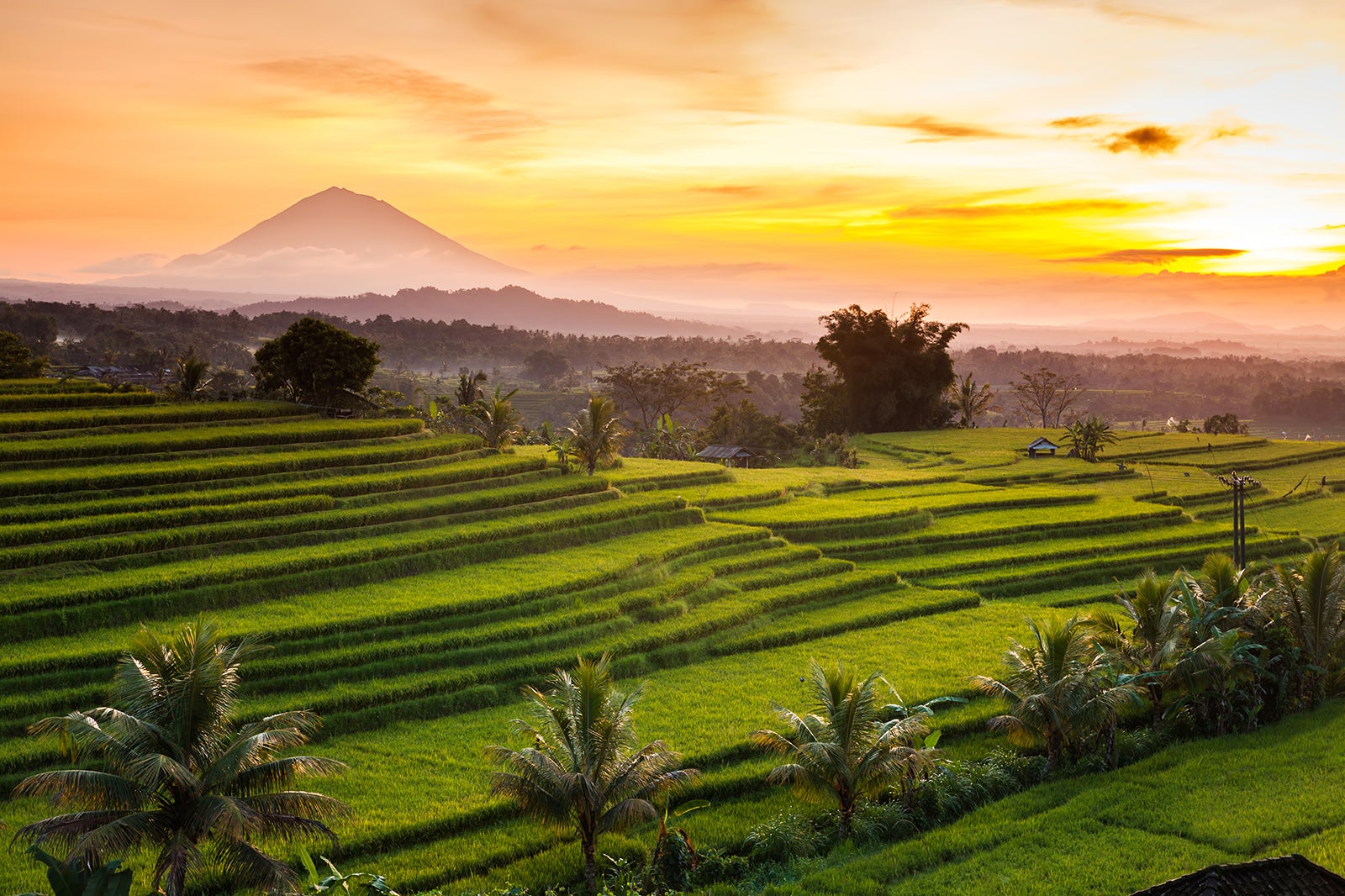 9 Jatiluwih Rice Terraces
A flowing sea of green
The Jatiluwih rice terraces offer one of the island's most famous rice field landscapes. The vast fields make up a considerable area of the cool highland village of the same name in the Tabanan Regency and can be a soothing retreat away from the common crowds of the island's southern beach resort areas.
They are maintained by a traditional water management cooperative known as subak, which dates back to the 9th century. The cooperative itself was a top reason for Bali's 'cultural landscape' entry on the heritage list.
Location: Jalan Jatiluwih, Penebel, Tabanan, Bali 82152, Indonesia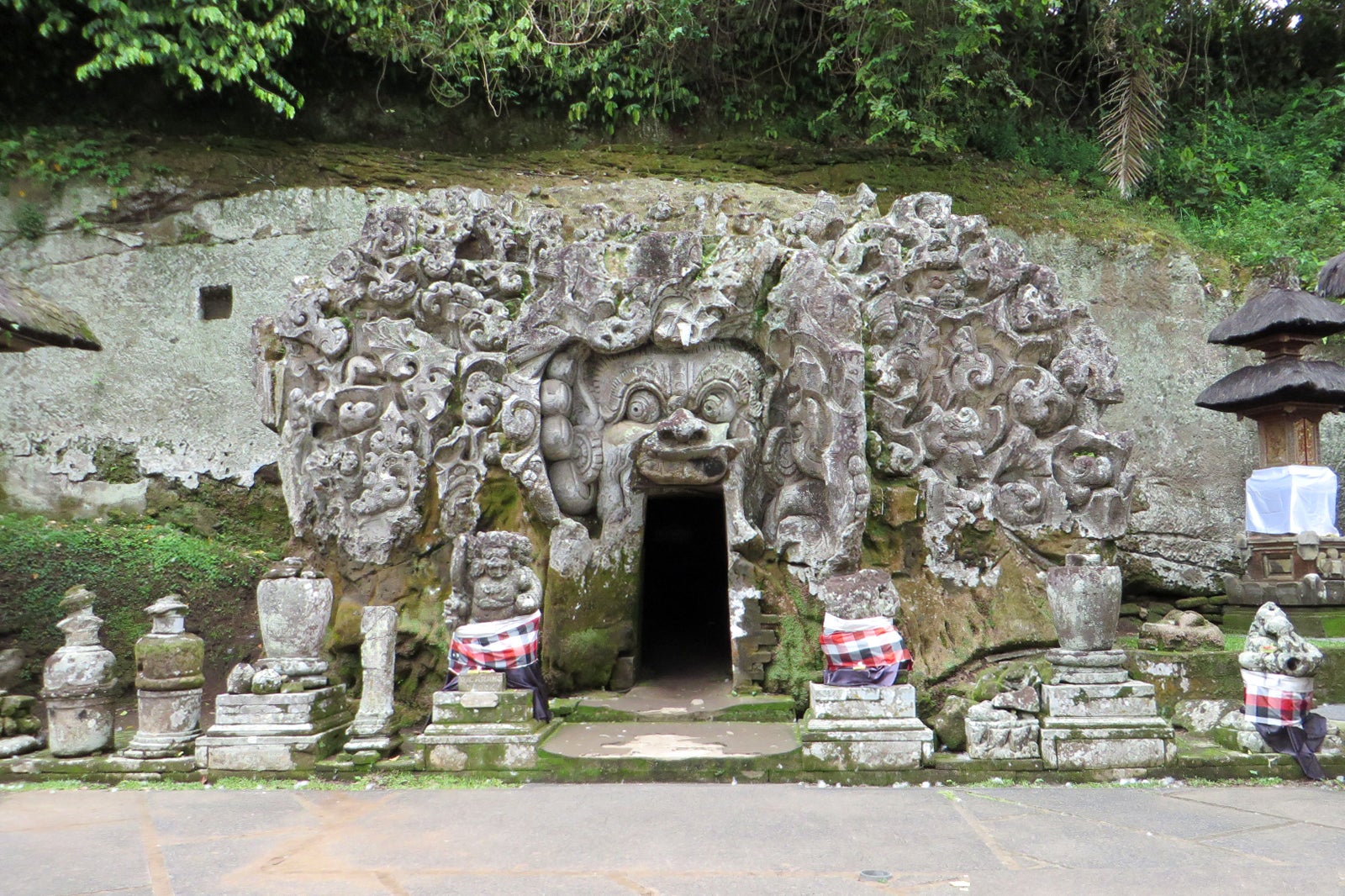 10 Goa Gajah
Discover the 'elephant cave'
Goa Gajah is one of Bali's most significant archaeological sites. To the unknowing, Goa Gajah's name which translates to 'Elephant Cave' can be slightly misleading – there are no pachyderms here.
You can reach Goa Gajah west of Bedulu village and about 6 km east from central Ubud.
Location: Jalan Raya Goa Gajah, Pejeng Kawan, Tampaksiring, Gianyar, Bali 80582, Indonesia