Top 11 Attractions
 Here are the top places to visit in Darjeeling. If you are visiting Darjeeling for a short vacation, then you should target to visit some of these places listed in this section. 
 (1) Tiger Hill 
Located at the highest point in Darjeeling area, Tiger Hill is best known for the dazzling sunrise view of the Kanchenjunga and the snow covered peaks of the entire eastern Himalayan range. On a clear day you can even see the mount Everest from here. Tiger Hill is located 11kms from the Darjeeling Town and takes about 40 minutes to reach by car.  Kanchenjunga as the sun rises, Tiger Hill Darjeeling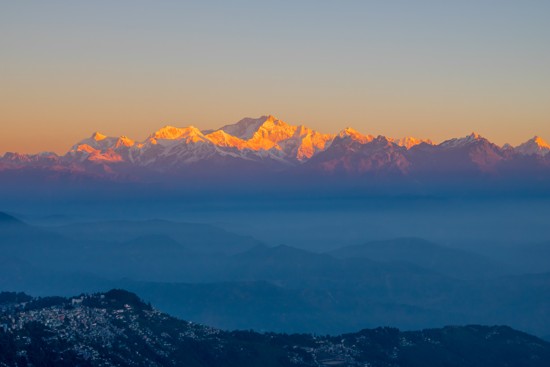 Photo: Meenakshi Jha  
(2) Himalayan Mountaineering Institute (HMI) and the amazing Darjeeling Zoo 
HMI is a destination by itself and a said to be a pilgrimage for all climbing enthusiasts of the world. It has a well stocked museum with mountaineering displays and many expedition artifacts, a boarding school for mountaineering students, houses for the trainers, a restaurant, a souvenir shop and more.The unique feature of this zoo is, it houses animals of high altitude and mostly from upper Himalayas. You can see some rare animals here like Red Pandas, Snow Leopards, Tibetan Wolf and lot more.   It's an excellent museum to know about flora and fauna of Bengal along with animals and birds specific to north-eastern part of the state. 
(3) Batasia Loop 
Located 5km from Darjeeling Town and just below Ghoom, Batasia Loop as the name suggests, is a loop or a spiral of a narrow gauge railway track where the Toy Train negotiates a sudden sharp descent from Ghoom. It's a wonderful viewing place with manicured gardens, streams and falls, from where you can get a wide range view of the Darjeeling's landscape, Kanchenjunga snow peaks and the other Eastern Himalayan peaks.  Batasia Loop Darjeeling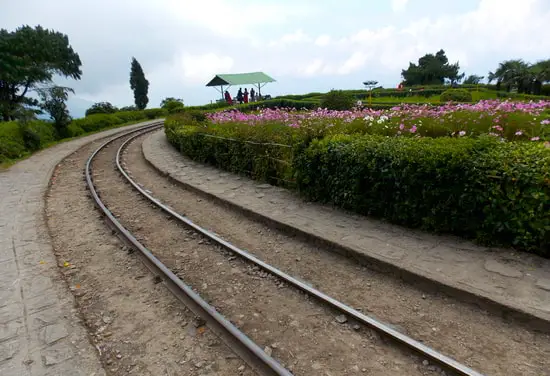 (4) Darjeeling Ropeway 
This is one way you can be part of special diverse offerings from the nature and all in one place. Get off at a lower station and enjoy the tea estates, walk through the tea gardens, or just relax and enjoy the view around. It's hard to find all these together in one place.  Darjeeling Ropeway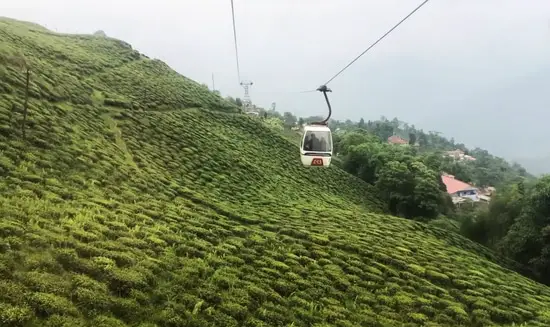 (5) Darjeeling Mall (Chowrasta) 
The Chowrasta or the Mall is the town center in Darjeeling. This is a lovely little flat area, a public square where four roads meet. This public place is where you would like to lounge & bake in the sun, sit and watch the wonderful views of the mountain range and see many locals and tourists hanging around.And all around the mall, you have benches to sit and relax.  Darjeeling Mall with shops lined up on one side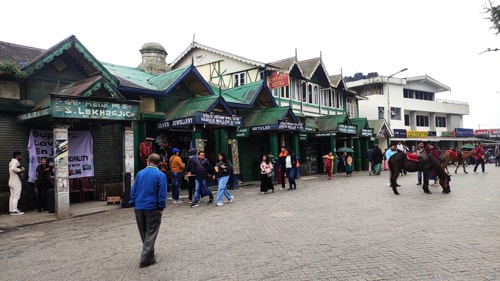 (6) Rock Garden & Ganga Maya Park 
These two are scenic parks in wonderful settings located a few miles away from the Darjeeling town. Ganga Maya is more spread out and has a beautiful stream flowing through it on a valley, has flower gardens, fountains and more.  Rock Garden Darjeeling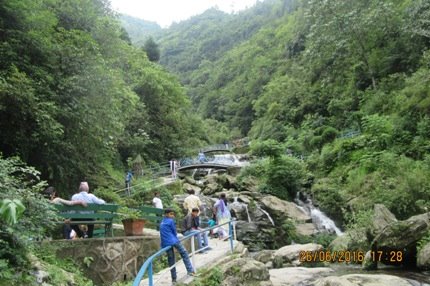 (7) Japanese Temple & Peace Pagoda 
About 10 minutes by car, you will reach a wonderful area that is symbolic of peace and tranquility.Close to it is the Peace Pagoda where there are four large avatars of Lord Buddha. The view from the top is magnificent. You can see the snow peak range from here including the Kanchenjunga.  Peace Pagoda Darjeeling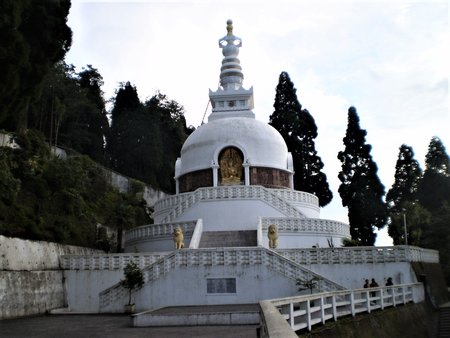 (8) Happy Valley Tea Estate 
This is one of the famous tea estates in Darjeeling that was established by British planters Many tea bushes here are over 100 years old and it's a treat to the eyes to watch the vast expanses of lush tea gardens on the slopes of the hills. You can get inside the factory and watch the various stages of tea processing. The estate produces black, green and white tea.  
(9) Observatory Hill and Mahakal Temple 
Rising from behind the Mall, Observatory Hill is an ideal place to get a 360 degree view of Darjeeling and the peaks surrounding it. The Mahakal Temple, Darjeeling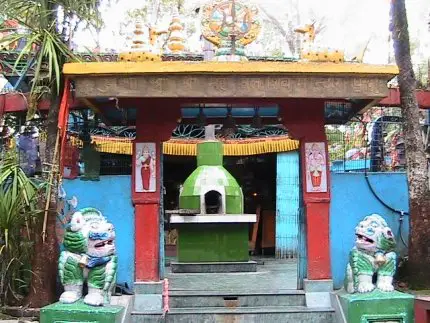 (10) Tibetan Refugee Self Help Center 
You can see Tibetan men and women making exquisite hand crafted items like woolen carpets, shawls, carved wooden crafts, leather items and more. There is an outlet at the center from where you can buy these items.  Apron Section, Tibetan Refugee Self Help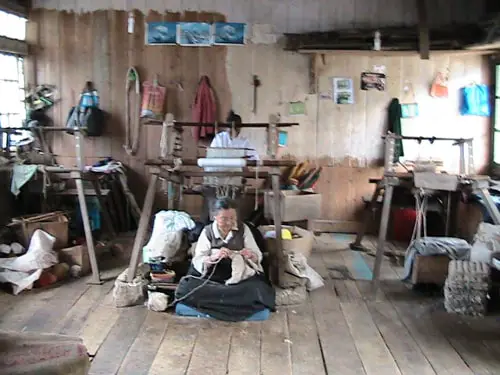 (11) Jamuni Tourist Complex 
Jamuni is only 45 minutes away from Darjeeling town (about 15kms).Jamuni, River Rangeet and the central round lake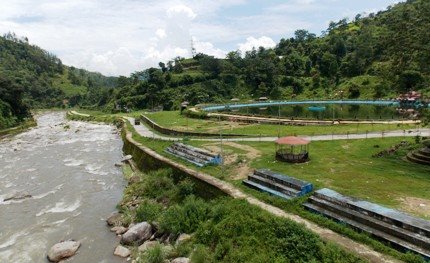 FOR ANY HELP OR BOOKing PACKAGE PLEASE CONTACT
LANDLINE NUMBER : 01874-501800
MOBILE NUMBER : +91 8146526257
E MAIL ID : ADMIN@TRAVELX.CO.IN