Top Tourist Places in Ooty
The summer capital of the Madras Presidency during the Raj, Ooty is a nature lover's paradise. Located in the state of Tamil Nadu, Ooty (also known as Udhagamandalam) is a perfect destination for those looking for a break from the one-dimensional city life. From picturesque valleys to mystic waterfalls, and from fascinating grasslands to lush green tea estates, the place has it all.
The green cover is not just a treat for eyes but also for the soul. The hill station beckons tourists in large numbers every year to soak in its charm. While its hugely popular botanical gardens attract those looking for serenity, it has plenty of options for adventure enthusiasts too. Be it a road trip, a trekking holiday or a relaxing retreat that you're looking for, 'The Queen of Hills', as it is rightly called, has something for everyone. Not just Ooty, but its sister town, Coonoor, also has lots to see. Here are the most popular tourist places in Ooty and Coonoor:
1. Government Botanical Gardens, Ooty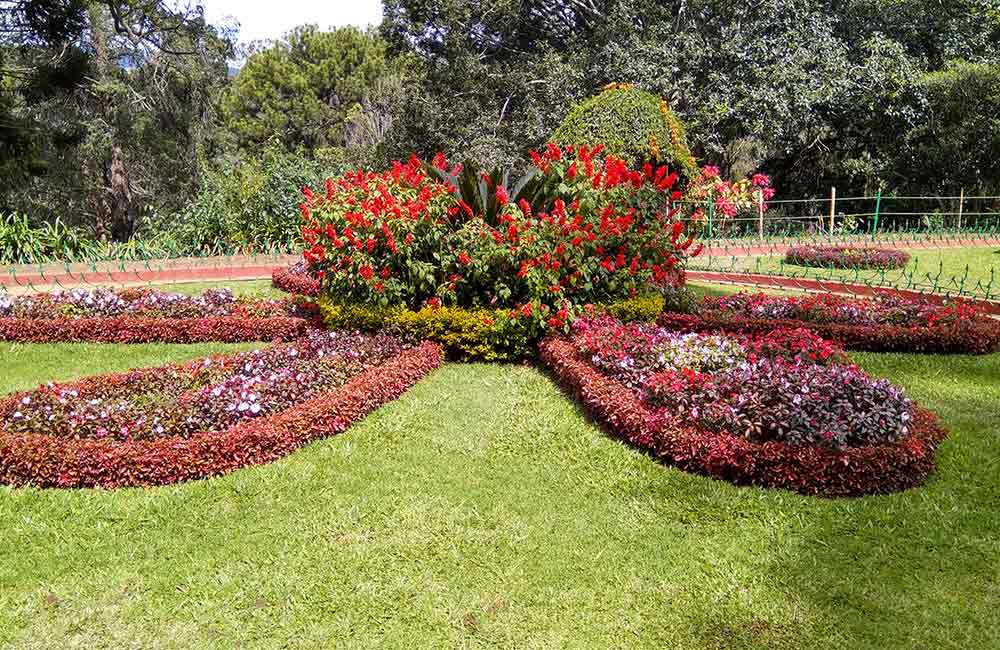 Government Botanical Garden|#1 of 15 Places to visit in Ooty
This place is a heaven for those who love trees and flowers. Even if you aren't particularly interested in these, the aesthetic appeal of this attraction is sure to warm your heart. The popular tourist attraction was laid out in 1848 by Graham Mclvor. It is divided into six sections: New Garden, Conservatory, Lower Garden, Nurseries, Italian Garden and Fountain Terrace. The entrance is lined by varieties of gorgeous flowers, ferns, and orchids. The stunning shades of violet, red, white and green make every corner of this garden picture perfect.
Spread over 22 hectares, the gardens have many exotic as well as indigenous species of herbs, shrubs, bonsai, and trees. The most fascinating attraction is the fossil tree trunk that is more than 20 million years old; it was brought to the garden from the National Fossil Park in Thiruvakkarai.
Timings: 9:00 am to 6:00 pm
Entry Fee: Free (up to 5 years); ₹ 15 (5-10 years); ₹ 30 (10 years and above)
2. Ooty Lake, Ooty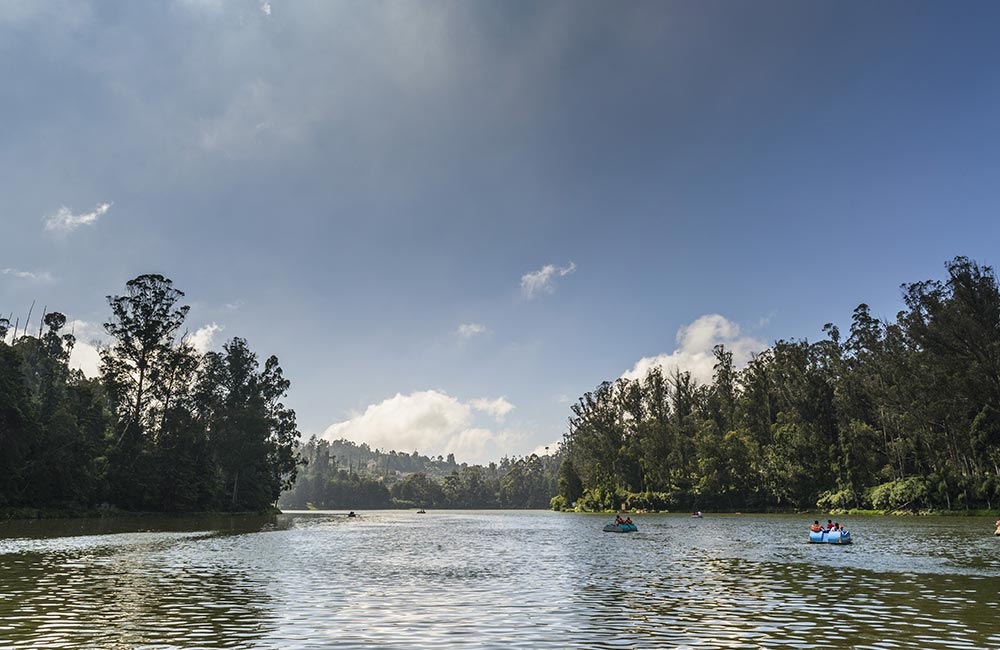 Ooty lake|#2 of 15 Places to visit in Ooty
If you are looking for places to visit in Ooty in 1 day, you must include Ooty Lake in your itinerary. Formed during the British Raj in 1824, this artificial lake is spread across 65 acres. Surrounded by lush mountains, the landscape is magical, especially with the mist lingering around the green cover. A boat ride in this scenic setting is an absolute must. You can opt for paddle, motor or rowing boats. There are also other recreational activities around the lake like an amusement park, toy trains for children and horse rides. Also, there's a flea market to engage the shopaholics in addition to a food court serving different dishes. 
Boating Timings: 10:00 am to 6:00 pm daily
Boating Fee: ₹ 2000 to ₹ 1000, depending on boat
3. Doddabetta Peak, Ooty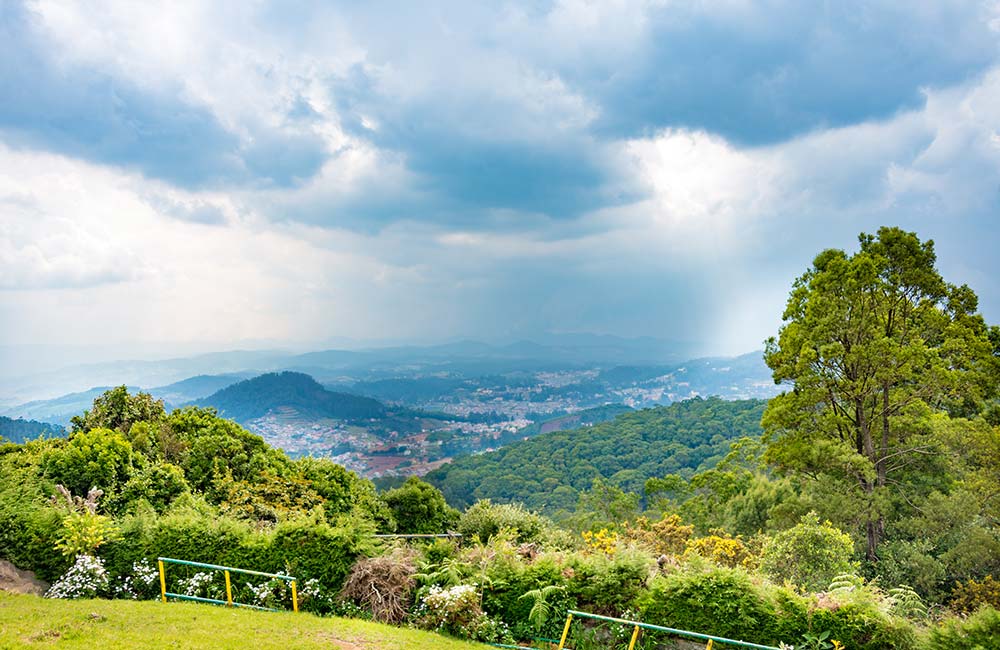 Doddabetta Peak|#3 of 15 Places to visit in Ooty
To enjoy a panoramic view of the Nilgiris hills, take a trip to Doddabetta Peak. In fact, include this in your itinerary if you are looking for places to visit in Ooty Doddabetta, the highest peak of the Nilgiris, is located 10 km from Ooty.
Surrounded by dense forests consisting of beautiful pine trees and other flora, the region is spectacularly green. Trekking is not very difficult here, but make sure you wear comfortable shoes when visiting this peak. There's a telescope house run by the state tourism department to let tourists enjoy a bird's eye view of the place. Enjoy the view and then a meal at the al fresco cafeteria. There's also a small market, selling spices, tea, fresh carrots, corn and roasted peanuts. You can also buy warm clothes and accessories from here.
Timings: 7:00 am to 6:00 pm
Entry Fee: Free (children); ₹ 6 (adults)
4. Doddabetta Tea Factory, Ooty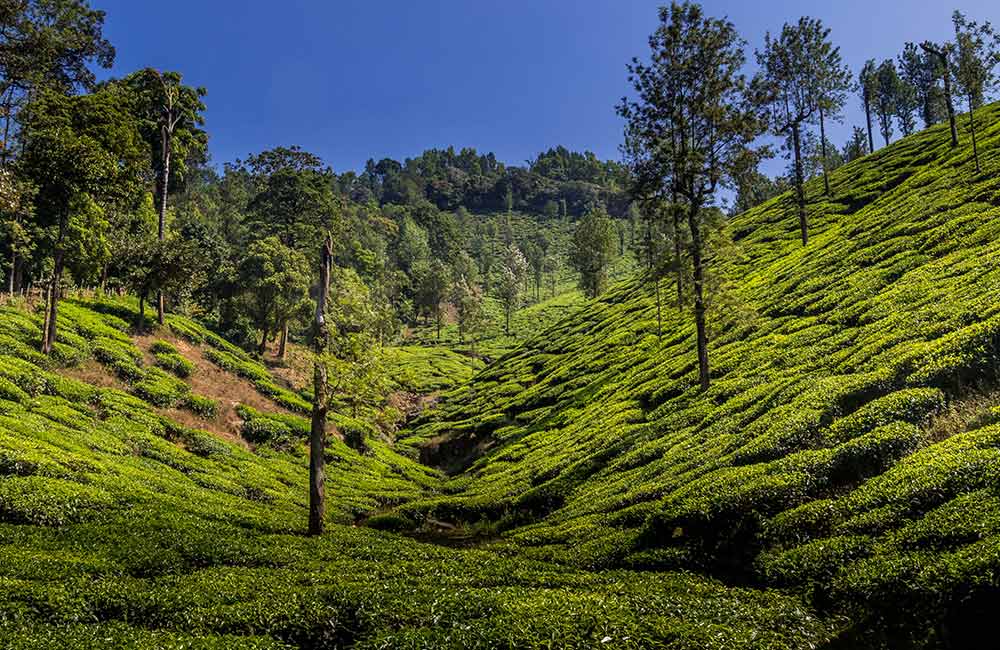 Doddabetta Tea Factory|#4 of 15 places to visit in Ooty
Tea estates are synonymous with the landscape of Ooty; therefore, the Doddabetta Tea Factory and Museum automatically features in the list of Ooty tourist places. At the tea museum, you can see several artefacts and other things related to tea. You can gain an insight into the different stages of tea production and also read about the popularity of tea not just in India but globally as well.
Timings: 9:00 am to 5:30 pm
Entry Fee: ₹ 10 (factory); ₹ 10 (museum)
5. Pykara Falls and Pykara Lake, Ooty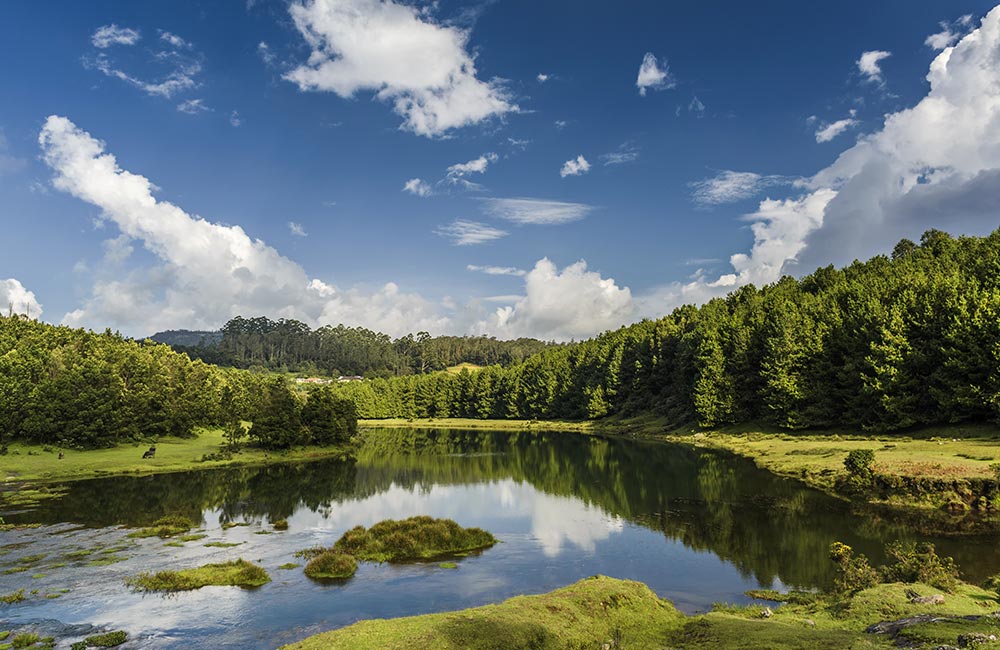 Pykara Falls and Pykara Lake|#5 of 15 places in Ooty
The picturesque charms of Pykara Falls have attracted many Kollywood filmmakers to shoot songs here. No wonder, the natural beauty of this place allures tourists in large numbers as well. Located about 20 km from Ooty, Pykara Falls makes for an ideal picnic spot. The best thing about this tourist place in Ooty is that it is still unspoiled by commercialisation. You can enjoy a boat ride on the lake here, and the memories of dense trees and crystal-blue waters will remain etched in your heart forever.
Boating Timings: 10:00 am to 5:00 pm
Boating Fee: ₹ 60 to ₹ 1210, depending on boat
6. Kamaraj Sagar Dam, Ooty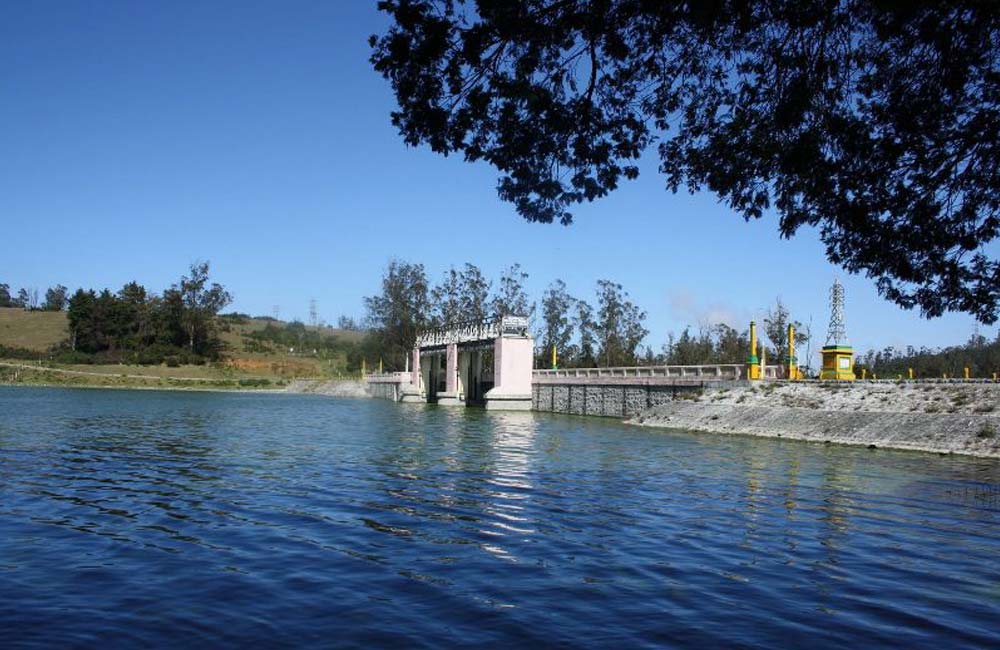 Kamaraj Sagar Dam|#6 of 15 places to visit in Ooty
Kamaraj Sagar Dam is yet another splendid picnic spot; hence a popular tourist place in Ooty. The area looks stunning with dense mango and coconut trees covering the region. While it is extremely popular as a picnic spot, it also attracts angling enthusiasts as the dam reservoir is home to a variety of aquatic life. Also, the dam has emerged as a popular spot for environmentalists and nature enthusiasts who spend hours here for research purposes.
Timings: N/A
Entry Fee: N/A
7. Elk Hill Lord Murugan Temple, Ooty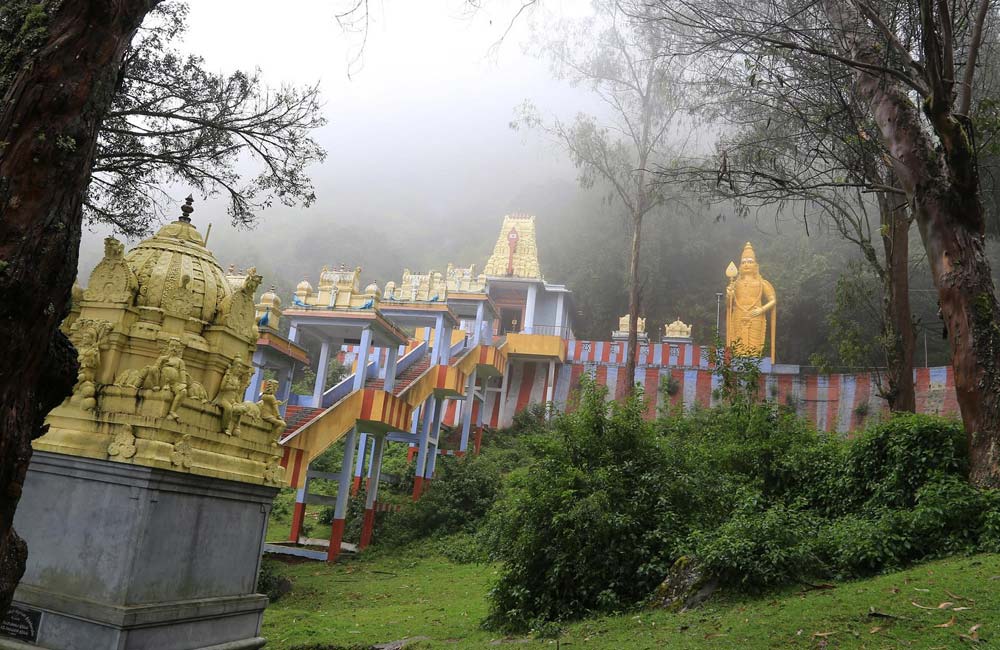 Elk Hill Lord Murugan Temple|#7 of 15 places to visit in Ooty
Considered as one of the most beautiful hills in Ooty, Elk Hill is home to the famous Elk Hill Lord Murugan Temple. The temple is dedicated to Lord Murugan, well known as the warrior god. A life-size golden statue of Lord Murugan makes for an awe-inspiring sight in the backdrop of the beautiful hills. Not only is the view from temple breath taking, but the atmosphere inside it is also remarkable.
Timings: N/A
Entry Fee: N/A
8. Government Rose Garden, Ooty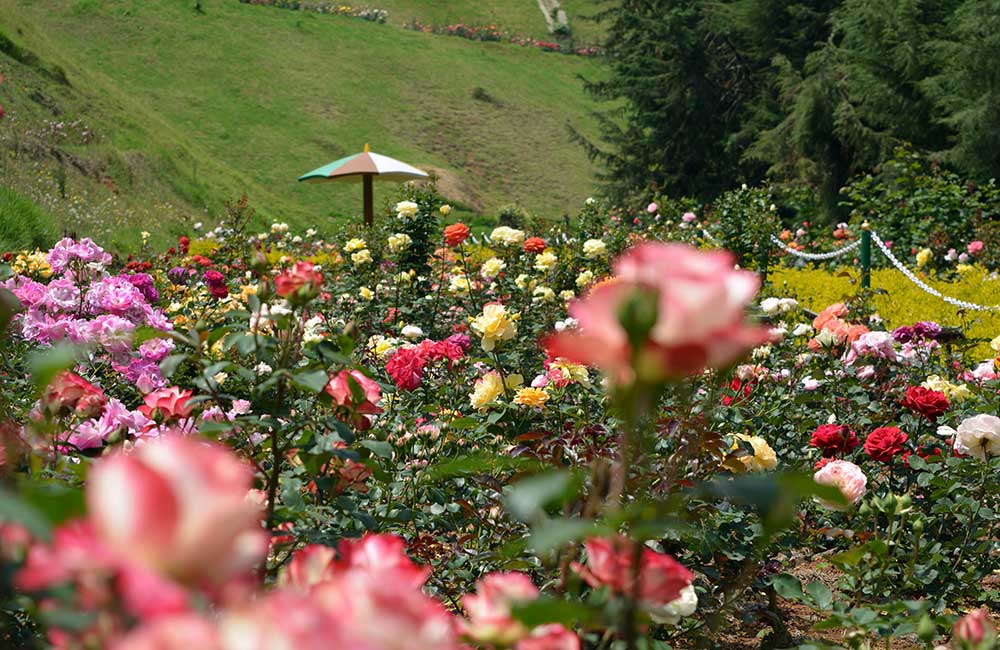 Government Rose Garden|#8 of 15 places to visit in Ooty
Your trip to Ooty would be incomplete if you do not incorporate the largest rose garden in the country in your sightseeing plans. Located on the beautiful slopes of Elk Hill, Government Rose Garden is a place that will give you the best of pictures and most amazing memories. Home to almost 20000 varieties of roses, it has been one of the most popular tourist spots in the state since 1995. You can also spot black and green rose here. Enjoy a lovely stroll here and spend quality time soaking in the beauty of flowers. Touching the flowers or plants here is strictly prohibited, but clicking them is not! Unleash your photography skills capturing the most gorgeous roses around.
Timings: 9:00 am to 6:00 pm
Entry Fee: ₹ 15 (children); ₹ 30 (adults)
9. Mariamman Temple, Ooty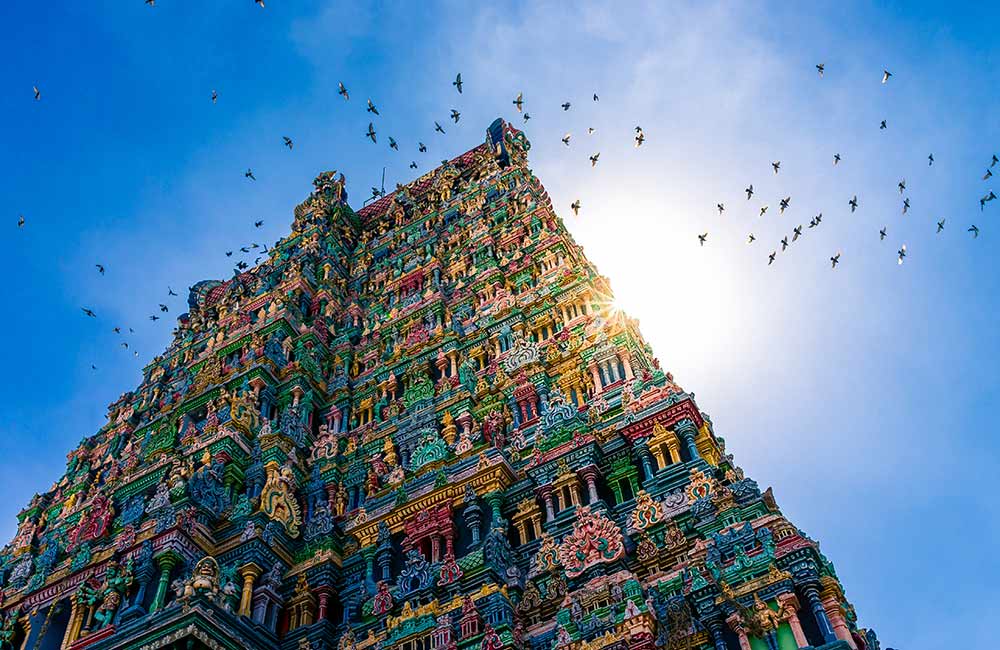 Mariamman Temple|#9 of 15 places to visit in Ooty
Dedicated to Goddess Mariamma, the regional goddess of rain, Mariamman Temple is popular amongst locals as well as tourists. According to a legend, every Tuesday, merchants from Coimbatore visited this region for trade purposes. Once came two sisters looking for a place to stay. They were asked to take refuge under a tree; that night a flash of lightning appeared, following which the sisters disappeared. It was then that the locals understood that the sisters were goddesses. They then constructed a temple for both the divine figures. Just like most temples in South India, it features a pyramidal tower called Vimana, which is studded with colourful sculptures of deities.
Timings: 6:00 am to 8:00 pm
Entry Fee: N/A
10. Tribal Museum, Ooty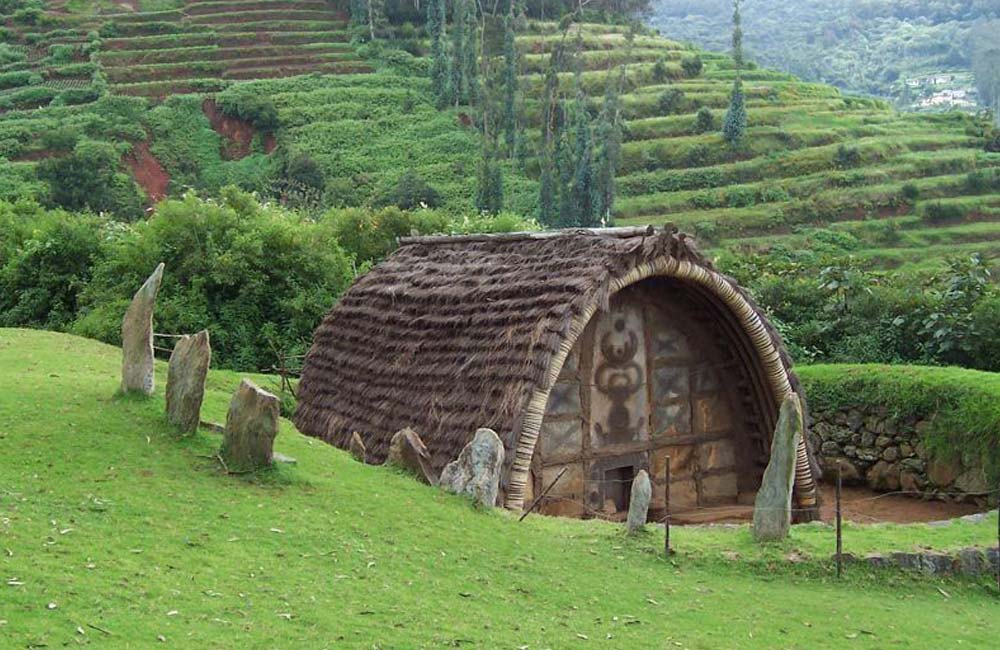 Tribal Museum|#10 of 15 of places to visit in Ooty
If you are someone who is interested in history and cultures, plan a visit to the Tribal Museum. The museum, also known as Tribal Research Centre, displays several relics related to regional tribal people. You can see here the expositions of various tribal movements that took place in the state over centuries. There are also some rare photographs of tribal population in the Andaman and Nicobar Islands. The research centre here focuses on enabling the tribal population to adapt to the changes of urbanisation while maintaining their culture.
Timings: 10:00 to 1:00 pm and 2:00 pm to 5:00 pm
Entry Fee: N/A
11. St Stephen's Church, Ooty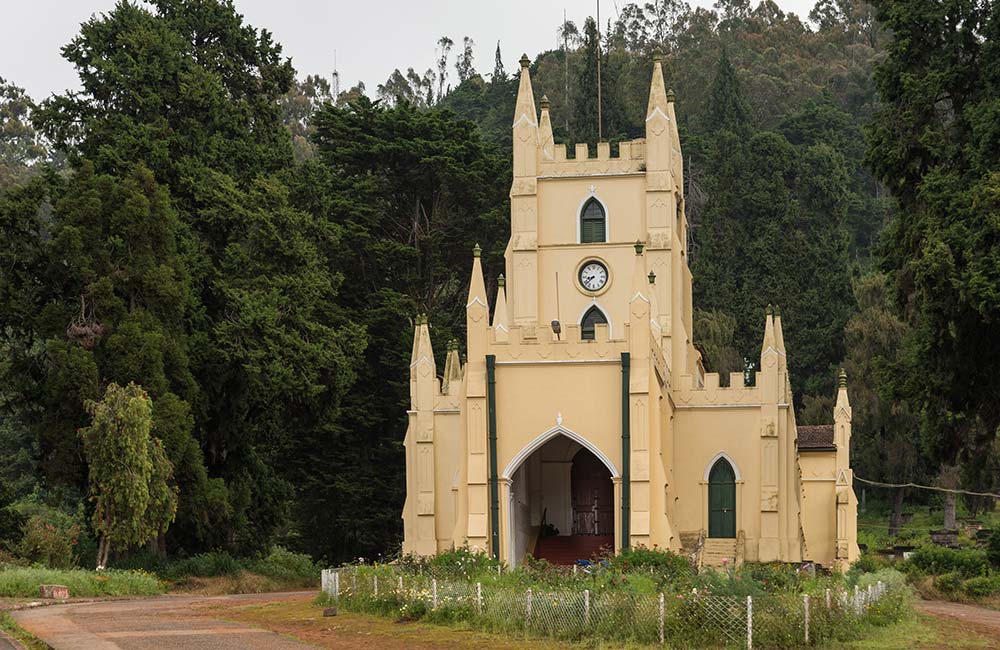 St Stephen's Church|#11 of 15 places in Ooty
One of the oldest churches in the Nilgiris built during the British era, St Stephan's Church is one of the best places to see colonial architecture. There is a remarkable painting depicting the Last Supper. Other than that, stained glass windows depict other scenes such as Mother Mary holding baby Jesus in her arms.
Timings: 10:00 am to 1:00 pm and 3:00 pm to 5:00 pm
Entry Fee: N/A
12. Nilgiri Mountain Railway, Ooty
You may not find the mention of railway or a station in the list of places to visit anywhere else. But in Ooty, the railway line built by the British is one of the most popular tourist attractions. Nilgiri Mountain Railway line is known as an engineering marvel, being built at such a high grade. The train with its wooden coaches covered in unusual colours is stunning too. Its major highlight is the views a journey on it offers as the train ascends hills, crosses rivers via bridges, wooshes past lush fields and goes through tunnels. No wonder then that it is a UNESCO World Heritage Site!
Timings: 7:10 am to 6:30 pm
Ticket Price: ₹ 25 to ₹ 205 (one-way)
Places to visit in Coonoor
If you are looking for places to visit in Ooty in 3 days, then you might as well plan a trip to Coonoor, a neighbouring town with numerous attractions, including:
13. Sim's Park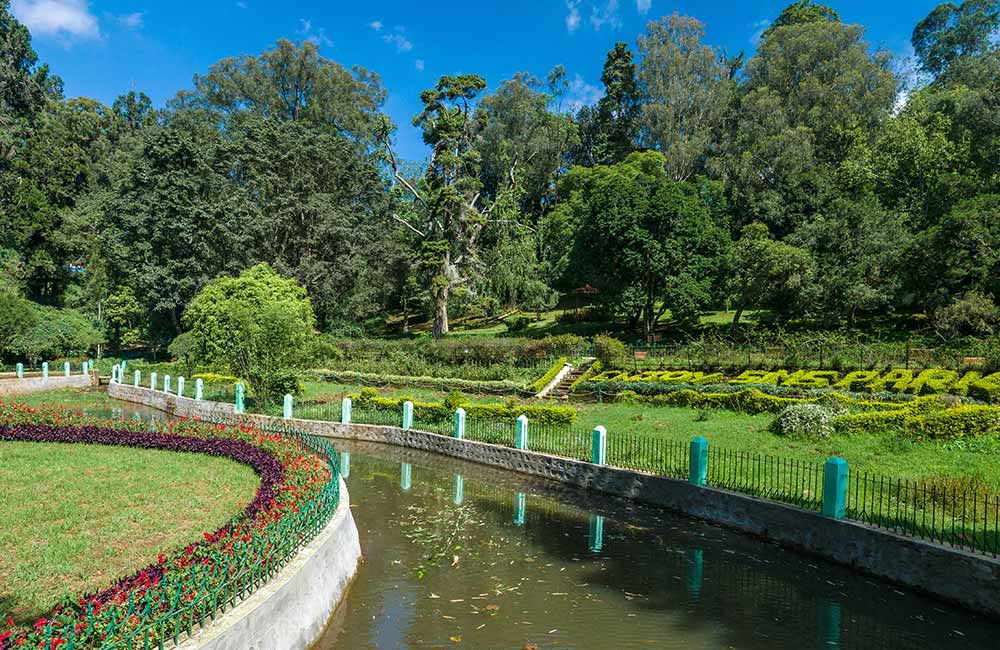 Sim's Park|#13 of 15 places to visit in Ooty
Sim's Park is a photographer's delight! A park and a botanical garden, it is spread across several terraces. You will find a variety of flowers, trees, and shrubs – all well maintained by Tamil Nadu Department of Horticulture. Like other botanical gardens in and around Ooty, this one too attracts tourists looking to revel in a sea of colours. It is an ideal attraction, especially for those travelling with kids. You can enjoy peddle boat rides within the park. Also, there is a small children's play area to engage the little travellers. If you are visiting in May, you can witness the annual fruit and vegetable show here.
Timings: 9:00 am to 6:00 pm
Entry Fee: ₹ 15 (children); ₹ 30 (adults)
14. Dolphin's Nose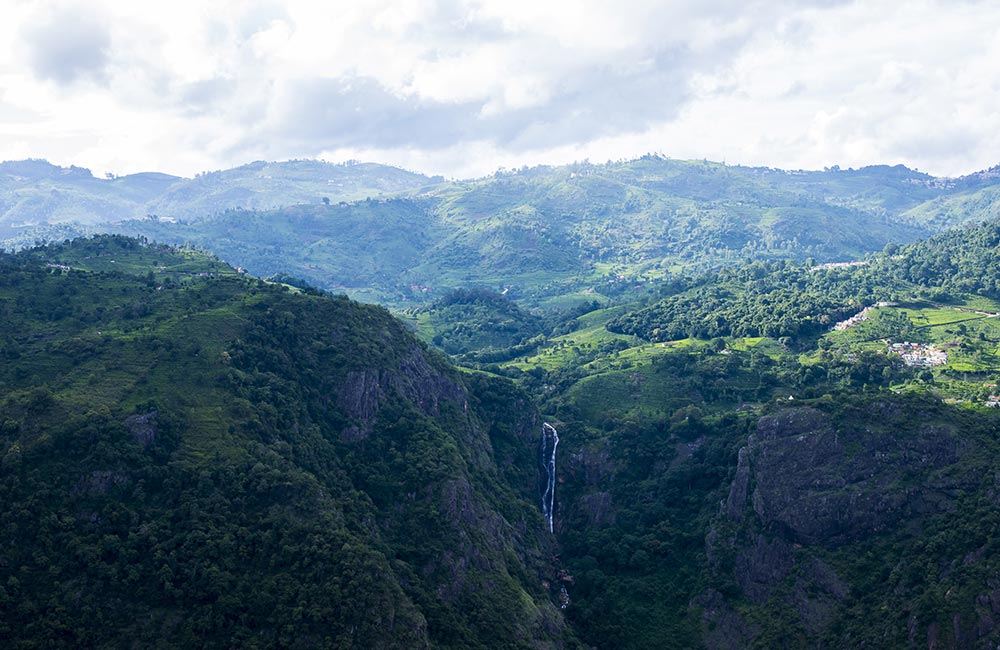 Dolphin's Nose|#14 of 15 places to visit in Ooty
A 10 km drive from Coonoor brings you to this fabulous tourist attraction. A protruding rock in the shape of a dolphin's nose gives it its name. The roads leading to this spot are absolutely stunning with several hairpin bends and tea plantations on the way. It might get a little tiring for some, but the views from the point make it worth the effort. You can see the majestic Catherine Falls that drop onto the dense forest several hundred feet below.
Timings: N/A
Entry Fee: N/A
15. Lamb's Rock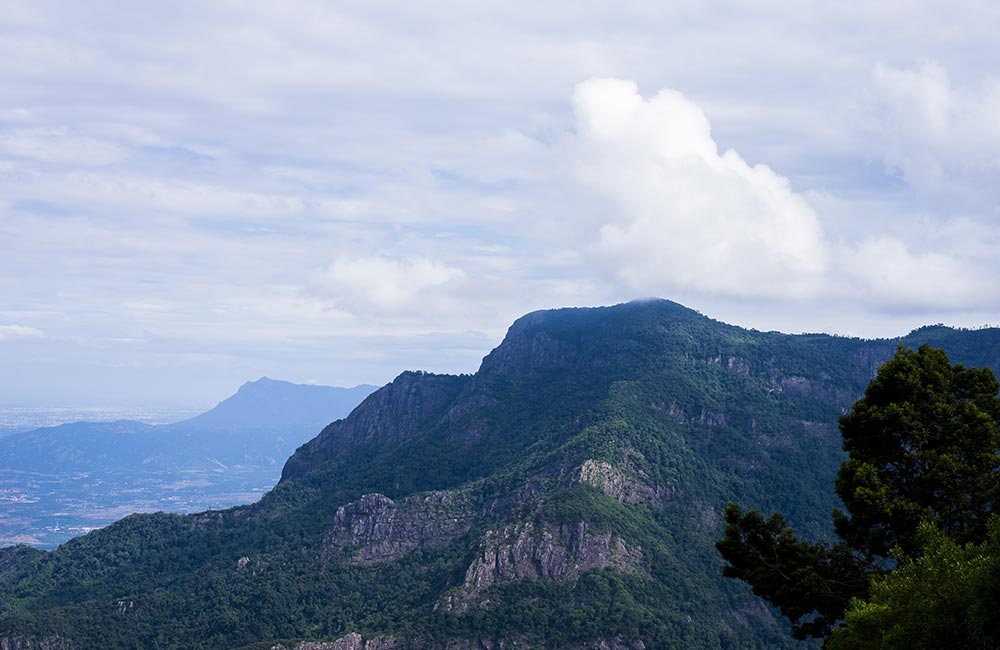 Lamb's Rock|#15 of 15 places to visit in Ooty
While on your way to Dolphin's Nose, stop by at the mystical Lamb's Rock as well for a gorgeous view of the mountains. Soak in the beauty of the lush green cover, accentuated with coffee and tea estates in addition to the beautiful forests and valleys. Just like Dolphin's Nose, Lamb Rock also provides gorgeous views of the region.
Timings: N/A
Entry Fee: N/A