4 NIGHTS & 5 DAYS AT SINGAPORE ONLY IN RS 12500/-*
Inclusions
Accommodation
Break ast
City Tour of Singapore
Sentosa Package (One way cable car + Madame Tussauds + Boat Ride + 4D Marvel + IOS + WOT -2nd show)
All Transfers
4 NIGHTS & 5 DAYS AT SINGAPORE ONLY IN RS 32500/-*
Inclusions
Flights
Visa
Accommodation
BreakFast
City Tour of Singapore
Sentosa & S.E.A. Aquarium + Maritime Experiential Museum + Typhoon Theatre + Ice Cream Combo Package with Return Transfer (1 way Cable Car, Wings of Time- 2nd show)
Universal Studios
All Transfers
4 NIGHTS & 5 DAYS AT SINGAPORE ONLY IN RS 38500/-*
Inclusions
Flights
Visa
Accommodation
BreakFast
City Tour of Singapore
Sentosa & S.E.A. Aquarium + Maritime Experiential Museum + Typhoon Theatre + Ice Cream Combo Package with Return Transfer (1 way Cable Car, Wings of Time- 2nd show)
Universal Studios
Gardens by the Bay
Night Safari Singapore
All Transfers
You can customize your package as per your Requirement
Just share your requirement under
Build Your Package
---
18 Top-Rated Tourist Attractions in Singapore
1. Marina Bay Sands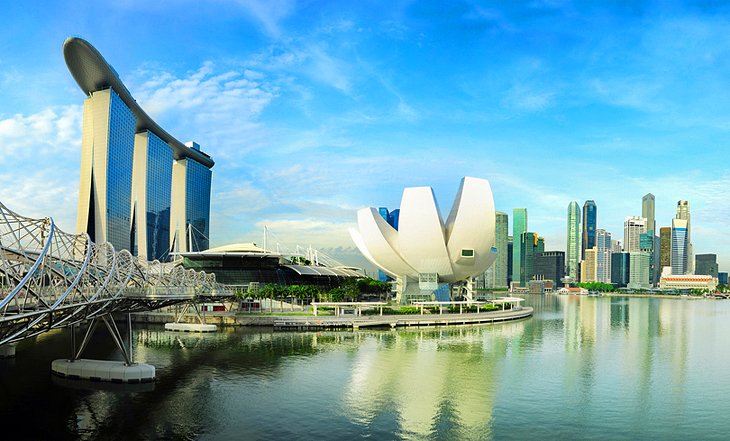 The opulent Marina Bay Sands resort complex includes a high-end luxury hotel, a mall with a canal running through it, the ArtScience Museum, and the Marina Bay Sands Skypark Observation Deck—a vantage point for taking in the entire city. The Skypark's viewing deck and infinity pool are found in the ship (yes, ship) that tops the hotel. Only hotel guests are allowed to use the infinity pool, but anyone can visit the observation deck.
From the Skypark, you can see the innovative double helix bridge, the port, the Gardens by the Bay (101 hectares of land converted into waterfront gardens), and the impressive skyline.
The elegant opulence of the Marina Bay Sands exemplifies Singapore's style and status as a major international city in Southeast Asia.
Address: 10 Bayfront Avenue, Singapore
2. Gardens by the Bay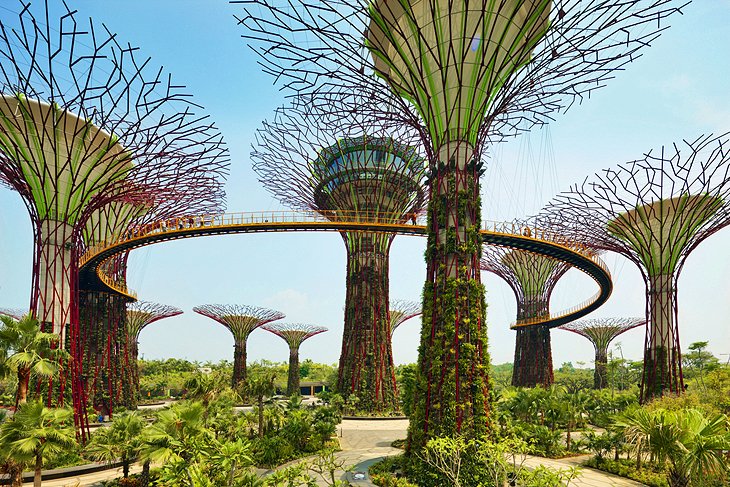 Once you've glimpsed this beautifully designed green space (from the top of the Marina Bay Sands, perhaps) you won't be able to stay away. Wander through the Bay East Garden, perfect for enjoying the vibrant plant life and escaping the city bustle for a moment.
You won't want to miss Supertree Grove, where you'll find a cluster of the iconic, futuristic structures designed to perform environmentally sustainable functions. Check the website for ticket sale prices and tour times.
Address: 18 Marina Gardens Drive, Singapore
Official site: http://www.gardensbythebay.com.sg/en.html
3. Botanic Gardens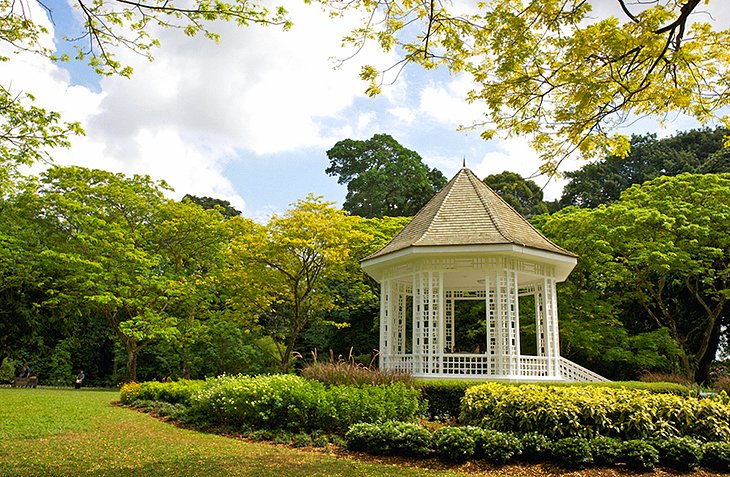 Not to be confused with the Gardens on the Bay, the Botanic Gardens are also worth a visit. Singapore received its first UNESCO World Heritage nomination for its botanical gardens, and with good reason.
Here, a walking trail leads to the gardens' heritage trees, which are conserved as part of an effort to protect the city's mature tree species. Make sure to visit the impressive National Orchid Garden as well.
Other popular things to do include visiting the eco-garden, eco-lake, bonsai garden, sculptures, and several other formal gardens.
Address: 1 Cluny Road, Singapore
Official site: www.nparks.gov.sg/sbg
4. Singapore Zoo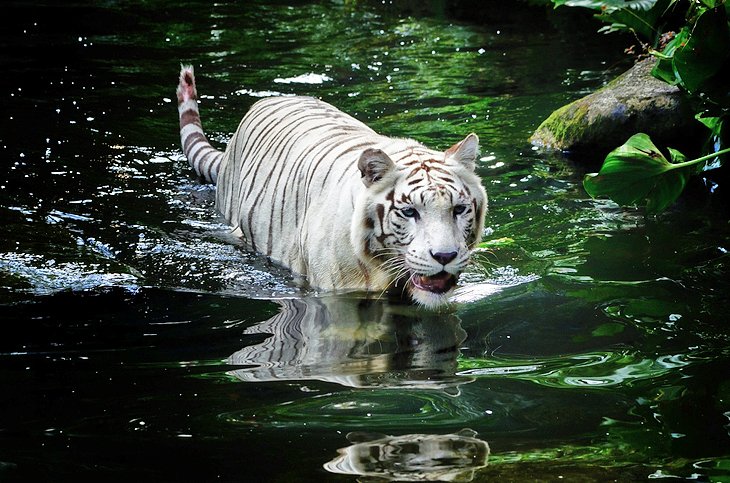 Billing itself as the world's best rainforest zoo, the Singapore Zoo is a pretty impressive place. The facility is clean and inviting, and the animals appear well treated, with plenty of lush vegetation and habitat space.
The orangutans are particularly impressive, and visitors can watch as babies and adults alike swing high above their platforms and snack on fruits. There is also a large chimpanzee family, zebras, meerkats, a komodo dragon, mole rats, white tigers, kangaroos, and many other creatures.
For a unique and personal wildlife experience, try the Singapore Zoo Breakfast with the Orangutans. This hassle-free tour includes transportation from and to your hotel, allows you half day to explore the zoo, and has an optional upgrade to enjoy breakfast in the company of the zoo's much-loved orangutans.
Address: 80 Mandai Lake Road, Singapore
Official site: www.wrs.com.sg/en/singapore-zoo
5. Orchard Road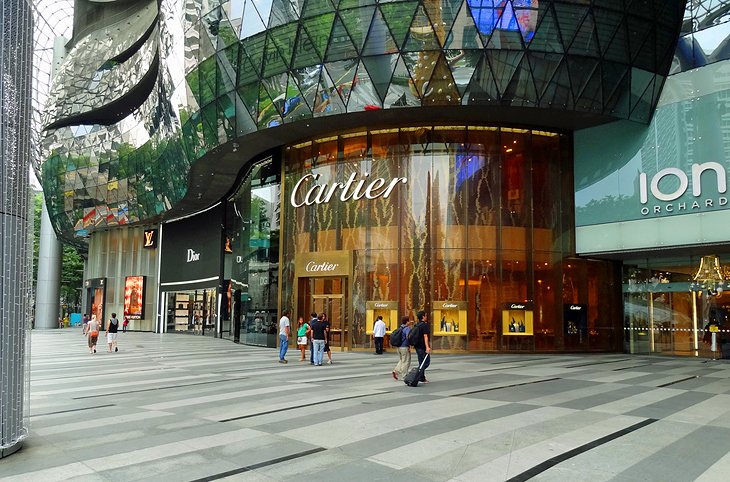 One could be forgiven for coming to Singapore and doing nothing but shopping, as this is a world-class city for style and designer chic. The Orchard Road area is a great place to start a shopping spree, as there are high-end stores at every turn. You'd expect nothing less from a neighborhood that boasts 22 malls and six department stores.
Official site: http://www.orchardroad.org/Popular Tours
6. Singapore Flyer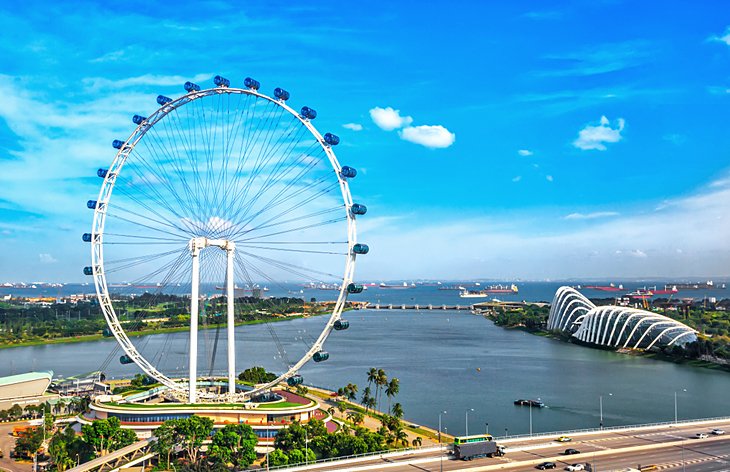 If the observation deck at the Marina Bay Sands doesn't quite do it for you, try taking in high tea while looking out over the city from the Singapore Flyer, the world's largest giant observation wheel. Choose from several different packages that allow you to be served and pampered while enjoying a view that encompasses not only the Singapore skyline but as far away as the Spice Islands of Indonesia and Malaysia's Straits of Johor.
There are several different ticket packages to choose from, and each includes access to the multimedia Journey of Dreams exhibit, which delves into Singapore's history and the creation of the Singapore Flyer.
Address: 30 Raffles Ave, Singapore
Official site: www.singaporeflyer.com
7. Raffles Hotel Singapore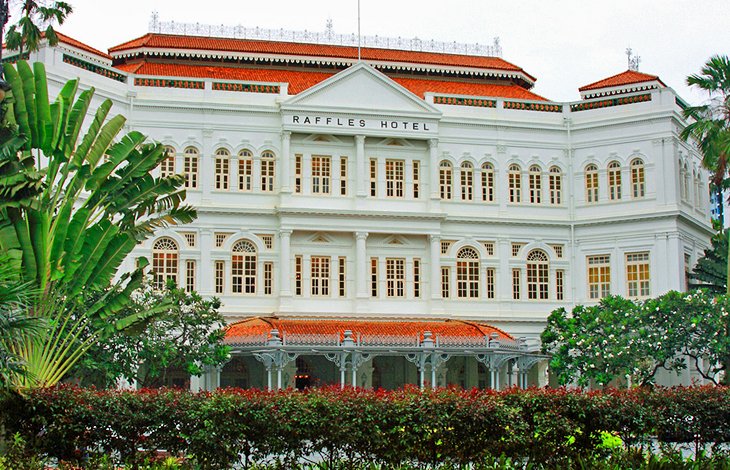 Built in 1887, the property has served as a city landmark for well over a century and continues to live up to its tony reputation with excellent food and service. The story has it that he saw the small fishing village but recognized its potential as a port, so he purchased the land from the Sultan of Johor and invited Chinese and
Address: 1 Beach Road, Singapore
Official site: www.raffles.com/singapore
8. Chinatown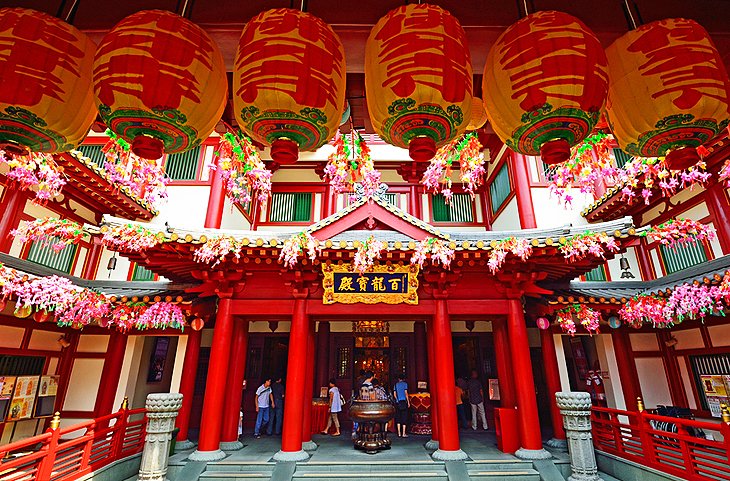 If you've ever visited China, Singapore's Chinatown neighborhood will bring you right back here. From the small mom-and-pop stores and authentic Chinese food to the bright red lanterns, there's excitement and hustle in this district. You can visit the Chinese Heritage Centre and see the impressive and beautiful Sri Mariamman Hindu temple.
If you're up early enough (think 4am), you can hear the morning drum ceremony. Or you can just check out the closing ceremony in the evening after viewing the relic.
This is a progressive neighborhood (with free Wi-Fi for all), and it's home to the trendy Ann Siang Hill area, where the quaint bistros and upscale boutiques could be at home in any Western city.
Official site: www.chinatown.sg
9. Sentosa Island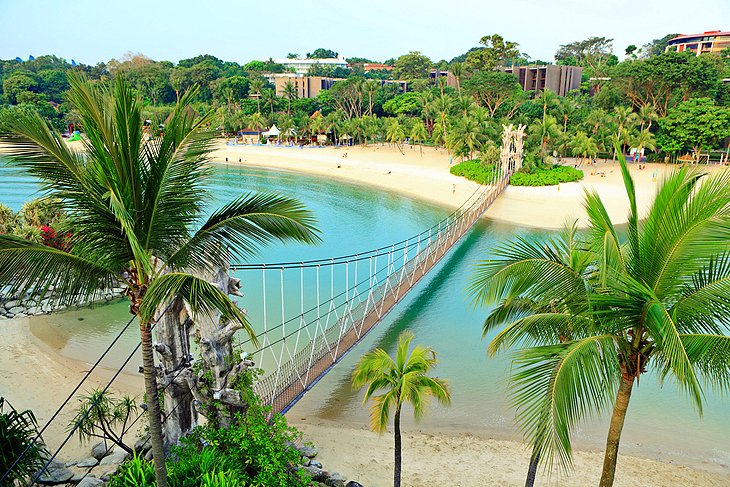 Siloso Beach is a good spot for getting in beach time, and visitors can play volleyball on free courts or go kayaking and skimboarding. There are several other beach attractions as well, plus an Underwater World aquarium, where you can swim with dolphins.
A must-see on Sentosa Island is the Merlion, Singapore's famous statue that has the head of a lion and the body of a fish. You can take an escalator to the top of the statue and enjoy panoramic views of the surrounding area. Adventurous types will want to check out The Flying Trapeze and the SeaBreeze Water-Sports @ Wave House, where you can try your hand at flying strapped to a water-propelled jet pack.
Official site: www.sentosa.com.sg/en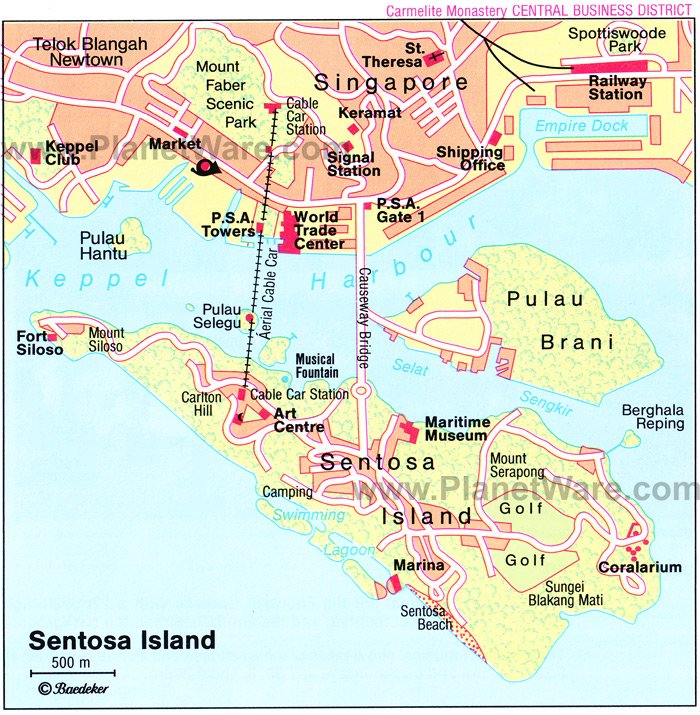 10. Clarke Quay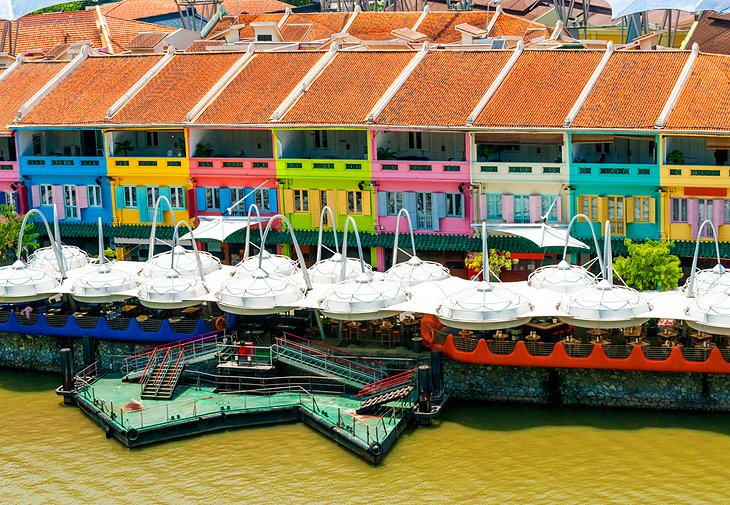 Nearby attractions include the Asian Civilisation Museum; the Civil Defence Heritage Gallery located in Singapore's oldest fire station; and the Hong San See Temple, a picturesque century-old Buddhist place of worship.
11. Universal Studios Singapore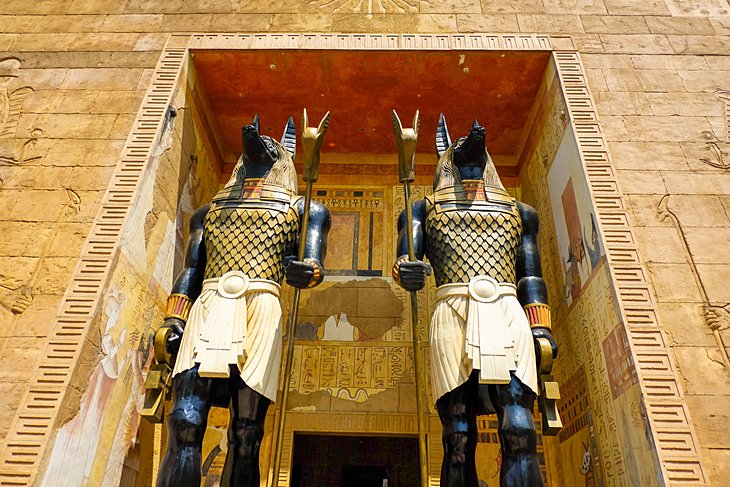 The park is arranged thematically, with each area paying tribute to a location, film, or television show. Destinations include New York City, Hollywood, Madagascar, and a trip back to Ancient Egypt. Fiction-themed areas include Shrek's Far Far Away, Lost World, and Sci-Fi City, where Battlestar Galactica-themed dueling roller coasters and an indoor dark coaster, Revenge of the Mummy, dominate the thrill rides.
Address: 8 Sentosa Gateway, Singapore
12. Night Safari Singapore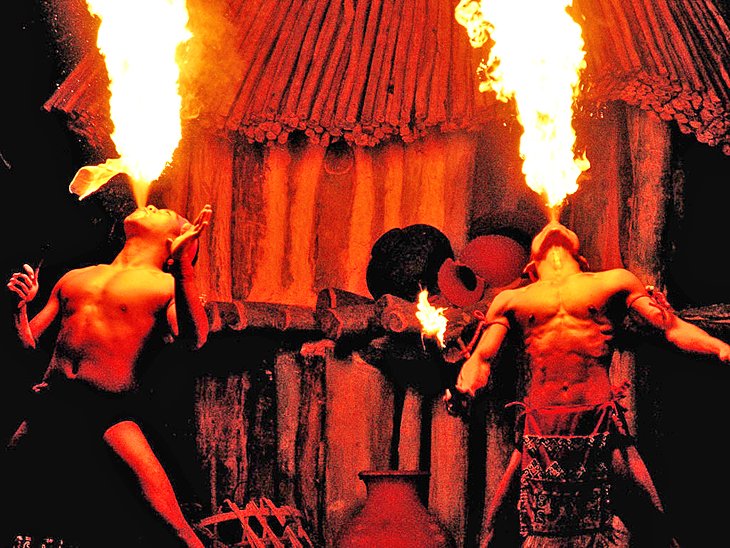 The park's habitats are divided into four sections, each with its own trail that lets you observe these elusive creatures as they go about their "day."
East Lodge Trail features Malayan tigers and spotted hyenas, and the Wallaby Trail introduces visitors to the marsupials of Australia.
Address: 80 Mandai Lake Road, Singapore
Official site: www.wrs.com.sg/en/night-safari
13. Merlion Park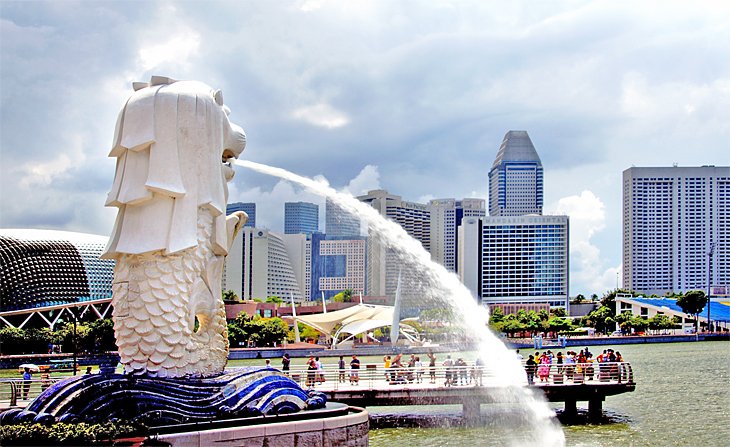 Singapore's Merlion is just what it sounds like—the figure of a mythical creature that has the head of a lion and the body and tail of a fish. The Merlion represents the city's humble start as a fishing village combined with its traditional Malay name Singapura, "lion city."
The structure, which was relocated to Merlion Park in 2002, where it can overlook Marina Bay, weighs 70 tonnes and stands at 8.6 meters tall, spouting water from its mouth in a fountain.
Address: One Fullerton, Singapore
14. Asian Civilisations Museum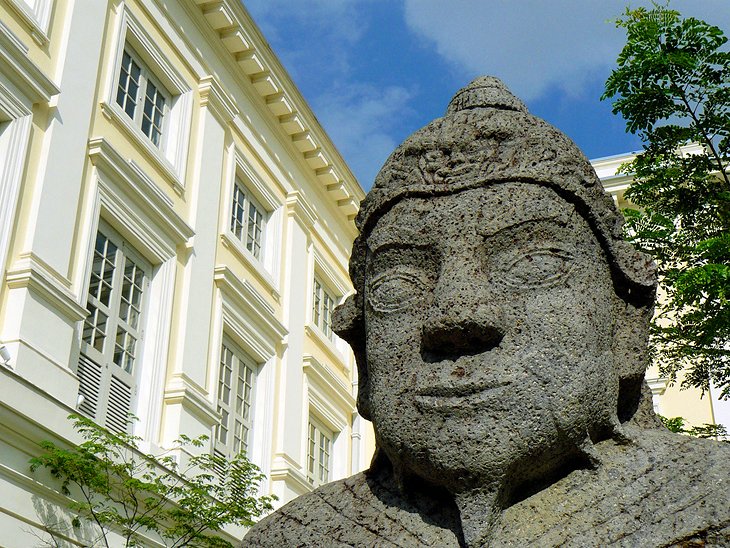 If the Raffles Hotel and Fort Canning Park haven't satisfied your taste for colonial architecture, pay a visit to the Empress Place Building. It was constructed in 1865 and built in the Neoclassical style, and was named in honor of Queen Victoria. It now houses the Asian Civilisations Museum, which delves into the many Asian cultures that helped form Singapore.
The museum's collections focus on the themes of trade and spirituality, both of which heavily influenced Asian cultures. Exhibits cover topics such as the Indian Ocean trade, stories of faith and belief, and a look at the important role that scholars played in Chinese culture for centuries.
Address: 1 Empress Pl, Singapore
Official site: http://acm.org.sg
15. Pulau Ubin (Granite Island)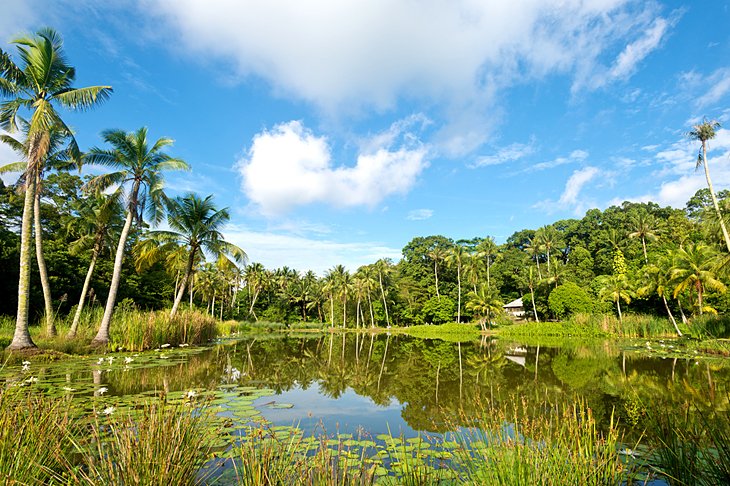 For a look at what life in Singapore was like before it was all about glamor and skyscrapers, visit the small island of Pulau Ubin, where fewer than 100 people still live in the same simple way as they did in the 1960s. The island's name is Malay for "Granite Island," a moniker given due to its past prominence as a quarry town.
Today, it is a peaceful, rustic place where tourists can enjoy unspoiled forests and diverse wildlife. The island is also home to the Chek Jawa Wetlands, which contain a coral reef teeming with sea life.
The island is easily reached by boat, a 10-minute ride that departs from Changi Point Ferry Terminal.
16. Fort Canning Park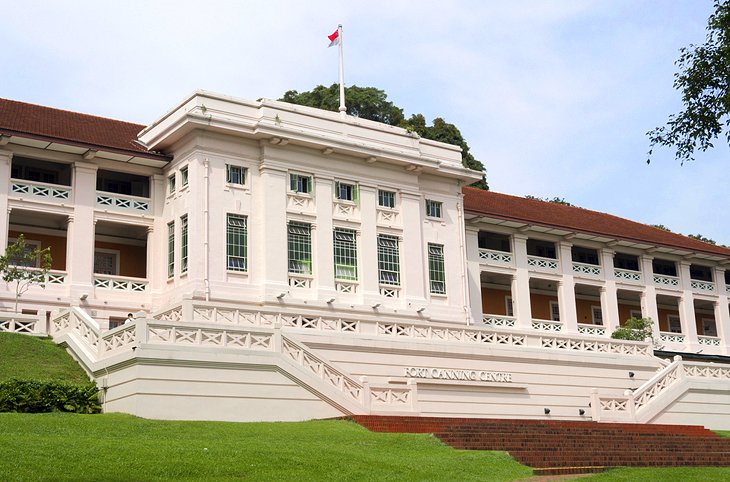 As military strongholds go, Fort Canning has had a long and varied life. Built in 1859, the fort was originally meant to defend Singapore against attacks but it became a bunker during World War II and was eventually surrendered to the Japanese in 1942.
Now in peacetime, the original building is home to modern performing arts troupes, and the park regularly sees picnics, concerts, theater performances, and festivals.
Other attractions at the park include relics from Singapore's early history, from as far back as the 14th century, and Sir Stamford Raffles' personal bungalow. Guests can also see a replica of the spice market Raffles established in 1822, as well as ASEAN sculptures that were erected in the 1980s.
Address: 51 Canning Rise, Singapore
17. The Maritime Experiential Museum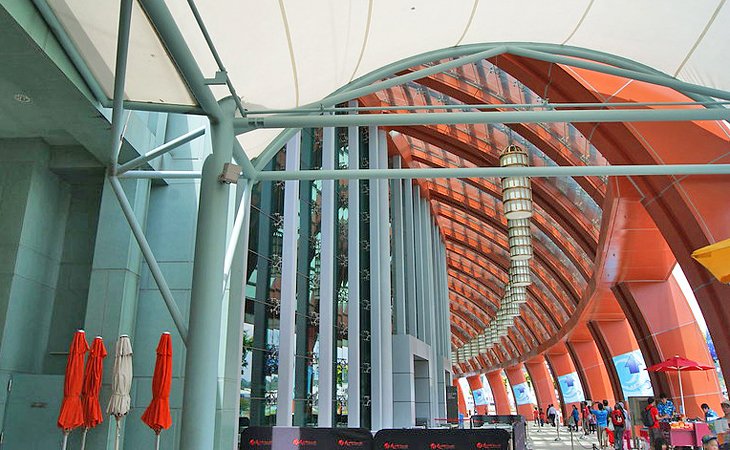 This indoor-outdoor museum is located right on the water, and it's a great way to explore Singapore's maritime history through fun, interactive exhibits. Before you even enter the building, you'll be able to see several ships anchored here.
Inside, the highlight of the museum is the Jewel of Muscat, a replica of a sailing vessel that sank in 830 CE while traveling between Africa and China. You can also see large-size models of trading ships that traveled the Silk Route, learn navigation skills and how to read nautical charts, and experience a 9th-century shipwreck at Typhoon Theater in a special-effects simulation.
Address: 8 Sentosa Gateway, Singapore
Official site: https://www.rwsentosa.com/en/attractions/the-maritime-experiential-museum/highlights
18. Fort Siloso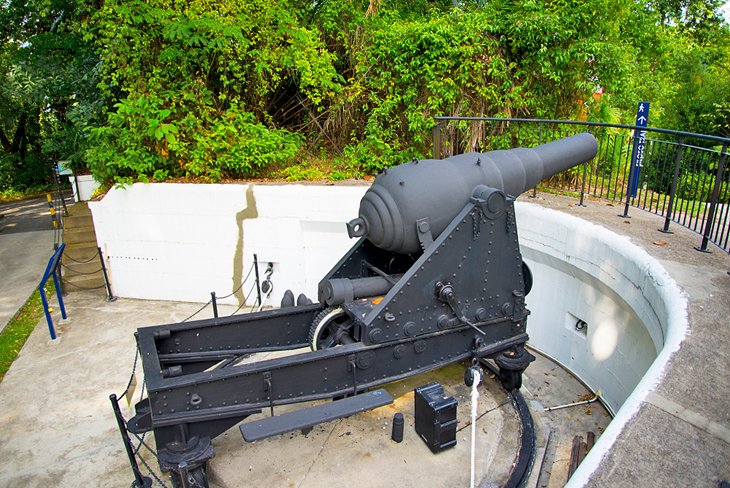 You can reach the fort via the Fort Siloso Skywalk trail, a massive steel bridge towering 11 stories up. Surrounded by lush tropical canopy, the bridge is accessed by either a glass elevator or simple stairs—though taking the elevator means sweeping open views of the Keppel Harbor, which you can't really see if you choose to walk your way up. The 181-meter-long bridge offers great views of the nearby islands, as well as the jungle floor below.
Once at the fort, visitors can join guided tours to learn more about the history of the area—although it's also possible to explore on your own, just walking around and seeing the sights