4 NIGHTS & 5 DAYS AT PATTAYA ONLY IN RS 6500/-*
Inclusions
Accommodation in Above mentions hotel or Similar
BreakFast
Coral Island Including Lunch
All Airport & Hotel  Transfers
4 NIGHTS & 5 DAYS AT BANGKOK ONLY IN RS 6500/-*
Inclusions
Accommodation in Above mentions hotel or Similar
BreakFast
Coral Island Including Lunch
All Airport & Hotel Transfers
4 NIGHTS & 5 DAYS AT BANGKOK & PATTAYA ONLY IN RS 18500/-*
Inclusions
Flights
Accommodation in Above mentions hotel or Similar
BreakFast
Coral Island Including Lunch
City Tour
All Airport & Hotel  Transfers
You can customize your package as per your Requirement
Just share your requirement under
Build Your Package
---
15 Top-Rated Tourist Attractions in Thailand
1. Railay Beach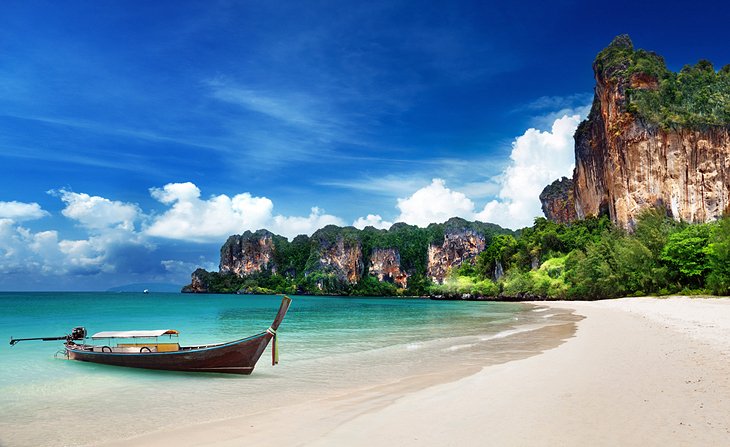 Krabi province is home to some of Thailand's most famous beach destinations—and Railay tops the list as one of the most stunning. Considered by many as one of the best beaches in the country, Railay delivers on promises of white sand, turquoise-blue water, and the feeling that you've found a slice of paradise even before your feet touch the sand.
The island can be reached by boat from Krabi town and Ao Nang—and the trip on a long-tail traditional boat is just as magical as what you'll encounter when you reach the shores.
Among the many other active things to do, Railay is well-known for its ocean rafting and kayaking, snorkeling and scuba diving—but visitors can also try their hand at cooking classes or indulge in a massage.
There's also the tourist-friendly Diamond Cave, reached via a beautiful trail with stunning views and ready to accommodate curious visitors looking to do some exploring between stretches of sunbathing.
2. Koh Phi Phi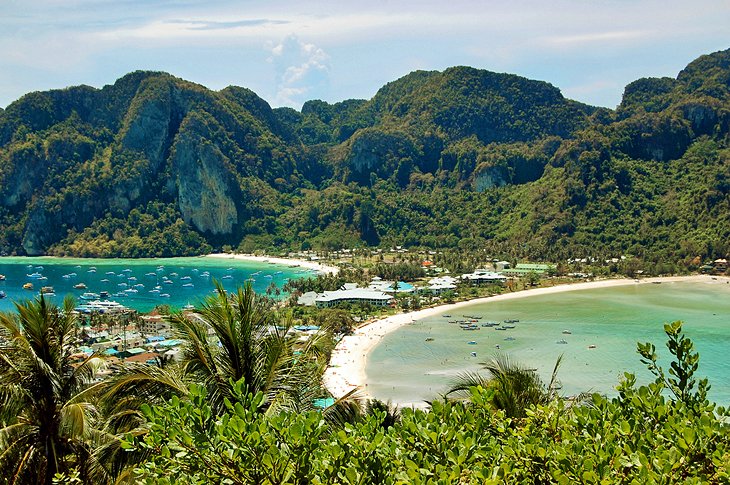 The Phi Phi Islands are one of Thailand's most popular resort areas for a reason—the clear blue waters, the soft sand, the breathtaking views that go on forever.
You can reach Phi Phi Don—the largest of the islands and the only one permanently inhabited—on a rented kayak or by hiring a small wooden boat to take you here.
Perhaps one of the most fun spots on Koh Phi Phi is Monkey Beach, where you'll come face to face, literally, with plenty of macaques ready to steal your lunch.
Long Beach is another nice spot on the island; while not a secluded place where you can hope for privacy, it's great for watching the sunset. If you're lucky and the tide is out, it's a beautiful walk back towards the main part of the island.
Because Koh Phi Phi draws so many tourists, there are plenty of tour companies arranging tickets to other beach destinations, such as Phuket, Koh Chang, and Koh Lanta.
3. The Grand Palace, Bangkok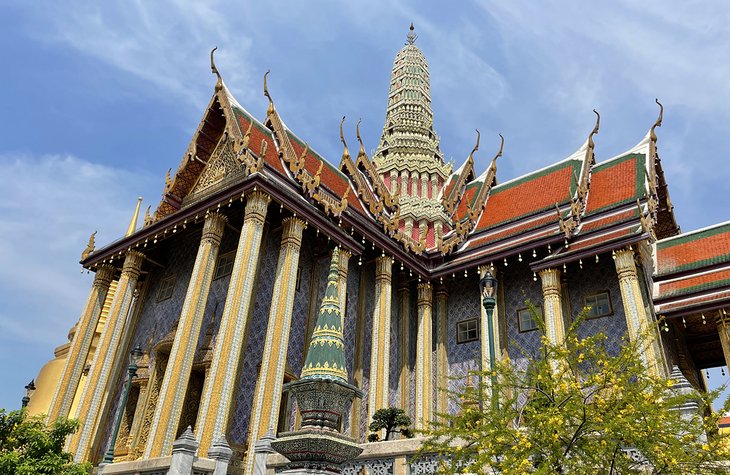 Even if your plans for Thailand mainly involve frolicking on a beach and eating as much Massaman curry and pad Thai as humanly possible, you'll probably spend at least a day or two in Bangkok. There are plenty of things to see and do in the capital, but the Grand Palace should definitely be at the top of your list. This is the number one sightseeing attraction in the city, and it's staggering in both historical significance and craftsmanship.
Allow several hours to do the Grand Palace justice, but if you're up for more walking afterward, you can easily take in some of the city's other major landmarks nearby. The famous Wat Po and Wat Arun, the Temple of the Dawn (a great place to watch the sunset), are just a few minutes away.
4. Sunday Walking Street, Chiang Mai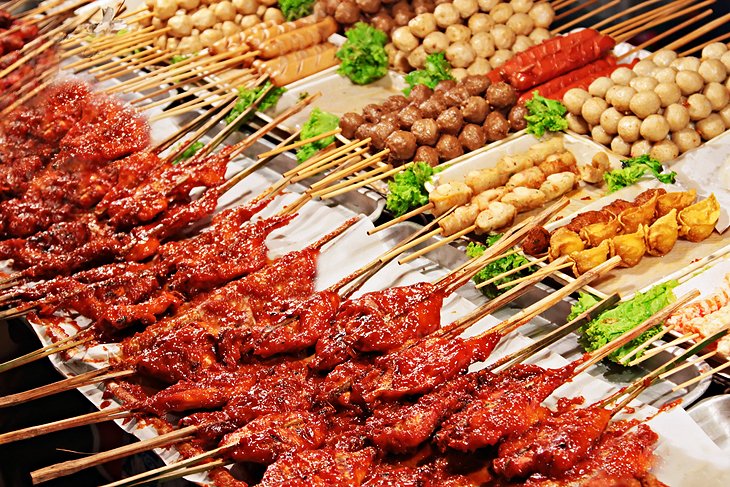 Every Thailand visitor looks forward to cheap and delicious food—and that's exactly what they can find in abundance at Chiang Mai's Sunday Night Walking Street. Vendors sell all kinds of treats here: from the popular pad Thai and chicken satay to samosas, fried bananas, sweet roti, and fresh fruit shakes—often for less than $2 a piece.
Once you've satisfied your culinary cravings, you can peruse hundreds of stalls selling an array of unique goods such as all-natural soaps, hand-dyed textiles bearing the unique patterns of local hill tribes, incense and essential oils, musical instruments, paintings, wall hangings, and more.
This is one of the must-dos in Chiang Mai, and an essential part of the Thailand experience. If you're not around for the Sunday market, or just want to get a taste of other market experiences in Chiang Mai, check out the Saturday Night Walking Street or the Night Bazaar on Chang Klan Road, a daily event. For something less touristy, head to the daytime Warorot Market, near Mae Ping River.
5. Pai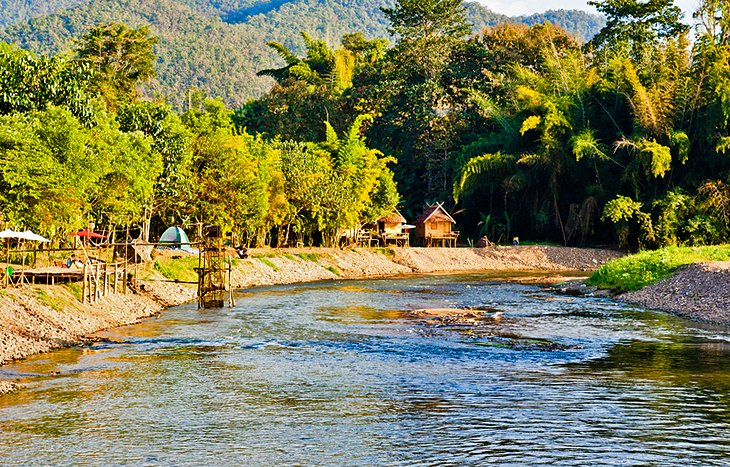 Thailand's reputation as a country of beautiful landscapes and friendly people is due largely to the world-renowned southern beaches. Because of this, most people don't realize that the vast north is also home to entirely different but equally breathtaking landscapes.
Pai, in Mae Hong Son province, is the perfect starting point from which to enjoy the country's natural beauty, as well as the famed Thai hospitality and cooking.
This small town has developed a reputation as a mecca for hippies and backpackers, though you will see plenty of families traveling in the area as well. There is a small walking street market that comes alive every night, a variety of local and Western foods, and easy access to nearby Buddhist temples, waterfalls, and the impressive Pai canyon.
There is an air of cheerfulness and relaxation as you walk through the tiny town center, a vibe that continues to draw crowds season after season despite its somewhat remote location.
6. Wild Elephants at Khao Yai National Park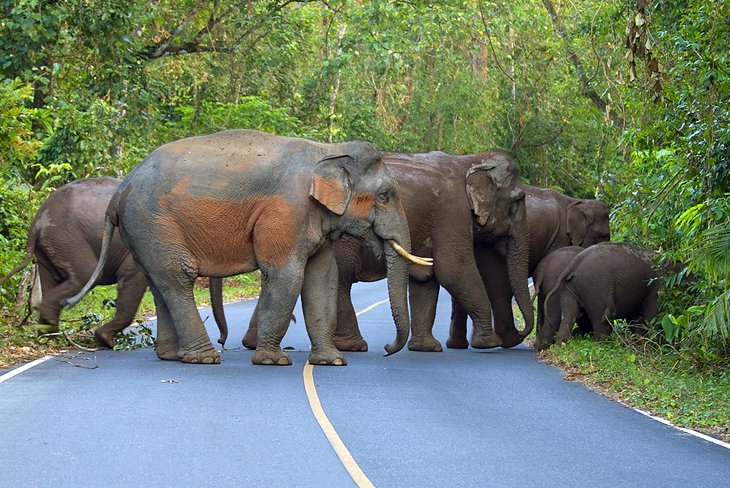 For the ultimate experience, however, nothing beats the chance to see elephants in their natural environment—and Khao Yai National Park provides a great opportunity to do just that.
Here, you'll run into elephants roaming near rivers, exotic birds of prey, monkeys, and plenty of other tropical creatures that call the park home. The park is also home to many waterfalls, including the 150-meter-tall Haew Narok and the even more famous Haew Suwat, which appeared in the Leonardo DiCaprio's film, The Beach.
If a one-day stay isn't enough to take it all in, it's possible to camp out at the park and get up early enough to watch the sunrise over the lush landscape.
7. Sukhothai Old City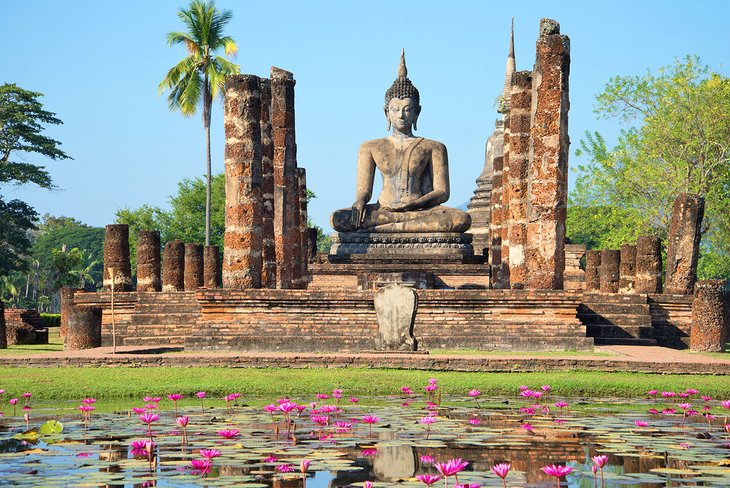 A favorite stop for history buffs and photography enthusiasts, Sukhothai offers many lovely photo ops at a smaller scale than Ayutthaya. Ruins of this old city still stand proud despite enduring centuries of battle and exposure to the elements.
Of the many wats in Sukhothai, Wat Mahathat is the most impressive.
8. Historic City of Ayutthaya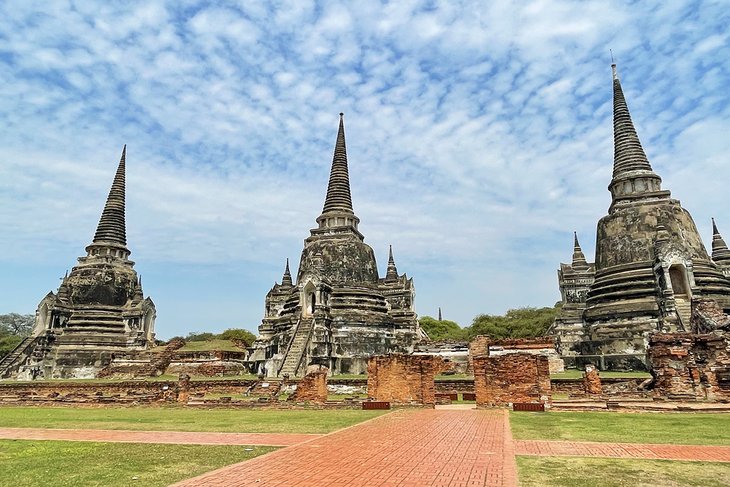 Ayutthaya offers a magnificent peek into the glory of ancient Thailand, where visitors can wander the haunting but romantic ruins of the former capital.
Ayutthaya was once the most important city in Thailand, and the old palaces and temples stand as a testament to this. .
If you're on a more leisurely schedule, plan on spending a few days exploring the ancient capital and rent a push-bike to tour both the old city and the new.
9. Doi Suthep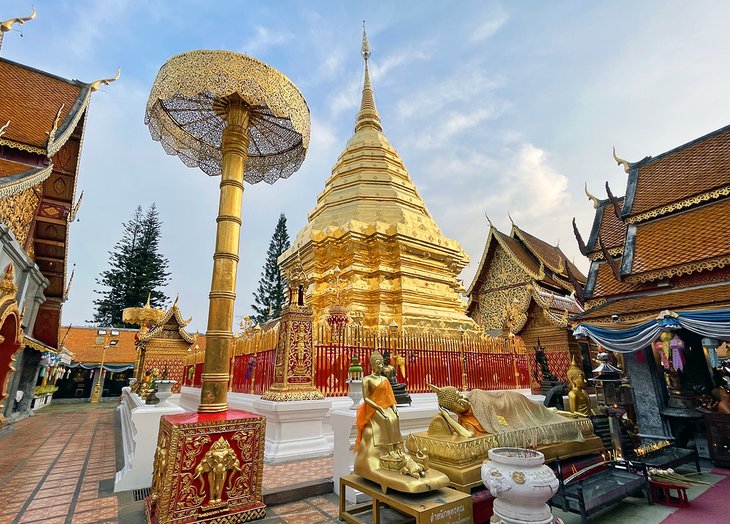 Perhaps the best-known wat in Chiang Mai sits atop Doi Suthep, a mountain overlooking Thailand's second-largest city. A favorite destination of devout Buddhist followers and travelers from all over the world, Doi Suthep is a marvel of intricate religious carvings—a visit here means seeing monks praying, witnessing worship rituals, and a chance to gaze out over the ever-growing sprawl of Chiang Mai city.
Just be sure to bring a bottle of water and your walking shoes—you'll have to climb a steep staircase to reach the top of the hill where the temple is. At the base of the stairs, vendors hawk everything from tasty local treats to goods handmade by villagers from the surrounding mountains. There's also a shop selling masks, elephant carvings, and home furnishings, so you can do some shopping while recovering from the trek up and down the stairs.
You can combine your trip to Doi Suthep with excursions to Doi Pui, a small Hmong village in the mountains. Although far more touristy than other villages, this will still give you a taste of Hmong culture and a chance to learn more about the hill tribe communities in the region, not to mention purchase some beautiful hand-woven textiles. The Bhubing Palace, open to tourists, is on the way to Doi Pui from Doi Suthep as well.
10. Floating Markets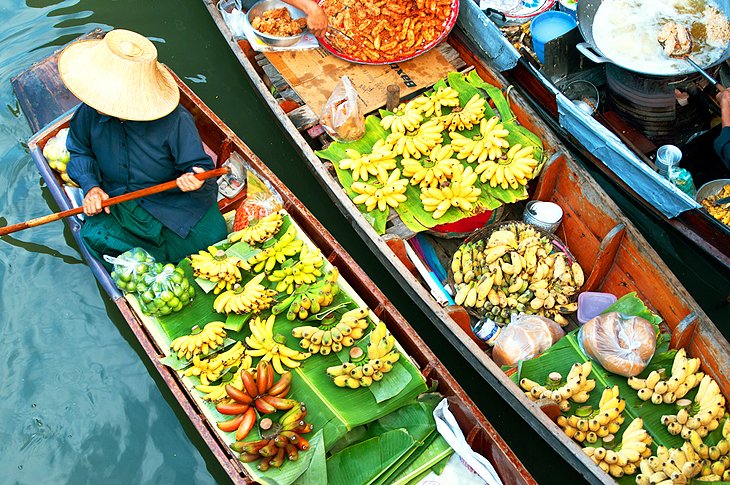 Thailand's floating markets offer a unique way to do some shopping and eating while supporting local vendors and getting a closer look into a traditional way of life.
While some of the markets do seem to cater more to the tourist crowds, others make for a nice authentic travel experience that involves getting in a boat and letting your guide take you through canals, where you'll see traditional houses on stilts and run into sellers offering wares from their own boats. You'll need to get up early to visit a floating market, as vendors are out in their long wooden boats first thing in the morning with their goods, fresh fruits, vegetables, spices, and tasty dishes.
There are several floating markets near Bangkok, with Amphawa and Damnoen Saduak being among the most popular. You can visit the markets on your own or join a guided tour, which often includes visits to other local attractions and shops.
11. Climbing at Tonsai Beach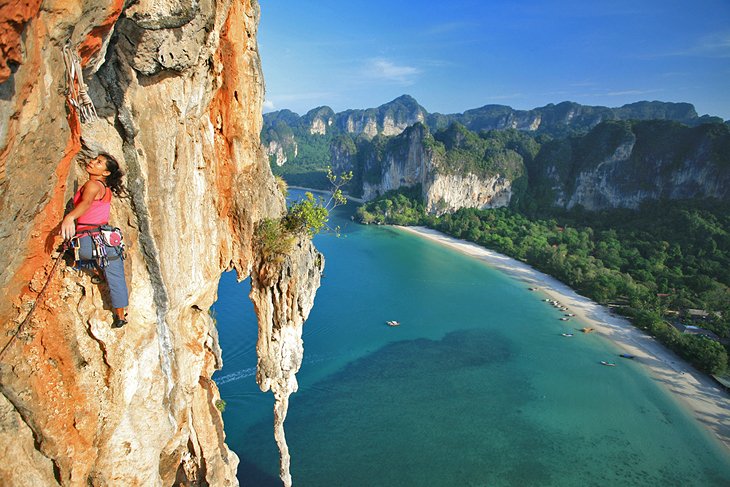 With its stunning limestone cliffs hugging sandy coastlines and turquoise waters, Thailand attracts plenty of climbers all year long—and while there are many destinations that offer stunning routes, Tonsai Beach has long been considered a climbers' paradise. One of the great things about climbing here is that you can just as easily climb solo or find a climbing partner or club once you arrive—and if you need a refresher lesson, that won't be a problem to find here either.
Because the area has many climbing and bouldering schools, the easier routes are often busy, and you might even have to queue to get up to the most popular viewpoints. If you're an experienced climber—and can get around stalactites, overhangs, and tufa—you'll fare much better and get the best spots with stunning open views over the bay (almost) all to yourself.
12. Kanchanaburi Bridge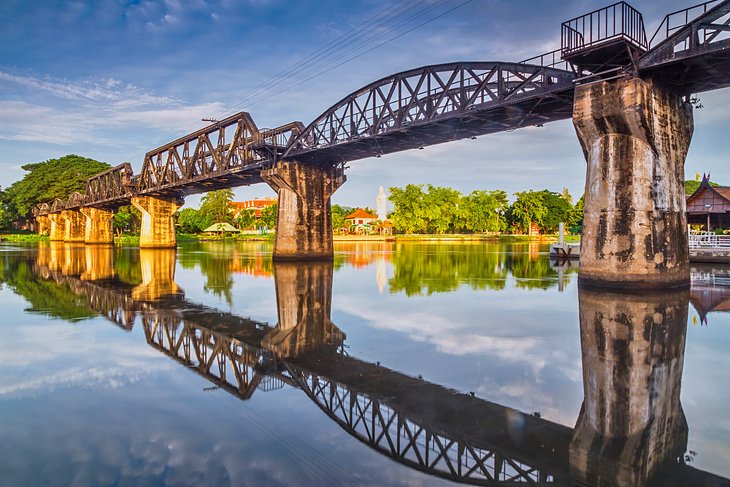 Better known to many as "the bridge over the River Kwai," the Kanchanaburi bridge is part of the Thai-Burma Railway that never came to be. During WWII, Japanese forces were intent on building a railway link between Thailand and Burma and used Allied prisoners of war (mostly British, Dutch, and Australian citizens) for forced labor.
About 130 kilometers of the original 415-kilometer railway route are in use today, a grave historical reminder of the horrific events that took place here.
Near the bridge, the Kanchanaburi War Cemetery is the final resting place of Allied military personnel from many countries except the United States, which repatriated all remains. The Hellfire Pass Museum and the JEATH War Museum both offer insights on the history of the railway and the effect of the war in Thailand.
13. Waterfalls at Erawan National Park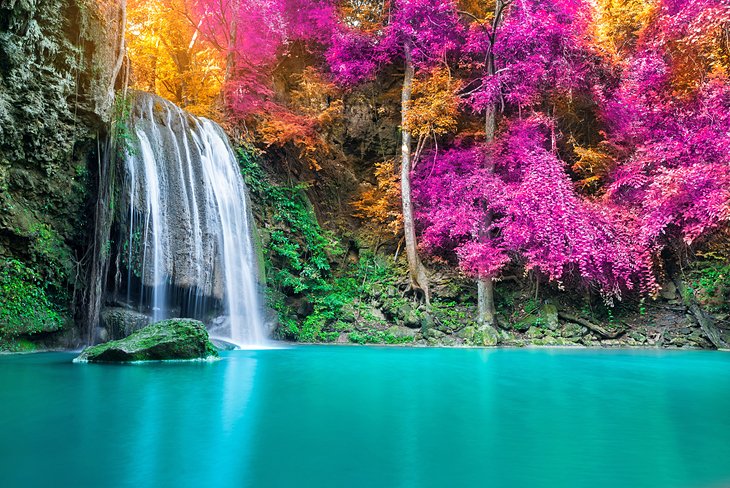 Erawan National Park has much to offer to visitors, including a number of caves; paths that cut through thick deciduous forests; and fauna that includes wild elephants, gibbons, and great hornbills. But it's the waterfalls here—and especially the seven-tiered Erawan Falls—that attract the bulk of the visitors.
Each of the seven tiers also has its own name, and reaching them gets harder and harder as you go up—after the fifth tier, visitors need to use slippery ladders while pushing through thick vegetation in order to continue. You might not need to venture that far, though. The first three tiers are actually the most impressive, offering emerald green pools, a small cave, and cool cascading waters.
14. Maruekhathaiyawan Palace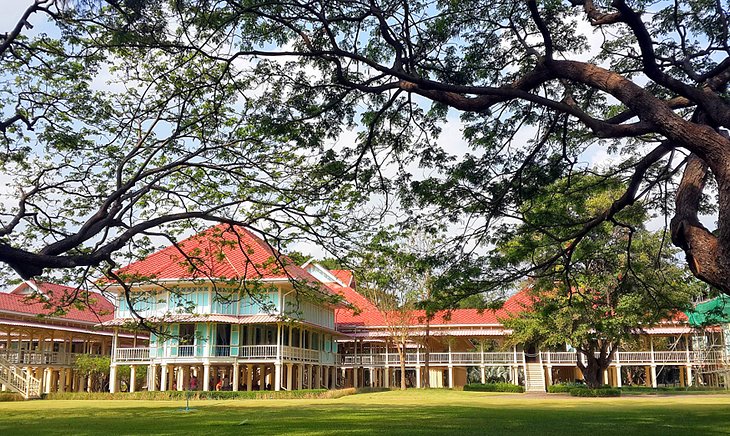 Built as the summer residence of King Rama VI, who reigned until 1925, this unique teak palace is stunning in many ways. The king originally ordered its construction following a suggestion by his doctor, who thought an airy seaside climate would help the king's rheumatoid arthritis.
Today, Hua Hin is a popular destination for families and travelers who want to enjoy the beach in a relaxed atmosphere away from the crowds.
The palace complex consists of a number of buildings divided into three main groups: the official reception area; the king's private quarters; and the ladies' quarters, originally designed for the Queen and an area no other man, besides the king, could enter.
15. Khao Sok National Park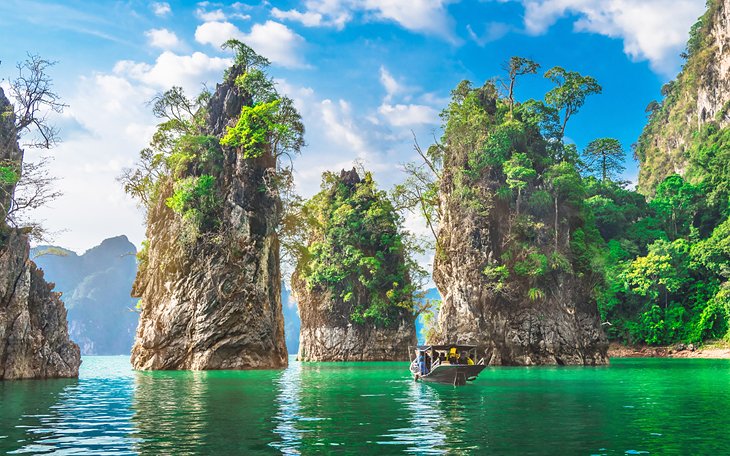 Home to rain forest that's older than the Amazon, the park also contains a limestone mountain range covered in karst formations, many kilometers of trails, and even a river you can explore on canoes or bamboo rafts. The park is home to Malayan sun bears, tigers, and wild elephants—and sightings aren't rare once you get deep into the evergreen rain forest.
The park is also famous for its eco-luxury camps, where tents come with en-suite bathrooms, deluxe bedding, their own kayak, and some of the best meals you'll try in Thailand.