Singapore Tourist Attractions For Nature Lovers
Singapore has a plethora of interesting options when it comes to popular places to visit. Here is a list of 47 Singapore tourist attractions that solace a restless mind and a wandering soul.
1. Gardens By The Bay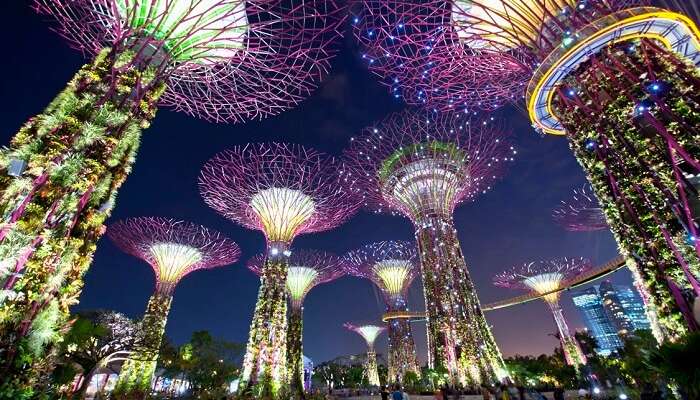 One of the best places to visit in Singapore, Gardens By The Bay, can be viewed from the Marina Bay Sands Observation Deck. Visiting the place is altogether a different experience that you will never forget about. It's a great place to take a leisurely walk with your beloved or click some pictures against the stunning backdrop of the natural attarctions here for your Instagram profile. While it looks amazing in the dylight, it turns even more magical after sunset when it's all lit up in colorful lights!
Location: 18 Marina Gardens Dr, Singapore 018953
Opening hours: 5 am 2 am for outdoor gardens; 9 am 9 pm for conservatories and OCBC Skyway
Attractions: Bay East Garden, Supertree Grove, Worlds Tallest Indoor Waterfall at Cloud Forest Dome
Entry fee: Free for outdoor gardens; S$28 for adults, S$15 for children for conservatories; S$5 for adults, S$3 for children for OCBC Skyway
For more information on the gardens and diners nearby click here.
2. Changi Experience Studio, Changi Airport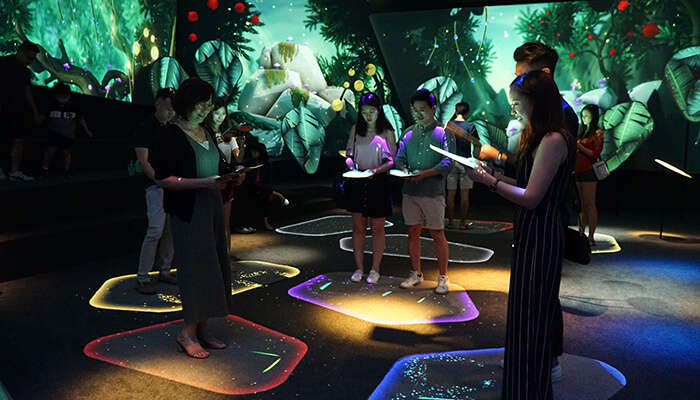 With over 20 touchpoints featuring interactive exhibits, games and multimedia shows, including a garden that sings, an exhilarating runway race, a challenge to collect airport trolleys, a voyage through time and space, a battle of smiles, and much more, adults and kids alike can expect at least 100 minutes of fun. With so much to experience at this impressive virtual space, the time spent at Changi is now part of your holiday!
3. Underwater World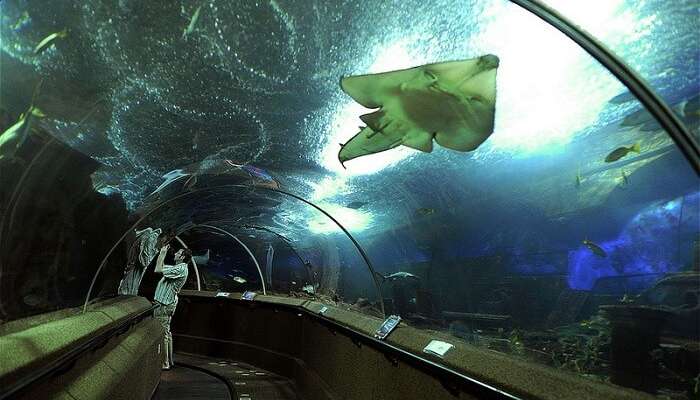 If you are a nature lover, Underwater World is one of the best places to visit in Singapore for you. The oceanarium is home to over 2,500 marine animals of over 250 species from across the world. While it may look very much like the S.E.A Aquarium, it's an altogether different attraction. What the S.E.A Aquarium offers in terms of live experiences and interactions with marine beings, the Underwater World make sup for that with its diversity of ocean animals and corals that you may not find anywhere else in the world.
Location: 8 Sentosa Gateway, Sentosa Island, Singapore 098269
Opening hours: 10 am – 7 pm
Attractions: 83 m long Travelator, Marine Discovery, Dive With The Sharks, and Swim With The Dolphins
Entry fee: S$29.90 for adults, S$20.60 for children aged 3 – 12 years, Free for children below 3 years old
For online booking of the special rides click here.
4. Singapore Zoo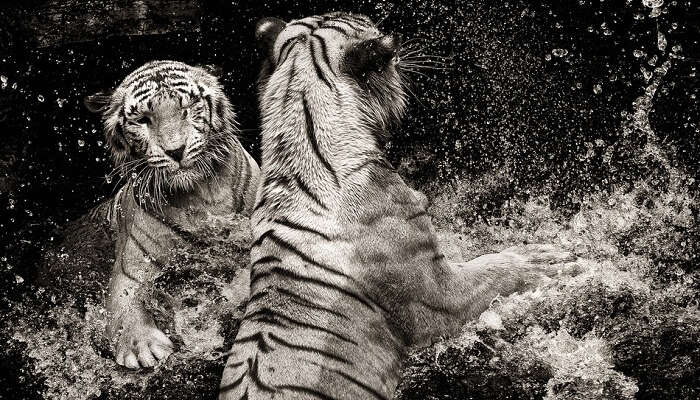 Coveted as the worlds best rainforest zoo, Singapore Zoo is a major tourist attraction in Singapore. The zoo is home to orangutans, zebras, parakeets, mole rats, white tigers, kangaroos, a komodo dragon and many other creatures. Perfect for a day's outing with family or friends, this is a great place to view the wild animals of different parts of Asia. Also, it's better that you visit during feeding time so that you can see these majestic beings out of their dens and caves.
Location: 80 Mandai Lake Rd, Singapore 729826
Opening hours: 8:30 am 6 pm
Entry fee: S$28 for adults, S$18 for children aged 3 13, S$12 for seniors
Visit the website to buy tickets.
5. Botanical Gardens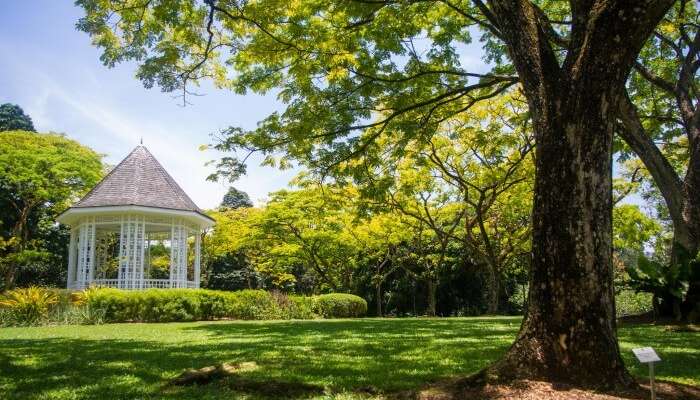 Among the many Singapore tourist attractions, it was the Botanical Gardens that earned Singapore its first UNESCO World Heritage nomination. The gardens preserve pieces of Singapore's wild heritage and present it to the world in the most beguiling fashion that makes people want to stay ehre forever! Nature lovers and wildlife fans will fnd themselves hooked to the many natural attractions of this beautiful garden spaces.
Location: 1 Cluny Rd, Singapore 259569
Opening hours: 5 am midnight
Attractions: National Orchid Garden, Eco-Garden, Bonsai Garden, Eco-Lake
Entry fee: Free (some attractions may have an admission fee)
For information on the ongoing and future events click here.
6. S.E.A. Aquarium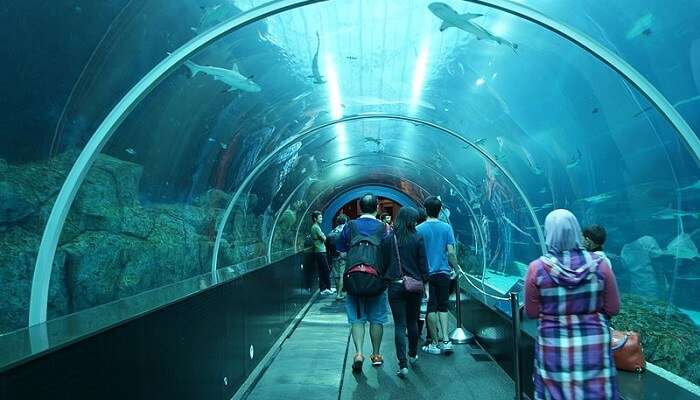 The S.E.A Aquarium in Singapore is counted amidst the most wonderful creations of humankind on this entire island nation. It is essentially a large aquarium that houses more than 1,000 species of marine life, the likes of which include hammerhead sharks, bottlenose dolphins, and stingrays. Accommodating a total of 49 habitats and over 1,00,000 aquatic animals that people come to see from far and wide, this aquarium is among the best places to visit in Singapore for those who are drawn to the wonders of the sea and love to witness marine life in their natural habitat. It also offers immersive experiences like playing with starfish (under supervision), diving, and sea walking.
Location: 8 Sentosa Gateway, Sentosa Island, Singapore
Timings: 10 AM – 7 PM
7. The Nocturnal Wildlife Park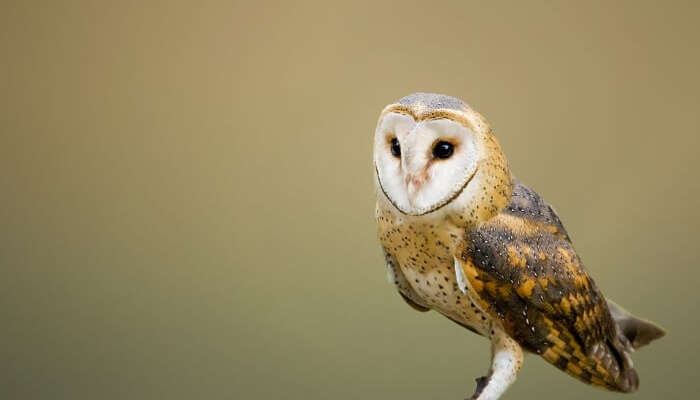 The night safari starts as soon as the sun sets, darkness falls and animals begin prowling. Here you will be in the low lit homes of nocturnal species. This is the first-night safari tour in the world and it is a must visit place while in Singapore. The night safari will bring you close to around some 2,500 residents of the park who belong from a wide 130 types of species. The park has four amazing walking trails which include the Fishing Cat Trail as well as the popular Leopard Trail. If you bring your luck with you, you may also get to see the Malayan Tapir and the Malayan Tiger.
Location: At 80 Mandai Lake Road.
Price: Regular pricing for children of 3-12 years- $30; Adult- $45; Senior- $18
Opening Hours: Daily 7:15 pm to 12 am.
8. Jurong Bird Park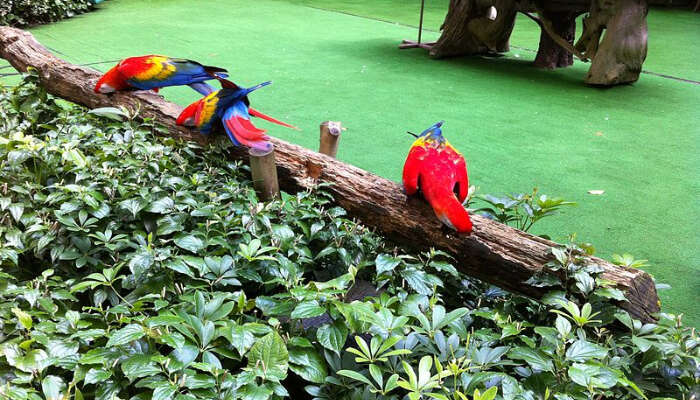 Visitors here will get to meet about 5000 birds who belong from a diverse hub of 400 species and more. This bird park is spread over 20.2 hectares and is located in the Western part of the city. At Jurong, you won't just look at the birds through a pair of binoculars but will get to be up close with some of the most beautiful birds in Singapor. When here don't miss out on Waterfall Aviary which is one of the biggest walk-in aviaries present in the word and is home to 600 birds. As for the name, it comes from a stunning waterfall of around 30 meters.
Location: 2 Jurong Hill, Singapore, 628925
Price: Adults- $29; Children of 3 years to 12 years- $19
Opening Hours: Open Daily, Time- 8.30 to 6.00pm
9. River Safari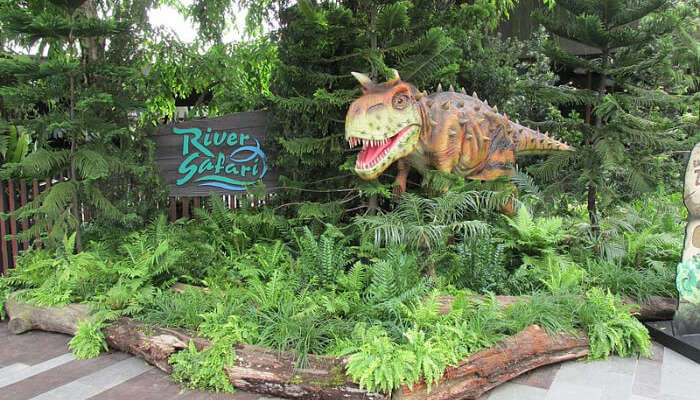 River Safari is worth paying a visit to because they have the cutest red panda. Its rust-colored fur and fox fur will make you fall in love with it. But there are more animals to see besides just pandas at this river-themed safari. This park is home to more than 6000 animals, out of which 40 are endangered. When here do make a point to see the freshwater aquarium here which is the largest in the world. Bring family and kids with you and fill their eyes with pure wonder.
Location: The River Safari is located right next to the famous Singapore Zoo at 80 Mandai Lake Road, Singapore, 729826
Price: Adults- $27; Children from 3 to 12 years- $18; for Senior Citizens- $14
Opening Hours: It is Open Daily from 10am-7pm
10. Butterfly Park And Insect Kingdom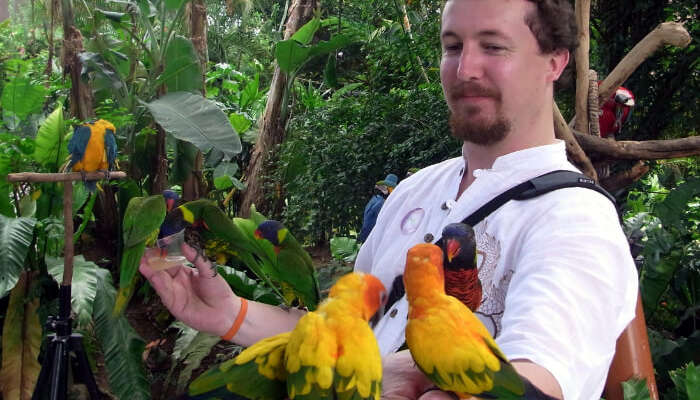 This is definitely one of the major places to visit while here. An amazing place to just relax, this green kingdom is full of luscious tropical greenery which shows all the beauties of nature. There are amazing varieties of butterflies and insects in here which will keep you engaged. This is a great place for kids and nature enthusiast to head to. Visitors are sure to love the beautiful rainforests and the alluring scents of the place along with the amazing interactive experience which this place offers. A true experience for all your senses.
Location: 51 Imbiah Road, Sentosa 099702
Opening Hours: 2 PM. Guided Tour 3PM-5PM. Pupa Hanging from Saturday and Sunday. At 3 pm- Butterfly Release
Price: Adults- S$14.40; Children- S$49.00.
11. National Orchid Garden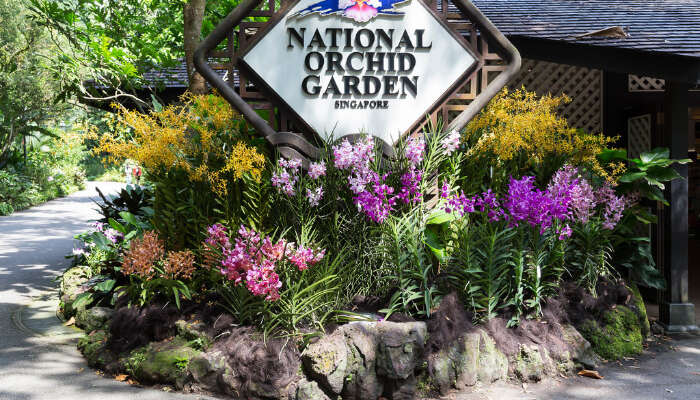 This orchid garden is spread over 3 hectares of beautiful lush land full of amazing scenery. Everything in this garden has been precisely planned and planted. Visitors can see it in the 2000 hybrids which are housed here and which belong to more than 1000 species. The flora spread over here changes according to the four seasons of autumn, summer, spring, and winter. The autumn brings with it abstract shades, summer is full of reds and links, spring brings with it beautiful yellow, gold and cream while winter displays its bounty in the colors white and violet.
Location: Cluny Road, Singapore Botanic Garden
Hours: Everyday between 8:30 to 19:00.
Price: $5 entry fee.
12. MacRitchie Reservoir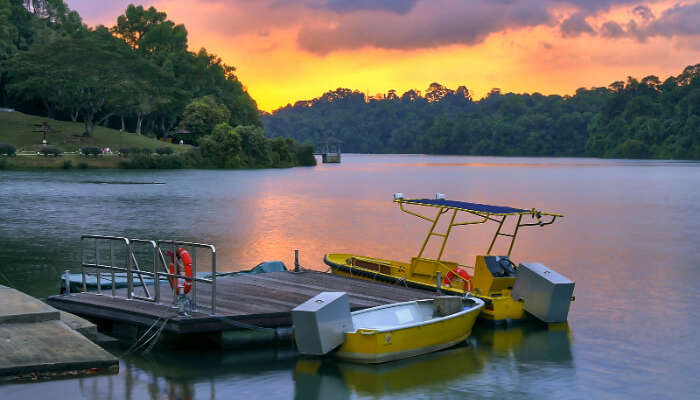 MacRitchie is the place to head to if you want to refresh or relax with a walk while taking in what nature has to offer. The radon behind this place was to actually store up on rainwater and it still is a part of Singapore's water catchment system. But apart from it, the reservoir serves as a place where nature lovers and water sports enthusiasts can gather. The tree top walk allows you to walk over a tall bridge which will make you seem like you are on top of the world as you walk through trees. The hike is peaceful and it is 11 km long. There's food available right at the entry point too. This place is a must visit while here.
Timings: Open from 9 AM in the morning to 5 PM in the evening.
13. Siloso Beach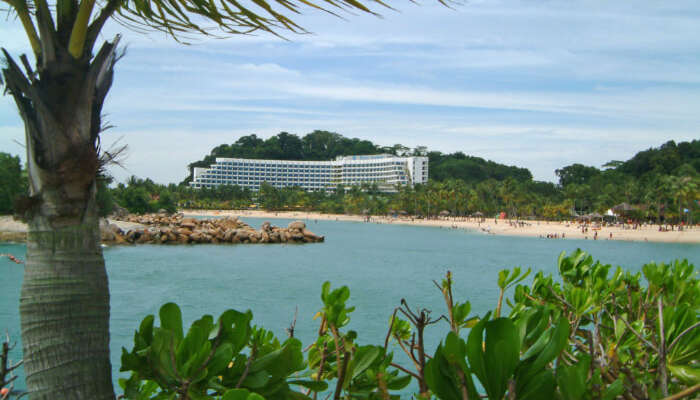 This amazing Beach hosts some of the biggest and happening celebrations for the new year in the island city-state. There are some delicious restaurants here which offer bountiful of food and the bars will let you get your groove on. So get into your swimsuit, take a dip in the warm waters or you can simply unfold your Beach umbrella and sunbathe. Then sip some delectable drinks at the bars or indulge in an impromptu shopping spree. When night finally arrives, then feel the spirit of this venue with amazing parties.
Location: 51 Imbiah Walk, Sentosa, Singapore, 099538
Hours: Open for 24 hours.
14. Bukit Batok Hill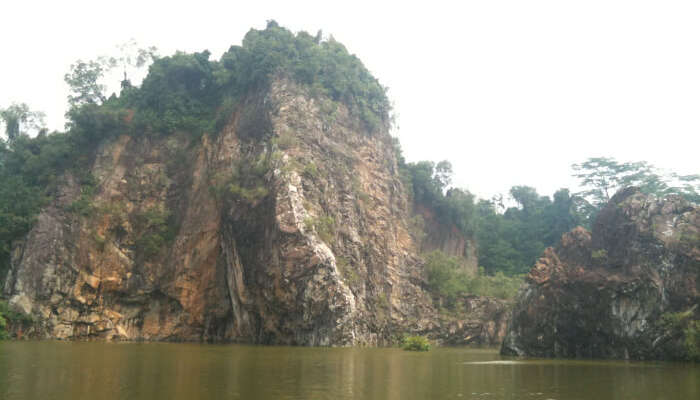 It is one of the amazing places to visit in this city and is known for its calming atmosphere since it is situated away from all the hustle and bustle of daily city life. The sweeping hills offer beautiful views of blue crystal clear waters as is a great venue to find some calmness and serenity. You can also take a walk along the rough roads which run through the forests and be in the lap of lush greenery. But if you are tired of gazing at the green for long them there is an undulating terrain which is just perfect for a workout.
Location: 26 Bukit Batok East Avenue 2 Hillview Regency, Singapore 659920, Singapore
Hours: Lighting Hours- 7:00pm to 7:00am.
15. Changi Beach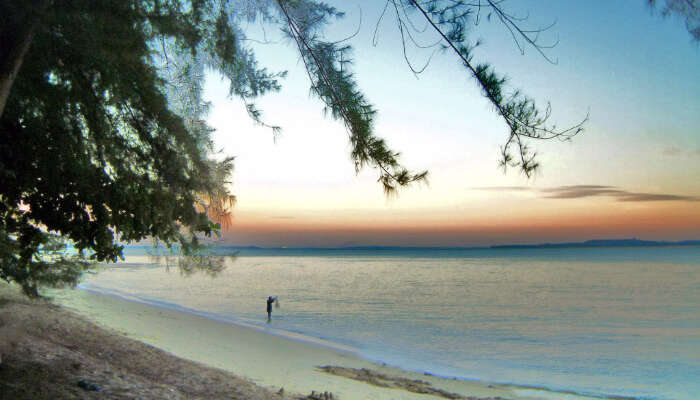 This is a tantalizing Beach which is located right in the northern zone of Changi which is located in the easternmost part of Singapore. The beach is a 3.3 km long sandy stretch and is just the most amazing place for a family vacation. Bring your picnics and fishing gear because here everything is possible. Here you will also get the opportunity to land an aircraft or engage in a variety of water sports. Bring your camping gear to spend the night beneath the stars after you enjoy in a barbeque party.
Location: Nicoll Dr, Singapore, 498991.
16. Tanjong Beach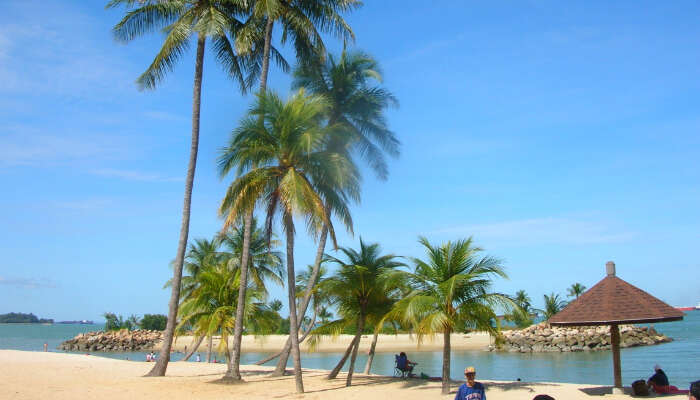 Located at the Sentosa Island, it is famous for its backpacking population and also the nature admirers who come here for some greenery. Bring a beach towel, sit on the golden sands and enjoy the weather as you sunbathe. This is a great place to visit for those who want some peace and tranquility. Make sure you stay till dusk to see the waters and sky change its colors with the time of nature. The sands are clean and here there is an atmosphere of bliss. No need to worry if you get hungry while here. There are a lot of themed bistros, restaurants and bars which will help you quench your thirst and hunger. The beach bars don't open till 11 am, so take a note of that.
Location: 120 Tanjong Beach Walk, Singapore, 098942
Hours: Open Daily
Integrated Resorts: A Lot More Than Just Resorts
Enjoy your stay at these integrated resorts in Singapore which have so much to offer that you would hardly want to step out of the premises.
17. Marina Bay Sands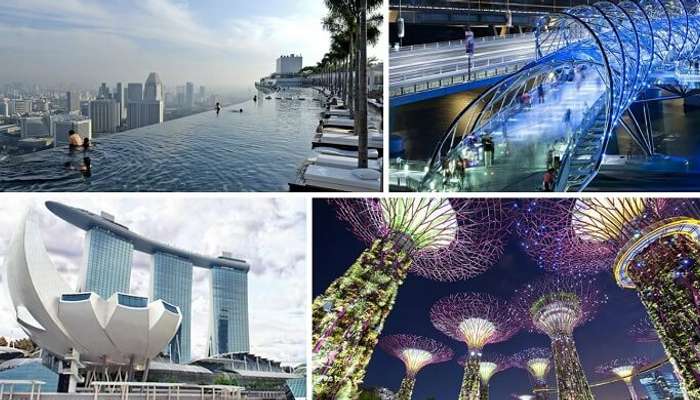 If you wish to bask in endless luxury, you have to visit Marina Bay Sands, Singapore's most iconic hotel and luxurious resort that baosts of the largest Infinity Pool in the world and irresistible views of Sinagpore's skyline. Once here, you won't want to step away from the countless luxurious facilities you'll be pampepered with, including world-class meals, spa, fitness center, entertainment, shopping avenues, and much more. On top of that, you can lounge in your lavish room and immerse yourself in unparalleled views of the city all day long.
Location: 10 Bayfront Avenue
Observation deck Opening hours: Mon-Thur 9:30 am 10 pm; Fri-Sun 9:30 am 11 pm
Attractions: Infinity Pool at Skypark Hotel, ArtScience Museum, Double Helix Bridge, and Gardens By The Bay
Entry fee: S$ 23 for adults, S$ 20 for seniors, S$ 17 for children aged 2 to 12
For special offers and hotel reservations click here.
18. Sentosa Island Complex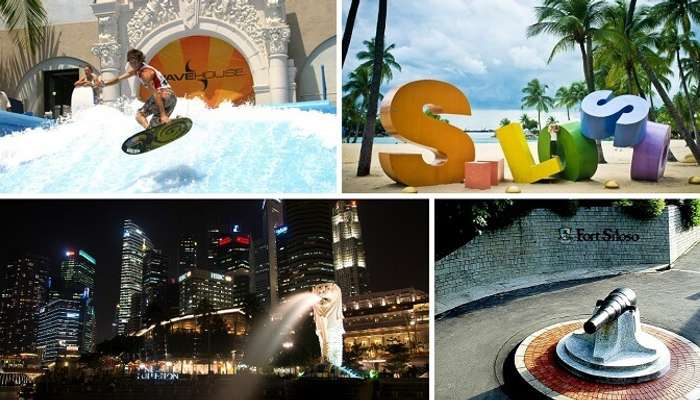 The chic shopping destination, Singapore, is not very popular as beach destination. But for those who seek that experience, Sentosa Island Complex is the place for you. Its proximity to the other major tourist places in Singapore makes it all the more popular. And the best part – it offers every kind of comfort and luxury you can possibly dream of!
Attractions: Kayaking, skim-boarding, beach-volleyball at Siloso Beach, Merlion statue, Fort Silioso Singapores only preserved fort, Universal Studios, Underwater World, and water sports at Wave House
For more information and hotel reservations click here.
Arts And Leisure Sightseeing In Singapore
If you love art galleries, museums and leisure attractions, these are the places you should visit in Singapore on your vacation.
19. Singapore Flyer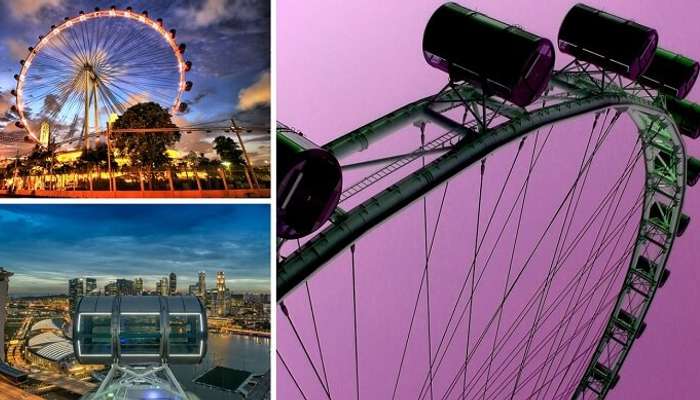 A tourist attraction in Singapore for the history lovers, Changi Museum displays letters, photographs, and drawings of the 50,000 civilians and soldiers in Changi Prison during the World War II. The chapel in the courtyard is an exact replica of the type of chapels built during World War II. It's a great place to visit if you wish to learn about the rich culture and intriguing heritage of this country first-hand.
Location: 1000 Upper Changi Rd N, Singapore 507707
Opening hours: 9:30 am 5 pm
Entry fee: In-house tours – S$12 for adults, S$8 for children; Audio tours – S$8 for adults, S$4 for children
Visit the website for more information on the museum.
21. Universal Studios Theme Park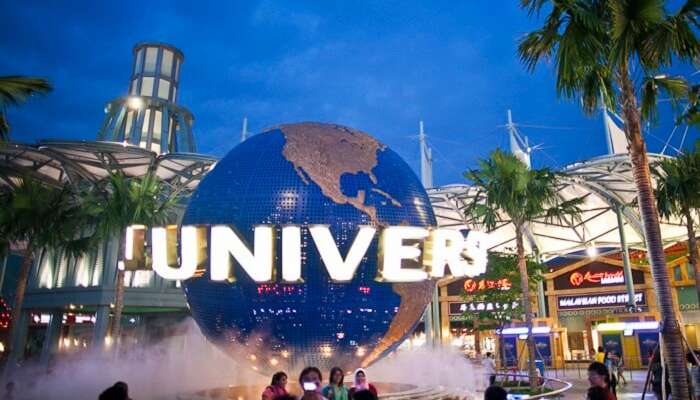 Universal Studios Theme Park is definitely one of the best places to visit in Singapore if you are going with kids. The theme park has rides based on Transformers, Shrek, Madagascar and many more.
Location: 8 Sentosa Gateway, Singapore 098269
Opening hours: 10 am 6 pm
One day pass: INR 3600 for adults, INR 2700 for kids aged 0 12
Click here for more information and special offers.
Other Leisure Activities Based Tourist Places In Singapore
G-max Bungee, Tiger Sky Tower, Singapore Art Museum, Escape Theme Park
22. Little India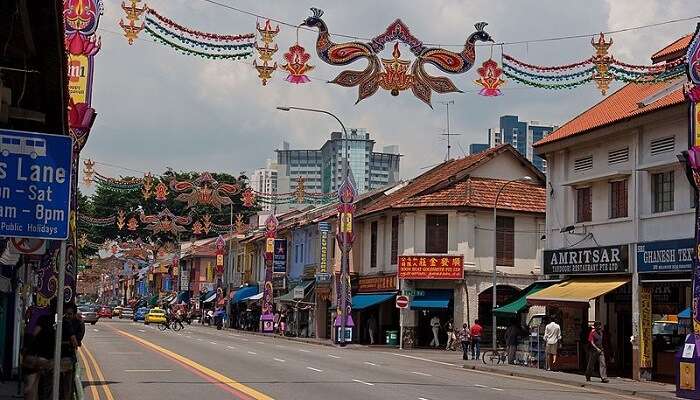 Everyone knows Singapore for being that glitzy and glam modern-day city with sky-high buildings, advanced architecture, and nature-friendly parks. Hardly does anyone know about its charming cultural side replete with colors and bustling with energy. And guess what – that culture isn't of Singapore! That's right. You'll be able to find a little bit of India tucked away in those glamorous lanes of Singapore and just as frivolous as the country itself.
From shops selling Indian goods, street-side stalls serving Indian food, Hindu temples, and plenty of other things that speak "India", there's a lot you'll find in these otherwise crowded alleys that will make you want to stay here forever!
Location: Serangoon, Singapore
23. Kidzania Singapore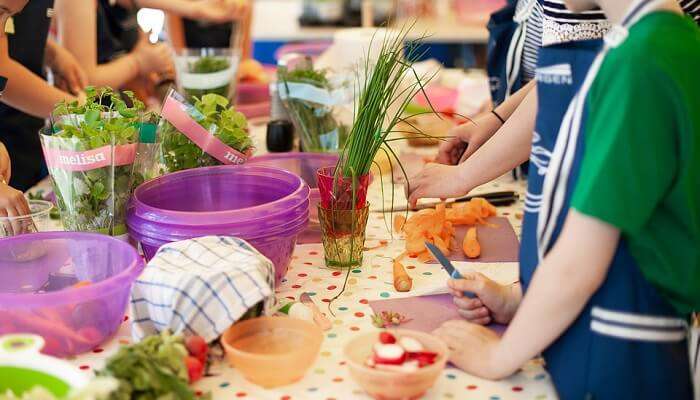 Kidzania is a great place to visit for families with kids since it offers to educate and entertain young kids in fun ways. It is more or less an indoor theme park that has been developed in the form of an independent nation to impart knowledge to youngsters in the most creative ways. From flying aeroplanes, cooking tasty meals, role playing, to learning through interactive media, this upscale make-believe city will offer them real-life experiences, unlike any other place in the world.
Your kids won't just get to enjoy different enlightening experiences, but will also be taken care of in a well-equipped environment. This place is truly a paradise for kids aged 3 or older and you'll have a hard time convincing them to leave once they've experienced it and fallen in love with it!
Location: 31 Beach View, #01-01/02, Singapore
Timings: 10 AM – 6 PM
24. Wings Of Time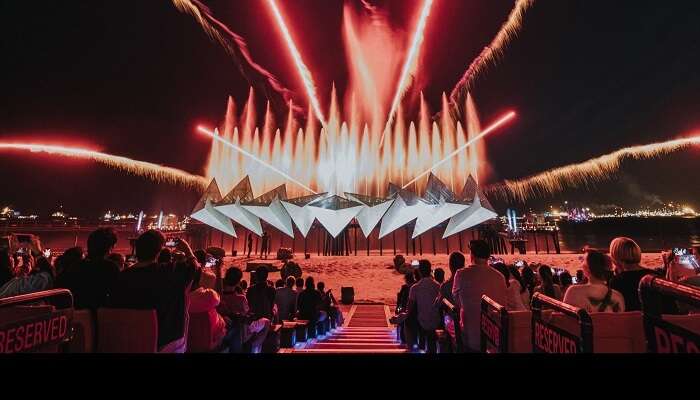 The Wings Of Time happens to be the most celebrated show in all of Singapore. It's the world's first permanent and most stunning permanent night show that even delivers an unmissable narration of a folktale using the mediums of art and technology such as laser lights, fountains, music, as well as 3D projection mapping. The theme of the narrative focuses on friendship and courage, and the entire show is so intriguing that spectators of all ages and walks of life will find themselves hooked to it! So, no matter where you are in the city, as soon as it strikes 7:35 PM or 9 PM, leave all else and head straight for 50 Beach View to view this magnificent phenomenon that will get etched into your memories forever!
Location: 50 Beach View, Sentosa Island, Singapore
Timings: 7:40 PM and 9:05 PM
25. Dolphin Island Interaction Program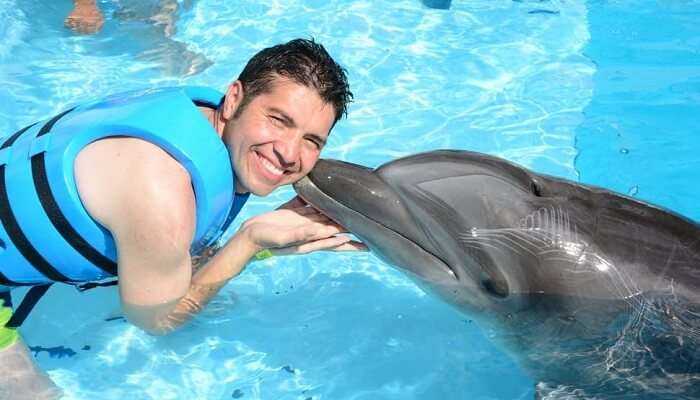 There are only a handful of places in the world that offer people a once in a lifetime opportunity to see dolphins get up close and interact with them. Singapore is one of them! Offering people the chance to swim with Indo-Pacific bottlenose dolphins, Dolphin Island is among the best Singapore attractions that you cannot miss a visit to when you're vacationing on this island nation.
This interactive program allows visitors to observe dolphins up close, swim around in the pool with them, or pose alongside them, all of which are experiences most dolphin tours across the world cannot provide.
Location: Dolphin Island, Sentosa Island, Singapore
Timings: 10 AM – 6 PM
26. IFly Singapore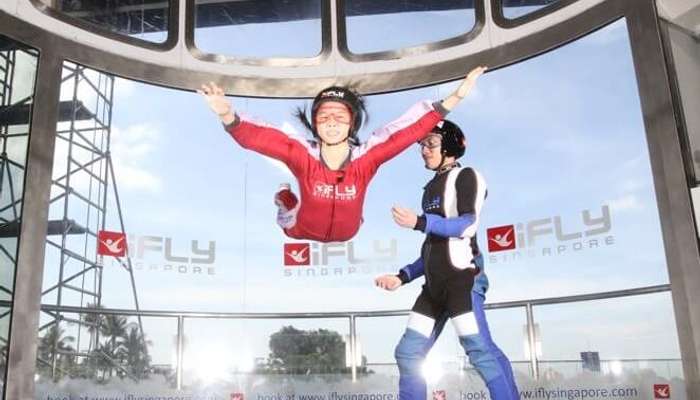 Too scared to try skydiving? Well, how about an activity that offers you exactly the same experience without the risks? Just get to iFly in Singapore which will throw you in the "air" and have your adrenaline surging in no time! Thanks to the concept and technology of virtual that this place uses, they'll literally make you feel like you have jumped on an aeroplane flying at a height of 13,000 feet and are now hurling towards the ground. Before the activity, you'll be given a short training and induction session by trained professionals, following which you'll suit up and be taken into an indoor wind tunnel designed to replicate an actual skydiving experience.
Location: iFly Singapore, 43 Siloso Beach Walk #01-01 Singapore
Timings: 9 AM – 9:30 PM
27. Chef Chans Restaurant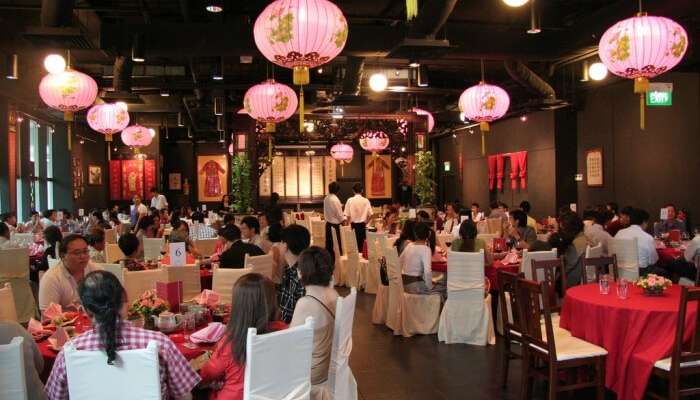 To satiate your hunger with scrumptious food, Chef Chans Restaurant is undoubtedly one of the best places to goin Singapore. The antique Chinese decor, classical menu, and years of reputation is what makes the restaurant a must-visit diner in Singapore. You can treat yourself to a variety of Singaporean, Chinese, and even Malaysian cuisine here to appease your hunger. And the best part – it is super easy to locate!
Location: 93 Stamford Road # 01 National Museum of Singapore 06, Singapore
Opening hours: Lunch 11.45 am 2.30 pm, Dinner 6.15 pm 10.30 pm
Must try: Crispy Roasted Chicken, complete with head
28. Smith Street Hawker Centre In Chinatown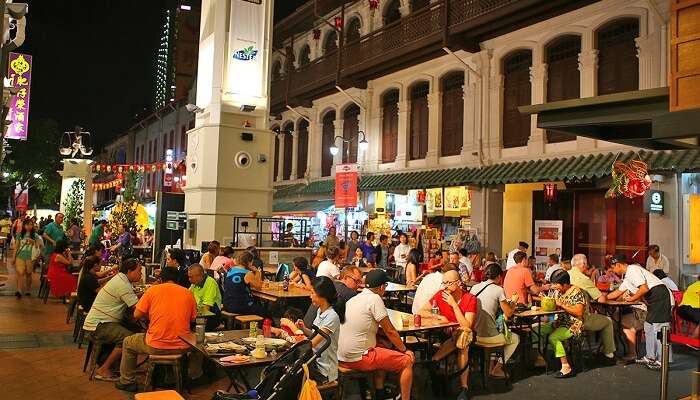 Hawker centers are where you will find a veritable feast of Chinese, Malay, and Indian dishes. For a noisy, crowded, and wonderful experience of the street food without the worries of consuming unhygienic fare, head to the Smith Street Hawker Centre in Chinatown. It's a great place to try a variety of Singaporean street food in one place without burning a hole in your wallet.
Location: 335 Smith St, Singapore 050335
Our Recommendation: Jia Ji Mei Shi
Opening hours: Daily 07:30 am 10 pm (Closed on Wednesdays)
Recommended Dishes: Fried Bee Hoon (rice vermicelli), Yam cake
Price/pax: S $3 S $4
29. Crazy Elephant Pub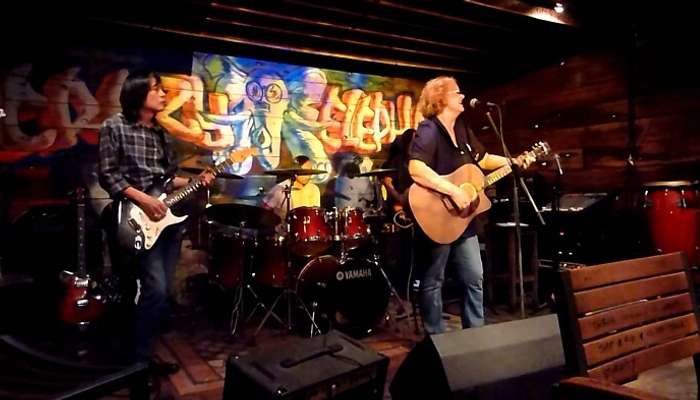 Great music, prompt service, good and reasonably priced drinks, and even live performances, with all this and more, Crazy Elephant Pub makes an excellent choice to drink and to party. After all, what's a holiday in Singapore if you don't head out and explore its smahsing nightlife! And what better place to do that than Crazy Elephant!
Location: 3E River Valley Rd, #01-03/04, Singapore
Opening hours: 5 pm 3 am
Visit the website for information on special events and menu.
30. Clarke Quay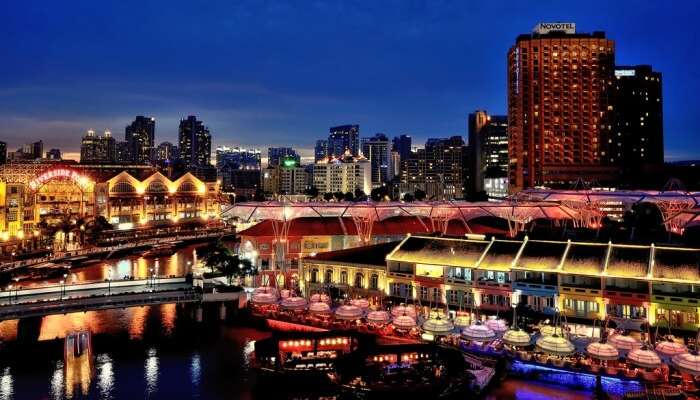 One of the key tourist attractions in Singapore, Clarke Quay, is a part of the citys past that is still happening today. The erstwhile commercial center from 19th Century is now popular for its trendy restaurants, chic pubs, waterfront entertainment, and pushcart vendors. It's the perfect place for a date wherein you can either have a fancy meal at a restaurant or a drink at a pub while looking at the gorgeous waterfront views outside.
Location: 3 River Valley Rd, Singapore 179024
Opening hours: 10 am 10 pm
Attractions: River taxis, Zirca nightclub, G-Max reverse bungee, Cannery anchor tenants
Click here for information on special offers and events.
31. Orchard Road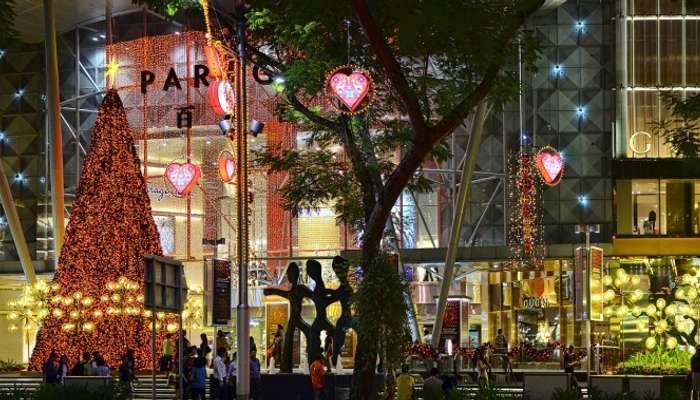 Singapore, a world-class city for style and designer wear, has many chic shopping areas. But this 2.2 km long boulevard is the retail and entertainment hub of Singapore. you can buy everything from accessories, classy jewelry, fancy bags and purses, branded clothing, and even cheap fashion wear when you're hanging around this place.
Key shopping centres: DFS Galleria, Ngee Ann City, Paragon, and Hilton Singapore
For information on the ongoing events click here.
32. Tiger Sky Tower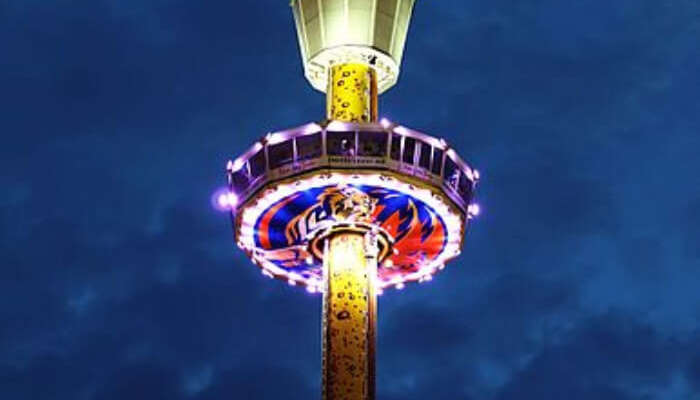 Originally named as the Carlsberg Sky Tower, this is Singapore's highest observation tower. The tower is at a good 131 meters above sea level and is the perfect spot which will bring out your inner photographer. You will be awed at the amazing panoramic visions which will surround you. After a round of photographs, you can choose to relax and just recline in air-conditioned cabins to enjoy the vibrant 360- views of famous attractions all over Singapore.
Location: 41 Imbiah Road, Sentosa Island, Singapore 099707
Price: Adult- S$18.00; Child- S$10.00
Opening Hours: Open Daily 9AM-9PM.
33. Trick Eye Museum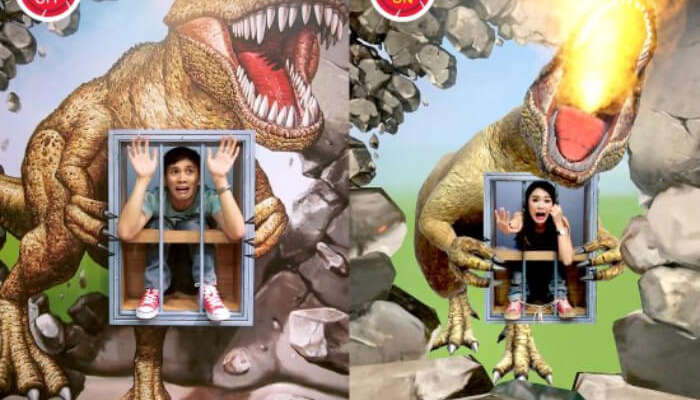 Leave reality behind and bring just your free imagination with you in this unique museum. This place is one of the most internationally acclaimed optical art museums of Korea and is some of the best places to visit if you are looking for anything different to do from the usual while here. This museum uses Augmented Reality factors and features. This AR feature helps bring the art exhibits here to life. But it's not just 3D. These AR features are put into 80 art installations with optical illusion which will fill your mind with amazing sounds, lights, and other exciting special effects.
Location: 26 Sentosa Gateway #01-43/44, Singapore 098138
Price: Adults-$25.00; Children- S$20.00; Seniors- $20.00
Opening Hours: Open Daily, Time: from 10 AM to 9 PM.
34. Madame Tussauds Wax Museum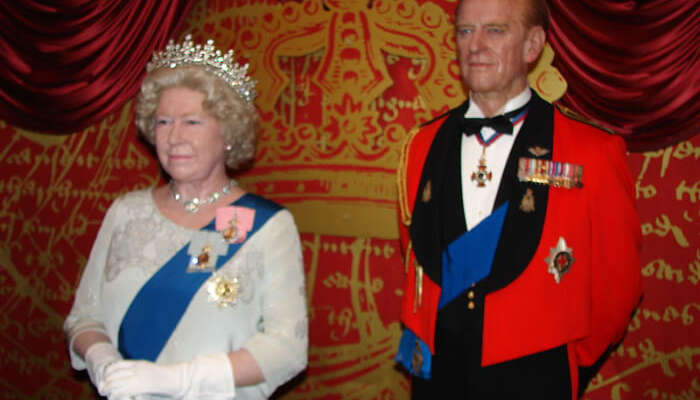 If you have always wanted that photo with your favorite celebrity but never could then stepping into Madame Tussauds might fulfill your wish in a way. This was a museum is certainly some of the very best which Singapore could conjure up. The wax arts here are flawless, brilliant and open to all for viewing. You will get to see wax statues if Lady Gaga, Michael Jackson, Taylor Swift, Queen Elizabeth II and many more.
Location: 40 Imbiah Road, Sentosa Island, Singapore
Price: Adults- $39; Children from 3 to12 years- $29
Opening Hours: Monday-Friday: 10am-6pm, Saturday-Sunday: 10am-7:30pm.
35. Adventure Cove Waterpark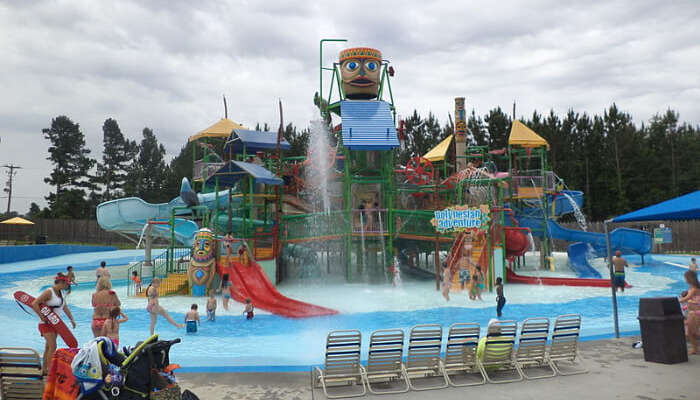 If you are tired of the heat then just head out to Adventure Cove Waterpark where there's enough to keep you cool and quench your thirst for adventure all at once. This place has seven thrilling rides which include the adventurous Pipeline Plunge. As the name says, your heart will beat faster than it has ever before when you drop down from a high chute and go through bends and turns to splash out into a water pool. But if you want to have a day of rest then take your buddies and go down in Adventure River which languidly goes past 14 habitats. These include a spooky grotto, jungle gardens and also an underwater tunnel which is filled up with marine species that are swimming all around and above.
Location: 8 Sentosa, Sentosa Island, Singapore 098269
Price: Adults till 59: SGD38; Children from 4 till 12: SGD30; Seniors (60 above): SGD30
Opening Hours: Opens Daily 10AM-6PM
36. F1 Track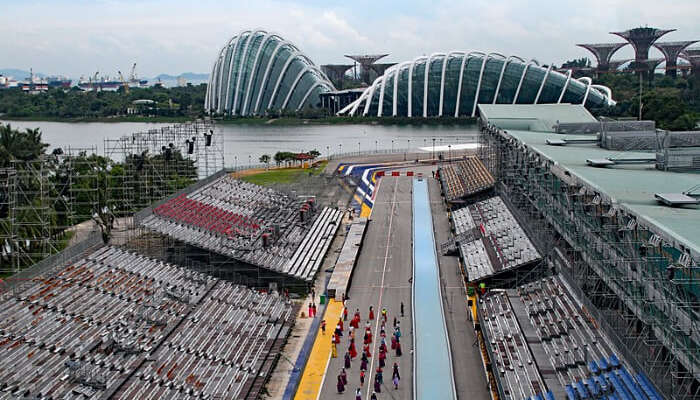 There is an abundance of tourist places to visit while in Singapore but there nothing more fun than going driving on the F1 track. If you love the game and want to get behind the wheels to get racing then this will give you the opportunity. For sure this will be the experience of a lifetime. Test your racing skills by driving the car or maybe just let a professional driver steer it as you sit back and take in the experience. The ride is for 15 mins and you can choose the car of your choice, as a bonus you don't need any previous racing experienced. Yes, there's a Ferrari as well.
Location: The F1 track is situated in the Mariana Bay street circuit.
Fees: A fee of USD 228 is charged per rider
Hours: Everyone gets a 15-minute ride at the F1 track.
37. Tiger Brewery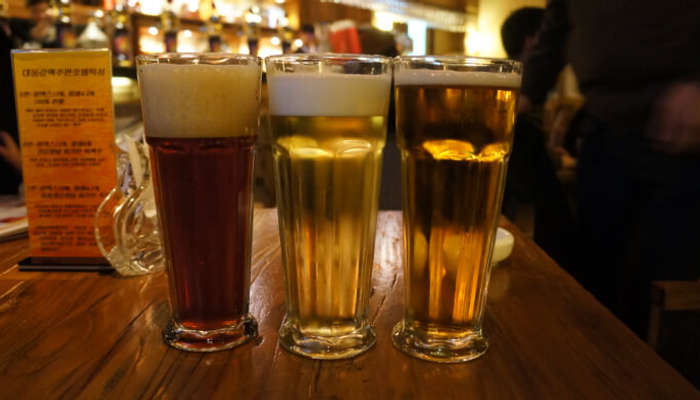 Tiger brewery is amongst the trendiest attractions in Singapore. Here you will get everything associated with beer making along with an amazing interactive tour which will let you have a taste of all kinds of beer. Before visiting the packaging area, you will get to taste hops along with other ingredients in the brewery. Then you will learn about the process of bottling up the beer. So if the beer is your favorite beverage then you can learn all about beer making- from the milling to the mashing and from the fermentation to the filtration, in here.
Location: 459 JIn Ahmad Ibrahim Singapore 639934
Price: Adults: $S24.91; Children from 8 to 17 years: $S20.24; Infant from 0 to 7 years of age get free passes.
Opening Hours: Monday-Saturday- 13:00-18:30, Last Tour- 17:00, Sunday Closed.
38. Merlion Park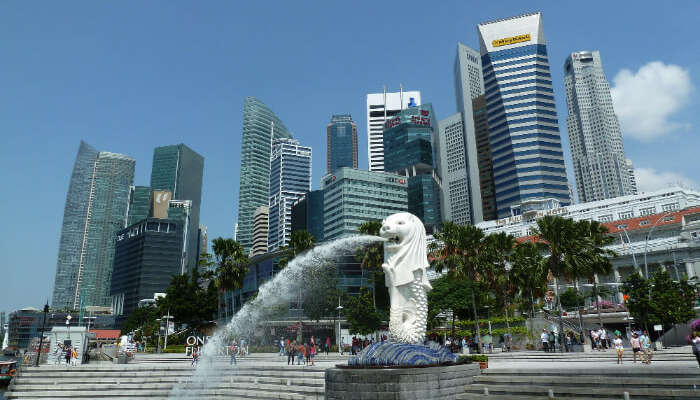 The presence of this masterpiece of a half lion and half mermaid is the reason Singapore is this recognized. The mythical Merlion has a tale for its visitors. The body represents ancient businesses of Singapore which were fishing and the head represents Singapore's originally used Name- Singapura which meant 'The Lion City'. This waterfront park is located right in the center of the city and overlooks the Marina Bay. The statue towers at a height of 8.6 m and is around 70 tonnes in weight. This is the perfect picture spot to take a cute memorable pic.
Location: Fullerton Road, Marina Bay, Singapore
Admission: Free
Hours: All day long
39. Boat Quay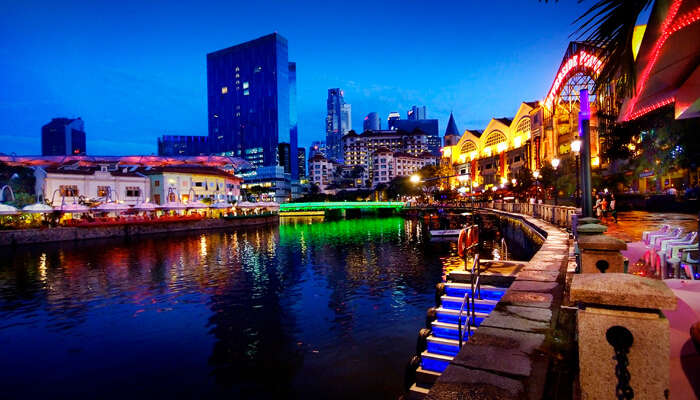 Here you can do everything from learning a variety of art forms which range from painting to trekking through mazes of mangroves. While here you will also get the age-old way of how they catch prawns in here. An amazing place to visit while here. Make sure to take your camera to click some beautiful pictures amongst the scenic backgrounds over here. There are guided walks and nature walks over here so that you don't miss out on anything.
Location: Bonham Street, Singapore 049782
Hours open: 7 am to 7 pm
40. Asian Civilizations Museum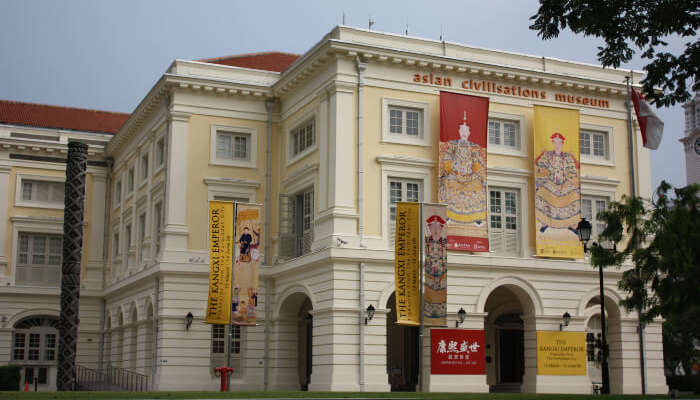 Experience and see all about the Asian heritage at large and especially everything which Singaporean heritage has to offer. The museum offers a stunning blend of unique customs of various countries like India, China, and other South East Asian places. The architecture of this place is in a neoclassical style which was seen during the colonial period in Singapore. The museum aims to show the various art forms in existence along with the language and other creative ideas which are a stable of various religions. Guided tours are available for an hour each. If you get hungry or feel tired over traversing this huge place there is an in-house eatery which serves perfect Singaporean cuisine and you can enjoy your breakfast and lunch in here.
Location: The Historic Empress Place Building.
Hours Open: 10:00 to 19:00 from Saturday to Thursday; Fridays- 10 am to 9 pm
Admission: Depends upon the tour taken.
41. The Helix Bridge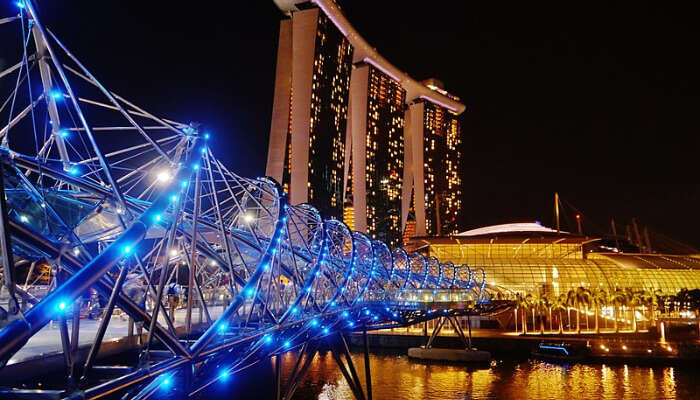 Singapore's true beauty comes out at night amongst all the lights and one of the best places to witness this is the helix bridge. When all the lights are on, then it is nothing less than a spectacle to watch. It is a great place to go for a walk and to take some amazing panoramic shots. The footbridge was originally called the Double Helix Bridge. It connects the South Marine Bay and the Marine center over the Singapore River. The Helix bridge is also the first curved bridge of the world and was opened in 2010 for the public. Currently, a landmark of Singapore, the bridge was designed like a human DNA string to represent growth and rebirth. The bridge stretches to 280 meters and is made using stainless steel over the intricate mesh and fabulous tubular designs that weigh a whopping 650 tonnes.
Location: Marina Bay.
Entry: Free
Hours: Best seen during evening and night times.
42. Waterfront Promenade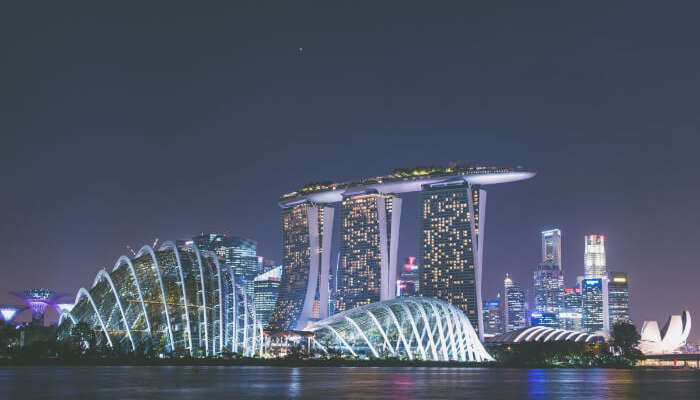 This venue is a beautiful necklace which conjoins famous Singapore tourist attractions like the Bayfront Areas, Marina Centre, and the Collyer Quay. It is basically, a stretch of the continuous route which forms a line between the major centers of the Marina Bay. This place looks over the marina bay and allows one to take in beautiful scenic views of the place. You can enjoy eating here at the eateries, go for alfresco dining, boat docks and a whole lot more. If you are looking for something relaxing then take a slow cycle ride along on the clean stone pavement or go for a walk right at the timber boardwalk.
Location: Marina Bay
Hours open: All day long.
Admission: Free
43. Arab Street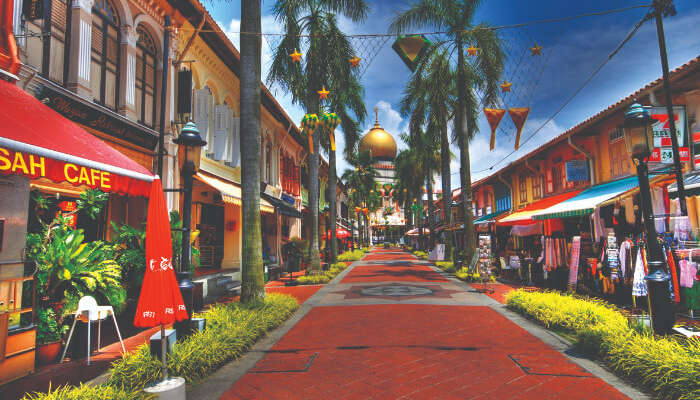 While the name may say Arab but here you will get a vision of what Singapore of the past looked like. It is one of the most authentic neighborhoods in the city-state. Arab streets actually refer to the combined places of Haji, Bussorah Street, Muscat Street, and Bali lanes. Here you will find everything from the amazing masjid sultan mosque to trendy Street art and trendy bikes. This place is a vision to witness and here you can get all your shopping done as well. The one must visit the place is definitely the Masjid Sultan, which was constructed around 200 years ago. But the Arab Kampong where Persian rugs are knitted is a vision as well. If you get tired from exploring the place then there is always the option of ordering a beer and sitting at a corner shop to rest your legs and mind.
Location: Arab Street, Singapore
Hours: All Day
Admission: Free
44. Coney Island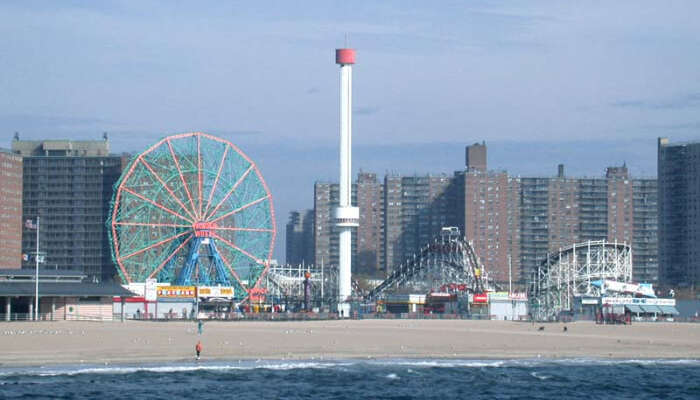 Spread over 50 hectares of land, Coney island is located in the northeastern part of Singapore. It is also known as Pulau Serangoon and it is also a dwelling ground for a large variety of grasslands, mangroves, coastal forests, casuarina woodlands etc. It is a great place to go with your date or significant other as it is seen as amongst the most romantic venues. The island houses lots of endangered species of fauna and flora. It has 80 species of birds with the Baya Weavers being a fan favorite. Keep in mind that camping or fishing isn't allowed. You can explore the park by hiring a bicycle or if you want to take things slower then go on foot.
Location: Near to Punggol Nature walk.
Hours Open: 7 am to 7 pm.
45. Indoor Sky Diving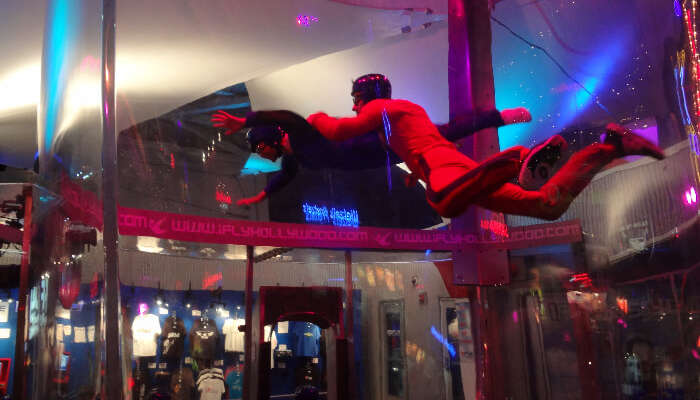 If skydiving has always been your dream but you never really got the courage to take flight then Singapore has just the perfect solution for you. You can say goodbye to the vast and scary outdoors and welcome the indoors which will ease some of your concerns. The city has some of the world's best wind tunnels to facilitate indoor skydiving. The wind passing through the tunnel goes as high as a multiple storied building. It is also well facilitated with air-conditioning, wall-to-wall airflow systems along with having multiple fans in the ceiling. This little quirk makes Sentosa island a major sought after place to visit in Singapore. The pulse facing diving experience is still the same so that you get the thrill but without the risks.
Location: Sentosa Island, 43 Siloso Beach Walk.
Timings: 9 AM in the morning to 9:30 PM in the evening.
Entry fees: Around SGD 80 to SGD 120.
46. C- LA VI Singapore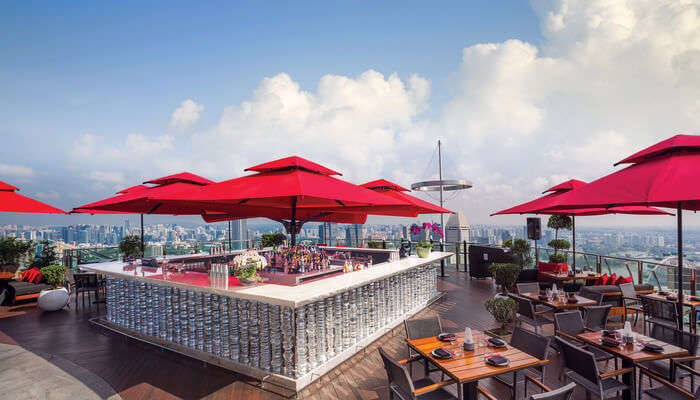 When you are in Singapore, make a note to visit this restaurant. Here you will make encounters which will empower your soul, hoist your faculties and open up energies which will fuel the pursuit of pleasures. Here, get ready to have a taste of a culinary enterprise so unique in an even more dynamite setting. But drinks abound here as well and the mixed drinks which go by supernatural names will make you more than a little tipsy.
Location: 1 Bayfront Ave, Marina Bay Sands, Singapore
Price: Around $ 759.00 per night.
47. Peranakan Museum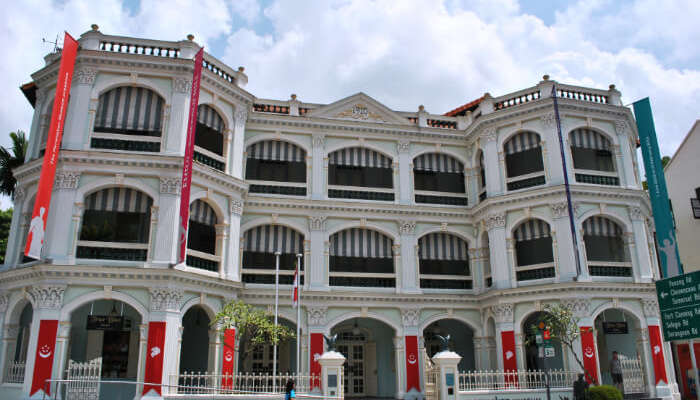 Peranakan Culture is actually one of the major South Asian hybrid communities. It consists of three cultures; namely Malay, Chinese and Indian. This museum houses some of the largest collection of this bygone hybrid of heritage and culture. Built in the year 1913 by some Chinese traders, this venue contains three stories which each house very distinctive artifacts which are related to Peranakans. Here you will get to experience museum tours which will take through the traditional Peranakan's huge 12-day wedding complete with furniture, textiles and ancient jewelry. The tour is available in Japanese, Mandarin, English, and French languages. You can also book a private tour for your group of it contains 20 people or more.
Location: Armenian street.
Hours Open: 10 to 19:00 and 10 to 9 pm on Fridays.
48. Bugis Street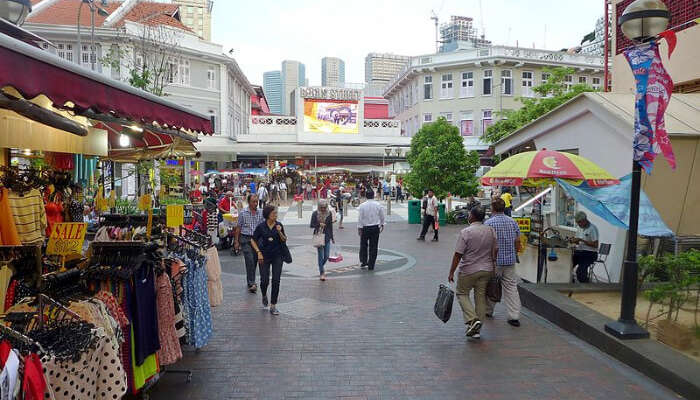 Bugis Street is for everyone. This is one of the biggest, cheapest and also the hottest venue to let your shopaholic side run wild. Half a century old and still just as famous, this place is a famed shopping district of Singapore. But there's more than just shopping to be done. Engage in the thriving and vibrant nightlife which just blooms with the many shopping hubs, quaint cafes and fine dining places. While strolling around, you will see both locals and tourists milling about to grab everything from some cheap clothes and cosmetics to electronics and housewares. Don't get lost while shopping, make sure you rest and recharge at one of the food stalls which offer a true culinary taste of Singapore.
Location: 3 Bugis Street, #03-01, Singapore, 188867
Hours: 11am-11pm
49. Kusu Island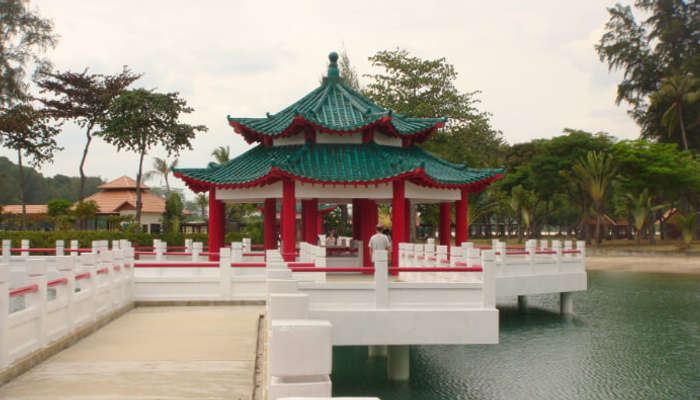 The Kusu islands are one of the many beautiful southern islands located in Singapore. Kusu actually means Tortoise or turtle in Mandarin. The island here is named as Pulao Tembakul or Peak Island in Malay. The island that you see was enlarged and then it was made into an island resort which sprawled out for a heavy 85,000 meters. Here you can go to pay your offerings at the popular Chinese temple known as Tua Pek Kong or Da Bo Gong. They house two main deities namely: The Guan Yin and the DA Bo Gong. After paying your respects, you can head out for swimming on the soothing island waters or maybe opting a picnic with your friends.
Location: Kusu Island, Singapore, 00074.
Religious Places To Visit In Singapore
Here are some religious places in Singapore that are no less than attractions. So, you should make a point to visit them.
50. Buddha Tooth Relic Temple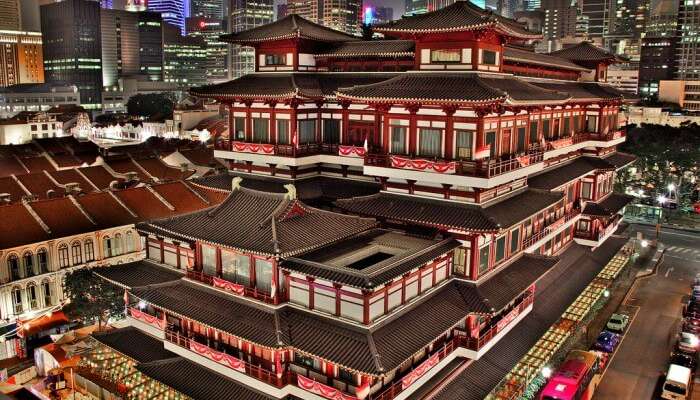 The five-storey Buddhist temple houses the left canine tooth of Lord Buddha. The tooth is said to have been recovered from his funeral site in Kushinagar. It's one of the most reverred religious shrines and spiritual sanctums in Singapore for the locals as well as pilgrims who come ehre seeking inner peace and blessings from other parts of the world, mostly India, Indonesia, Sri Lanka, and Thailand.
Location: 288 South Bridge Rd, Singapore 058840
Opening hours: 7 am 7 pm; Relic-viewing 9 am 6 pm
Entry fee: Free
51. Armenian Church Of St. Gregory The Illuminator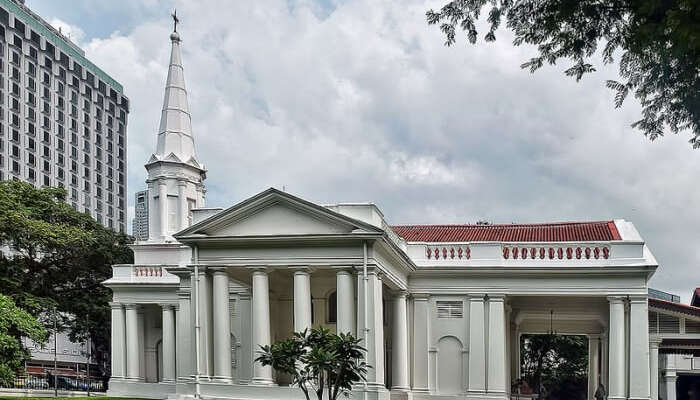 It is the most established Christian church in Singapore and it is a construction which has just perfect works of art which dates from the mid-nineteenth century. It is a very tranquil spot too. Built in 1835, this church is devoted to St Gregory the Illuminator who was the main Armenian minister. The huge tall tower which was located on the rooftop along with the Roman Doric sections as well as pilasters which hold up the beautiful porticoes. Right inside, the vaulted dome and roof are amazing designs which have taken a leaf out of the conventional styles of Armenian Church Designs.
Location: The church is located at 60 Hill St, Singapore 179366.
Price: The entry fee is free of cost.
strong>Opening hours: 9 AM – 6 PM
Other Popular Religious Places To Visit In Singapore
Temple of 1000 Lights, Kong Meng San Phor Kark See Temple, Sri Mariamman Temple, Hajah Fatimah Mosque, Maghain Aboth Synagogue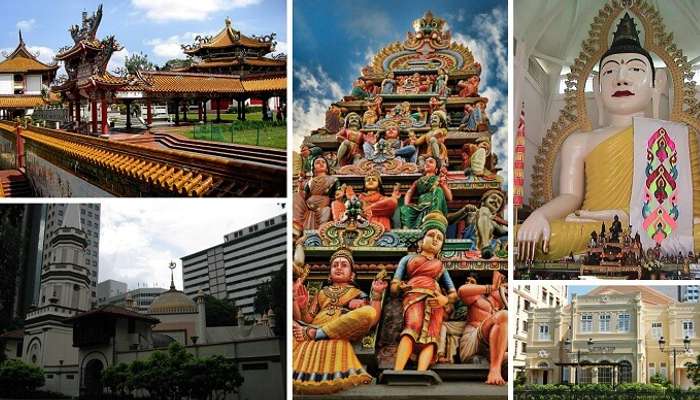 52. Sri Mariamman Temple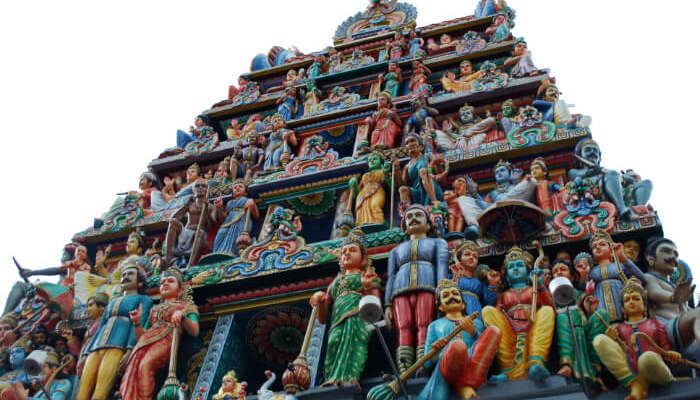 Located in Chinatown, the Sri Mariamman Temple heads back to 1827. It is one of the most favored Hindu Sanctuary in the city. In days of old, the temple was known as Mariamman Kovil or the Kling Street Temple. There people belonging to the Cuddalore and Nagapatnam locale of South India. The goddess Mariamman is housed there and it is known for her powers to cure infections and sickness. It is currently a national landmark. Once the temple was even used as a place for Registry of Marriages for Hindus.
Location: The Sri Mariamman Temple is located at 244 South Bridge Rd, Singapore
Price: The entry is free of cost.
53. Pulau Ubin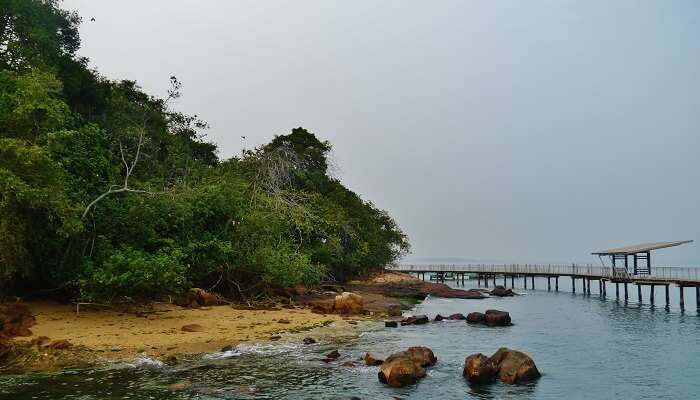 Pulau Ubin happens to be a lovely island lying northeast of mainland Singapore. Characterized by scenic cycling trails, tiny hills, old and rusty granite quarries, as well as traditional kampongs (villages), this small and relatively unknown part of Singapore has a lot to offer to visitors seeking offbeat and unusual experiences. The mangroves of the Chek Jawa Wetlands here attract a number of birdwatchers and ornithologists owing to its large population of birds including kingfishers and bulbuls. Another beautiful attraction here is the Jejawi Observation Tower and a Looped Boardwalk that offers people glorious views of this entire area. Don't forget to visit the Fo Shan Ting Da Bo Gong Temple here that is home to ancient statues of local deities.
Location: North-Eastern Islands, Sinagpore
How to reach: take the MRT to Tanah Merah MRT Station (EW4). Get on Bus #2 heading to Changi Village bus interchange. Get down there and get to Changi Point jetty that is not far from the bus interchange. Then, hire a bumboat to Ubin.
54. Kong Meng San Phor Kark See Monastery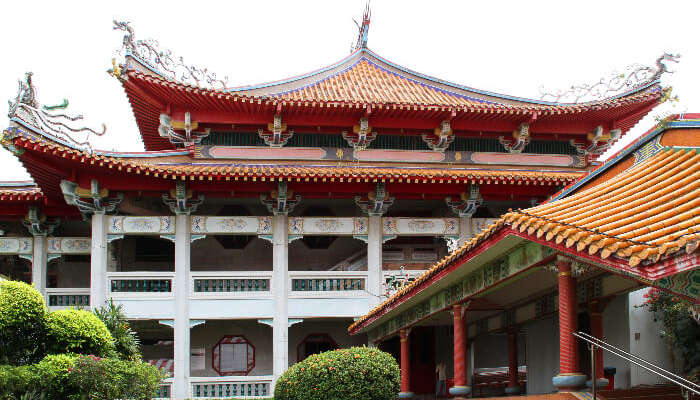 This is the largest and as equally stunning monastery in the city. It has a roundabout of 12 buildings, all of which come with an amazing ambiance. There are beautiful dragon pagodas, luscious lawns, and plazas which are linked by Escher emulating staircases which will take your breath away. The place is a huge columbarium and it has many halls which are dedicated to a variety of Buddha's guises. Here, make your peace by sitting under a Bodhu tree which is located just by the beautiful Hall of Precepts. This is a great place to get some peace and serenity.
Location: 88 Bright Hill Road Kong Meng San Phor Kark See Monastery, Singapore, 574117
Hours: Open all days for tourists and worshipers.